HEATHEN Empire Of The Blind

By George Mihalovich, Pure Rock Patroller
Friday, November 6, 2020 @ 5:41 PM

| | | |
| --- | --- | --- |
| | | |
HEATHEN
Empire Of The Blind
Nuclear Blast




HEATHEN is a recognized and respected thrash commodity despite the fact that they haven't had the continuity and overall success of better-known San Francisco "Bay Area" compatriots such as TESATMENT, EXODUS and DEATH ANGEL. This is likely given long stretches of inactivity and the fact that Empire of the Blind is only their fourth full-length (including their 1987 debut, Breaking the Silence). Regardless, they have differentiated themselves stylistically in this storied tradition with their brand of "melodic thrash"; meaning that the guitars and drums have the expected fire and fury with the added bonus of a melodic vocalist. It's a perfectly logical approach for bands that embraced the thrash ethos (heavier, faster and more aggressive) but wanted to retain more of the DNA of the classic NWOBHM acts that were the progenitors of the style. The result is the best of both worlds, and apt comparisons include ARTILLERY, FORBIDDEN and ANTHRAX.

Empire of the Blind features the core of HEATHEN founding members Lee Altus (guitars) and David White (vocals) alongside relative newcomer Kragen Lum (guitars since 2007). He played a major role in the songwriting and production on this release during downtime from his role alongside Gary Holt in EXODUS. The rhythm section of Jason Mirza (bass) and Jim DeMaria (drums) joined in time to make their appearance on the album — and sound like they have been around much longer.

Opener "The Blight" and the title track "Empire of the Blind," are demonstrative of the intense and relentless nature of the record. "Sun In My Hand" and "In Black" maintain the pace alongside "thrashterpieces" "Blood to Be Let" and "The Gods Divide". HEATHEN offers a slight respite from the intensity with the ballad "Shrine of Apathy" and two short instrumentals that begin and end the album ("This Rotting Sphere" and "Monument to Ruin", respectively). Also noteworthy is the fantastic lead playing tastefully incorporated throughout; showcased on the full-length instrumental "A Fine Red Mist".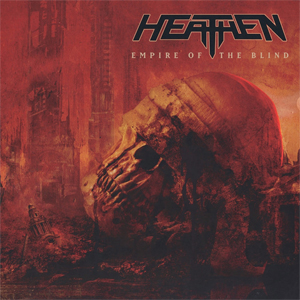 The spot-on production, engineering, mixing and mastering was handled by veteran producer Christopher "Zeuss" Harris (SANTUARY, QUEENSRYCHE, OVERKILL, DEE SNIDER) with some guitar work and additional details handled by Kragen Lum at his home studio. Noted artist Travis Smith also provided the cover for the second consecutive time and maintained a nice visual continuity with The Evolution of Chaos.
HEATHEN is a legacy band with a foot firmly planted in the present. They manage this while maintaining their core integrity and identity, but make no mistake; this is relevant modern thrash from a band that was there when it happened. Empire of the Blind is a worthy follow-up to their outstanding comeback effort The Evolution of Chaos (2009) - and likely one of the more satisfying "heavy yet melodic" releases of 2020 in any metal genre.
4.5 Out Of 5.0