AMARANTHE Unleash Music Video For "Boom!1"


By Larry Petro, News Monkey
Friday, November 6, 2020 @ 6:00 PM


| | | |
| --- | --- | --- |
| | | Newest Album Manifest Out Now |
Halloween may be over, but AMARANTHE extend the spooky season with their new music video for "BOOM!1". Following the release of their groundbreaking sixth studio album Manifest that was released on October 2nd, the Swedish modern metal heroes once again showcase their versatility with this grooving and explosive track.

Check out the video on KNAC.COM HERE

AMARANTHE commented:

"In a time when everyone seems to have an opinion about absolutely everything our very own motormouth, GG6, reserves his right to help himself to a small arsenal of explosives topped off with a ton or two of dynamite, and watch your opinion go "BOOM!1"!/ Discussions on elections, pandemics and riots has led to increased polarization in today's society, but our Growl God simply prefers it all at 1000įF. A full on onslaught of detuned metal with some of the fastest growls to grace today's scene, "BOOM!1" acts as a sequel to 2018's "GG6", and it raises the bar on every level - with a video presented in a Tarantino-esque style, sure to be just as entertaining as the song itself! So serve yourself a cold glass of Napalm, and watch your world go "BOOM!1"!"

Manifest is available in the following formats:
CD
Media Book With Four Bonus Tracks
Media Book Bundle With Patch (Limited to 250 units)
Vinyl
Gold Vinyl (Limited to 300 units)
Blue/Black Marbled Vinyl (Limited to 300 units)
Cyan Vinyl (Limited to 1000 units)
Band Exclusive Vinyl (Limited to 150 units per color)

Red w/ Gold Splatter | Olof
Clear w/ Red Splatter | Elize *SOLD OUT*
Green w/ Black Splatter | GG6
White w/ Blue Splatter | Nils
Pink w/ Green Splatter | Johan
Orange w/ Black Splatter | Morten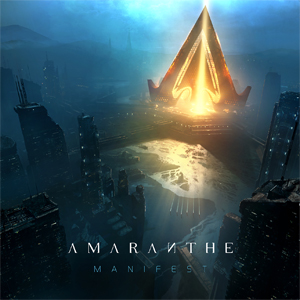 Each band exclusive vinyl color was personally selected by the single band members and is a bold statement for which value is the most important to them: Creativity, independence, prudence, cleverness, single-mindedness, and composure. Altogether, these values are the foundation to overcome obstacles and face difficult and uncertain situations. To symbolize that, every vinyl comes with a 5x7 "hero card" corresponding with the band member and their personally picked value. When all six cards are united, they form the album cover for Manifest.

AMARANTHE have spent the last decade establishing themselves as a formidable, positive and fervently melodic force for metallic good. From their explosive self-titled debut in 2011 to the more sophisticated, streamlined likes of 2014ís Massive Addictive and its immaculate follow-up Maximalism (2016), AMARANTHE has masterfully blurred the lines between melodic metal, crushing brutality, cinematic sweep, and futuristic sparkle. Led by the endlessly ingenious songwriting of guitarist Olof MŲrck and powerhouse vocalist Elize Ryd, their rise to prominence has been a joy to behold.

Widely acclaimed as a dazzling live act, the Swedes reached a new peak of creativity on 2018ís hugely successful Helix: an album that pushed the bandís vision to new heights, breadths, and depths, while showcasing the brilliance of Elize and her co-vocalists, Henrik Englund Wilhelmsson and recent recruit Nils Molin.

Not just a glorious return but a wholesale upgrade for their exuberant sound, Manifest is simply the most daring, dynamic, and unforgettable album that AMARANTHE have released to date. The perfect antidote to the nagging anxieties plaguing us all in these troubled times, itís a technicolor celebration of metalís ageless power, blazing with all of lifeís colors and chaos, but delivered with utmost artistry and skill.

Please log in to view RANTS