DARK TRANQUILLITY
Moment
Century Media Records




Review By Anyssa Gomez, Trinidad And Tobago Contributor

Nobody can deny the majesty of the Nordic lands, from their imposing fjords to their unforgiving winters. It's no surprise that some of the best and most influential bands in metal hail from Scandinavia. We're in 2020, the year of chaos and many new albums. So let's talk about a much anticipated one.

Swedish Death metal experts DARK TRANQUILLITY have graced us with yet another creative masterpiece. Moment, to be released on November 20th via Century Media records, is nothing short of terrific. The band has of course gone through some changes in the four years since their Swedish Grammy-nominated album, Atoma. Two excellent guitarists have joined their ranks: Christopher Amott (ex-ARCH ENEMY) and Johan Reinholdz (NONEXIST). Together they weaved an intricate soundscape that will no doubt delight every listener. Recorded at Nacksving Studios and Rogue Music by Martin Brändström, and mixed/mastered by Jens Bogren at Fascination Street Studios, Moment is an enthralling journey from start to finish.

It's hard to pick just one favorite on this album. They start off with fast, aggressive yet beautifully woven melodies in "Phantom Days", "Transient" and "Identical to None", leaving the listener nothing short of awestruck. Those three tracks alone are a reminder that the typical DARK TRANQUILLITY soundscape we have grown to love has not changed at all, au contraire, it's gotten even better! "Standstill" is aptly named, because you have to do just that…be still and admire its beauty. Guitar work par excellence, along with well placed clean vocals to counter the harsh ones.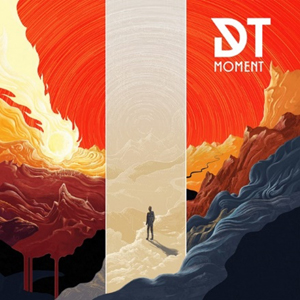 The album's tempo slows down a bit after the first four songs, but it is guaranteed to hold the listener's interest. Each song has its own energy and uniqueness. "A Drawn Out Exit" and "Eyes of the World" bring us those slow cold and enchanting melodies that DARK TRANQUILLITY has perfected over time. "Failstate" ups the tempo once again and is quite fun to sing along with, all before "Empires lost in Time" and "In Truth Divided" bring us to the end of this defining Moment in the DARK TRANQUILLITY discography.
Here's to hoping live concerts won't entirely be relegated to our memories, but until such time we have live streams. DARK TRANQUILLITY will be performing Moment in it's entirely via livestream on November 21st, 2pm EST/20:00 CET, at Gothenburg's famed venue Stora Teatern. More details on that HERE.
Based on the amazing music I heard on the album, I'd say the livestream is more than worth every penny. I'm giving Moment a solid 5.0 out of 5!
5.0 Out Of 5.0