IRON ANGEL Emerald Eyes


By Rob McNees, Vinyl Aficionado
Wednesday, November 25, 2020 @ 6:56 AM


| | | |
| --- | --- | --- |
| | | |
IRON ANGEL
Emerald Eyes
Mighty Music




If you're a fan of Thrash Metal, then of course you'll know who the Big 4 are: SLAYER, METALLICA, ANTHRAX and MEGADETH. And there's many arguments to ensue about that in itself. There's also a 2nd Tier, who by all accounts can stand head-to-head with that 4, such as TESTAMENT, EXODUS, OVERKILL, DARK ANGEL etc. There's also a Big Teutonic 4, Germany's elite group of Thrash forefathers. They are KREATOR, DESTRUCTION, SODOM and TANKARD. And like our heroes, there's a 2nd Tier here also, and no less worthy I can assure you: Names like DARKNESS, LIVING DEATH, GRINDER and IRON ANGEL.

IRON ANGEL formed in 1983 and they released 3 demos in 1984 before unleashing upon an unsuspecting world the Thrashterpiece Hellish Crossfire in 1985. It most assuredly put IRON ANGEL on the map. The 2nd album, Winds Of War released in 1986 had lost some of the blazing speed for a more polished sound and the band themselves imploding thereafter. The hiatus lasted 'till 2007 when the Back From Hell CD EP was released. Fast forward to 2018 and the Hellbound album sees the band back firing on all cylinders and that brings us to 2020, and Emerald Eyes.

And if you've read any of my reviews over the years (and if you haven't then for shame!) you're well aware that when a bands been around this long, there's always one captain who steers the ship. And on the ship IRON ANGEL, that's vocalist Dirk Shroder. Dirk is back flying the flag high for Teutonic Thrash and that's a very good thing to these ears. Along on the journey are Didy Mackel, bassist since 2015, Maximillian Behr, drummer since 2016, and duel guitarists Robert Altenbach (also 2016) and Nino Helfrich, the newby since 2019. But the big question is can I.A. 2020 give I.A. from 1985 a run for their money?

Let me answer that with a resounding Hell Yes they can!! As the first strains of "Sacred Slaughter" come blasting out of my speakers, immediately putting my neck on notice that some intense pain will be forthcoming! A bruising break midsong will have your moshpit at home (or until such time as the world can collect again for the excitement of a Metal show) in full effect. "Descend" keeps the energy full throttle with some blinding Speed Metal riffing from Rob & Nino. And the breakdown in the chorus will have fists in the air I have no doubt! "Sands of Time" sounds vintage 80's midtempo I.A. keeping Max busy with some double kick pounding. "Demons" is more classic Speed Metal riffing and in my minds eye I can clearly see a blur of flying hair & sweat on the front row as the band pummels each and every Metalhead there singing that memorable chorus. Wow indeed!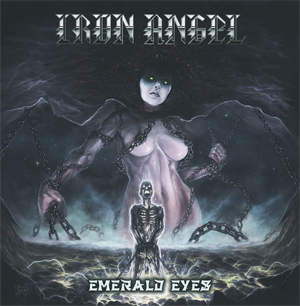 "What We're Living For" gives you the false sense of slowing things down but Nein, the crushing Speed continues! The chorus has a great hook along with a savage break and tasty leadwork to boot. A standout track! The title track is a muscular Speed Metal clinic that has my face smiling and the air-guitar riffing madly! A surprising blues sounding break gives an Old Timer like me a breather. But catch your breath quick 'cuz the Speed comes back full throttle! "Fiery Winds of Death" is a mid-tempo smasher with a strong chorus that doesn't sacrifice melody for heaviness. "Sacrificed" has a riff of Steel and plenty of aggression and could have easily come off their seminal debut album. Yes, it's that good comrade. "Bridges are Burning" is uptempo and has that classic Teutonic sound and riffing that IRON ANGEL and the German brotherhood are known and revered for. "Heaven in Red" is another master clinic in Speed Metal riffing that some of the up and coming bands could take a few pointers off of most assuredly. Album closer "Dark Sorcery" ends as it began, with the glorious speed riffs and thunderous rhythm section together delivering the final blitzkrieg of your neck & nervous system. Only the most seasoned vet could survive such a Teutonic thrashing!
This is the soundtrack to a trip down the Autobahn in the finest German built automobile, with precision tuning and dual turbos screaming out as loud and fast as you can take it! Wimps & Posers stay in the slow lane!
And for my Vinyl soldiers out there, there is not only Vinyl, but 3 limited choices as to the color of the Speed Metal onslaught: 300 Light Green, 300 Purple and the venerable Black of course! Buy or Die!!
4.8 Out Of 5 Crushed Skulls

Please log in to view RANTS