VOIVOD Lost Machine


By Peter Atkinson, Contributor
Wednesday, December 2, 2020 @ 10:53 AM


| | | |
| --- | --- | --- |
| | | |
VOIVOD
Lost Machine
Century Media Records




After long a career marked by a few modest ups and some crushing downs, Canadian oddballs VOIVOD have been enjoying an upswing on the strength of two well-received albums – 2013's Target Earth and 2018's Juno Award-winning The Wake – the 2016 EP Post Society, and a slew of diverse tours with the likes of NAPALM DEATH, YOB, CARCASS and KING PARROT. Now, 30 years after the quartet "almost was", they have hit a second creative peak with a new lineup and are garnering the sort of attention and excitement they haven't had since their major label days in the early '90s.

And good for them. VOIVOD has been a model of perseverance, soldiering on in spite of seemingly crippling lineup changes, label troubles, long lean periods and the death of original guitarist Denis "Piggy" D'Amour in 2005. The band is now on at least its third comeback – the first following frontman Denis "Snake" Belanger's departure in 1994, the second when he returned in 2002 after ex-METALLICA bassist Jason "Jasonic" Newsted joined the ranks, and the third when current guitarist Dan "Chewy" Mongrain came aboard in 2008 to fill the void left by D'Amour's death, and you could probably add a fourth given the van accident that sidelined then-bassist/frontman Eric "E-Force" Forrest in 1998 and damn near killed him. So it's been a tough slog for sure.

Yet you'd never really know it to hear or see the band. Even on VOIVOD's weakest albums, there was an undeniable spunk and sense of adventure. And while on tour, the band always offered plenty of energy, humor and an absorbing mix of proggy dazzle, psychedelic whimsy and raw power.

You get a bit of all of that on the band's third live album, Lost Machine. Recorded in Québec City in 2019 while supporting The Wake, Lost Machine offers a wide ranging set list that, while focused on newer material, spans the band's career back the beginning with the eponymous "Voivod" from 1984's War And Pain and showcasing classic nuggets like "The Prow", "Overreaction" and the cover of PINK FLOYD's "Astronomy Domine" that is, ironically, VOIVOD's best-known song.

Mongrain made his recording debut with the band on its last live album, 2011's Warriors Of Ice - which served mainly as a tribute to D'Amour's legacy by showcasing VOIVOD's classic War And Pain through Angel Rat era – and did an admirable job channeling the late guitarist's eccentric spirit. A decade later, Mongrain's come very much into his own and you can feel and hear his personality – which is just as left of center as D'Amour's given his tech-death experience and jazz background – and confidence in his careening guitar work, both in the tracks he had a hand in crafting and those that predate him almost by a lifetime.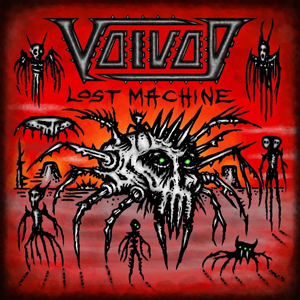 Bassist Dominic "Rocky" Laroche has also been onboard for six years now, and brings a nimble flair to the VOIVOD sound while anchoring it with a grinding bottom end. So where Warriors Of Ice – which featured original bassist Jean-Yves "Blacky" Thériault in his second go-round - boasted fairly note-perfect interpretations of vintage material, Lost Machine feels looser and more spirited, while maintaining the band inimitable rough-hewn edge. It all sounds like a lot of fun.
The seemingly endlessly cheerful Belanger has a big role in that, with his scattershot, between-song banter that alternates between French (mostly) and English, and freewheeling delivery. One of metal's true characters, he leads the charge through a 13-song, 75-minute set here, exhorting the small but enthusiastic crowd "to party, to dance" while singing of psychic vacuums, hypercubes, lost machines, iconspiracies and other oddities while fellow original member – the band's sole constant and art director – Michel "Away" Langevin sets a determined pace.
VOIVOD stole a bit of Lost Machine's thunder by issuing the The End Of Dormancy EP in July which offered a couple live songs from the 2019 Montreal Jazz Festival, including a nifty version of the title track backed by a horn section. So the traditional take here seems a bit "ordinary" by comparison – and the frisky "The Unknown Knows" is omitted, which is also a shame. But those are small nits to pick about otherwise very entertaining package.
Lost Machine offers a nice variety of old and new played by a lineup that is remarkably at the top of its game - in spite of all that came before. It's perhaps a miracle that VOIVOD is still around – to still sound so vibrant and indeed vital is even more so.
4.5 Out Of 5.0

Please log in to view RANTS