Megadeth
Greatest Hits: Back to the Start


By Jeff Kerby, Contributor
Saturday, July 2, 2005 @ 1:39 AM


| | | |
| --- | --- | --- |
| | | (Capitol) |
Dave Sells… and the Droogies are Buying.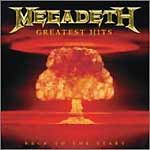 Actually, on Megadeth's last studio release The System Has Failed, that was a good thing--it was a solid, no bullshit, metal effort coming at a time when the genre was still reeling from Metallica's trashcan/punk effort, St. Anger. Even the most skeptical fans who wondered how well Dave Mustaine would do without longtime collaborator Junior Ellefson had to admit that the Megadeth catalogue was undoubtedly enhanced by the release of one of 2004's strongest records. Fast forward a year, and Dave is set to take the road with Gigantour, and basically from a business standpoint, it couldn't hurt to have a fresh product to sell while out on the road. If you think about it, there really isn't any harm in that as long as the record has some type of purpose and isn't as superfluous as the latest in a long line of Motley Crue or Def Leppard compilations. That isn't to say that Megadeth hasn't had their own collection of notable tunes released--there was Capitol Punishment: The Megadeth Years effort that basically fulfilled a recording contract and was met by a lukewarm reception amongst the majority of the band's fans. Then, there was also the performance disc, Rude Awakening, that consisted of twenty essential live Megaclassics. The reason this greatest hits effort is a little different and has a bit more legitimacy than your average metal cash grab stems from Mustaine's recent massive undertaking wherein he went in and remastered, reissued and in many cases rerecorded Megadeth's entire catalogue--basically, these tracks represent what these musical creations sound like in his head utilizing the current resources at his disposal.

Originally, there was a tremendous polarization of opinion when the remasters were released last year when many fans found that certain vocals/instrumentation on their favorite tracks had been changed. Many instantly criticized the group for trying to exploit its core audience and in many cases thought Mustaine was a megalomaniac who couldn't keep from tinkering with his own product. Others found the clarity of the newer versions a more than welcome trade off and were willing to embrace the new work as innovation. Still another faction wasn't sure they liked the idea, but they were still willing to give it a try… their major problem though was that they didn't have the cash to drop on seven entire records they were unsure about--especially if the fan already owned the older versions. It is primarily for this group that this release is key. To start off, the included material here was voted on by fans on the official Megadeth website, so…what that basically means is that the obvious selections are going to be there and nearly all of the choices make sense on some level even if each selection isn't a favorite of a particular fan--ya can't please everyone. Anyone over the age of eight should know that any time one attempts to encompass a body of work as large as Mustaine and company's in the span of 78 minutes, some tunes are not going to get included. The largest complaints here seem to center around the omission of "Devil's Island" or "Ashes In Your Mouth"---tunes that are arguably as good or better than any here, but unless the band was willing to go with two discs, some quality songs just weren't going to make it.

What is here is a selection spanning the era from Killing is My Business to the aforementioned Capitol Punishment. More recent Sanctuary releases such as The World Needs a Hero, Rude Awakening and The System Has Failed are not represented. This disc begins with "Holy Wars" off of what many consider to be the band's seminal record, Rust in Peace, and is joined here by the obvious choice "Hangar 18"--most of the reissue complaints from that album dealt with lyric discrepancies on "Five Magics" and the vocals on "Lucretia"--they didn't concern these two tracks. This is followed by "My Darkest Hour" which happens to be the only selection from So Far, So Good…So What! If Megadeth and the fans were only going to include one song from this record, they might as well have made it one that puts anything by Mustaine's previous band to shame. It shouldn't come to anyone's surprise that the commercially successful Countdown to Extinction gets three songs here: "Sweating Bullets," "Symphony of Destruction" and "Skin O' My Teeth." There really isn't any aspect of the remasters on these three that is drastic enough to cause anyone too much distress. "Angry Again" comes courtesy of Hidden Treasures (Last Action Hero originally)--yeah, one of the covers from this record such as "No More Mr. Nice Guy" would have been better, but that means we would have to pay royalties…so…you won't see "Anarchy in the U.K." from So Far here either.

Youthanasia also got three tunes included here: "A Tout Le Monde," "Prince of Darkness" and "Train of Consequences." Again, these three would seem to be the obvious choices with "Black Curtains" and "I Thought I Knew It All" getting honorable mentions. "Mechanix (2002 Remix)" is taken from Killing is My Business and represents the only song from Megadeth's debut. You just know that any compilation from this band worth a damn has to include "Peace Sells" as well as "Wake Up Dead" from Peace Sells…But Who's Buying? The remasters on both of these only tend to accentuate the guitar virtuosity inherent in both tracks. Possibly the strangest selections on this compilation deal with songs from Cryptic Writings with "She-Wolf" and "Trust" getting the nod over Capitol selections "Almost Honest" and "Use The Man"…well, the fans picked them. Finally, "Dread and the Fugitive Mind" and "Kill the King" come courtesy of the Capitol Years collection, and sound as dynamic as they did the first day they were played in your stereo.

If you were a little leery of the whole idea of the Megamasters, pick up this compilation and sample what some of the tracks sound like. The guitars are crisper here, and the drum beats are clear and precise. Yes, it can be a distraction to find that lyrics to songs that were originally a part of your formative years have been altered even slightly, but that isn't as prevalent on these projects as some would have you believe. Besides the obvious financial considerations, what Mustaine essentially did with these remasters was make the music from his band's past sound the way he wanted it to while implementing the vast array of recording technology that has become available since the mid-eighties. It is undeniable that in the majority of cases, the overall sound has improved and is definitely worth any minor irritations that might occasionally emanate from the vocals. In order to fully enjoy this disc though, a listener has to try to have an open mind and not focus on the past…not focus on the whole Some Kind of Monster--"little Danish friend" fiasco…. not focus on Dave's religion and whether or not it is incongruous for a career in metal. Yeah, lately Mustaine seems to be in the news as much for peripheral dealings as he is for his music and/or tour, but face it, Dave could undergo a medical procedure that would transform him into a screaming hermaphrodite, and he would still be one of the greatest guitarist/frontmen of the genre.

Give this a try and tip your glass to a band that has consistently stayed true to metal, still sees fit to include guitar solos in its songs and still feels an obligation to take other bands of the genre on tour.

Anything short of four stars here would be heresy.

* * * *




Please log in to view RANTS

If you don't have a username, click here to create an account!