PUSCIFER Existential Reckoning


By Brian Davis, Contributor
Saturday, February 6, 2021 @ 10:43 AM


| | | |
| --- | --- | --- |
| | | |
PUSCIFER
Existential Reckoning
Alchemy Records/Puscifer Entertainment




By now anyone remotely familiar with vocalist Maynard James Keenan should be aware of his prodigious ability to manifest his art in an impressively varied manner, as evidenced in the array of creativity showcased through his three innovative projects: The psychonautical juggernaut TOOL, the emotionally explorative A PERFECT CIRCLE, and his anything-goes mental & musical playground known as PUSCIFER. Distinctly known for a heavy mix of electronica and semi-sparse but ever effective instrumentation, PUSCIFER has gradually evolved from a random spectrum of musings, experimentation, collaboration and theatrical penchant to a more cohesive, effective and impressive manifestation of these elements. The steady evolution of the band has been an entertaining ride through sometimes hilarious, oft emotional and always engaging soundscapes built through numerous collaborations ever-steadily crafted on the foundation of what is now the nucleus of PUSCIFER: Vocalist/lyricist Maynard James Keenan, vocalist/songwriter Carina Round and songwriter/multi-instrumentalist Mat Mitchell. Their latest slice of brilliance, Existential Reckoning, is a landmark release for the band which solidifies the collaborative entity these three remarkable musicians have become.

Primary songwriter Mat Mitchell, the man in charge of mapping the sonic landscape that defines the musical environment of each album, is a digital Robocop in his ability to translate the intrinsically human art of expression through music with a genius-level mastery of technology. Mitchell welds a digital expression with organic creativity into expansive hills and valleys of songwriting among which MJK and the lovely miss Carina Round launch their own expeditions into expression & creativity. Embodying a lifelong obsession with the evolution of electronic music, specifically the sounds of the 1980's, Mitchell opted for the Synclavier and the Fairlight II (popularized by 80's legend Peter Gabriel) to engineer the general landscape of the album's existential terrain. And while many electronic instruments of the 80's bear limited creative boundaries, Mitchell proves his productional prowess by maximizing instrumental potential with every rise, fall and nuance of each song to ultimate effect and impact. A modern pioneer of top tier digital instrumentation – not to mention a highly efficient multi-instrumentalist – Mat Mitchell's creative groundwork on this album serves as a premium example of just how effectively the modern electronic world can influence and innovate the ancient realm of musical expression.

Enter Lady Dozo, Miss Carina Round, the anima of PUSCIFER and perfect vocal complement to Maynard. With several home runs in her pocket and a newfound level of comfort, she asserts herself expressively and influentially throughout Existential Reckoning, insidiously influencing the subtleties that feed the artistic atmosphere by knowing instinctively how much or how little to apply at just the right times to accentuate the brilliance of her cohorts' contributions. Ever the subtle seamstress, she has become the musical weaver threading the web of creativity & collaboration that centrally binds PUSCIFER to one another without getting in each other's creative way. As the Pusciferian weaver Carina not only stitches together intricate patches of depth and subtlety but serves as a captivating instrument unto herself, a versatility of voice that dictates the entire ebb and flow of the album. The penultimate fact is Existential Reckoning owes its essence to Carina and is but a mere glimpse of this siren's capacity for soulfulness.

Yet ultimately - inevitably - it comes down to the gravitating presence of Maynard James Keenan, with his decades of exemplary vocal mastery and poetic brilliance, to continue defining the ever-evolving, complex, sincere-but-never-too-serious platform for humor and inspiration that is PUSCIFER. With tongue in cheek and grains of sand peppering remarkably insightful perspectives on the human condition, Maynard wields his typical poetic precision to postulate healing insights into humanity's struggle with its own existence. Encouraging us to a mutual spiritual catharsis through multiple perspectives, MJK uses his trademark vocal androgyny & emotive eloquence to turn mirrors upon the reflective faces of desperate souls praying for a redeeming perspective.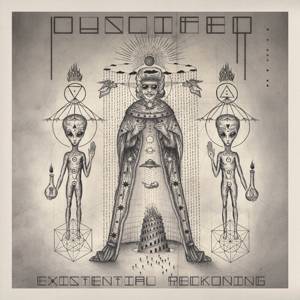 Be it the dangerous Age of Confusion dictating our technical environment in "Grey Area" - ("No SI override, we're on the verge of extinction; hallucinating to survive here in the digital paradigm"), humanity's willing pacification through the satisfaction of our so-called basic "needs" as dictated by media and a compulsory need for self-distraction in "Bread and Circus" – ("Concessions, fireworks and glitter, gladiators and jesters, just entertainers…trade it all for bread and circus") or the simplistic slap-to-the face exasperated perspective of "Apocalyptical" – ("Go on, moron…jog on, head down, ignore the evidence. Be damned, don't be dumb, dumb be doomed") the album establishes a clear effort to provide perspectives intended to inspire a fresh comprehension of the state of mankind.
Presuming the eventual awakening of spirit and mindfulness, "The Underwhelming" offers a bridge between spiritual sleep and wakefulness: "You were broken so now you've broken free, now you see right through the king's new clothing…Like minds broken, like minds breaking free"; coupling this profound mental and spiritual freedom with some prospective evolution and a respectable lack of give-a-shit for the paradigms of old, "Fake Affront" then wields the mirror against the faces of hypocrisy at the heart of society's existential reckoning: "Sanctimonious phony little shit, shut up, shut the fuck up…whinge and bleat, baby, we've heard it all before." Finally, with existential awareness comes realization as we acknowledge the diversity – the heterogeneity - from which our successes and failures derive, we raise a toast to the looming reckoning due our innumerable lifetimes of choices without assumed consequence: "Write your own fable, pretend it will all work out…everything will be alright." And who knows – maybe it will; then again, maybe not – such matters depend on your own reckoning.
5.0 Out Of 5.0




Please log in to view RANTS

If you don't have a username, click here to create an account!