EVERGREY Rise of the Phoenix


By Nathan Dufour, Great White North
Saturday, February 6, 2021 @ 10:44 AM


| | | |
| --- | --- | --- |
| | | |
EVERGREY
Rise of the Phoenix
2021, AFM Records




And, time marches forward. After a 3 album concept, and a very public period wherein the band very nearly imploded, EVERGREY are back. In their own words, though, they never left.

I cannot think of a more fitting title for the newest offering than Rise of the Phoenix, both for the band and for the general feeling overtaking all of us - that we are waiting, somewhat cantankerously, for our respective time. As a longtime fan of the band through all of its iterations and, also, through my own, EVERGREY holds a deeply personal place for me. With each successive album, and a new take on the emotional toll on life and its journey, I find myself falling in love all over again. Sometimes, that love is slow to come, and sometimes it knocks you down straight away.

Wasting absolutely no time, "Forever Outsider" sets the tone for the whole album, with its absolutely glimmering production lending devastating clarity to the power of the riff and the crushingly emotive lyrics of Englund. To be fair, EVERGREY has always traded stock in the somber introspection that comes to all at one point or another, but "Forever Outsider" is plainly next level. It is a war cry but also a statement of purpose. In fact, the preceding sentence really encapsulates the totality of Rise of the Phoenix.

Tom Englund has always been very open and at times amazingly candid about the struggles both within and without that inform the heart palpitations of the EVERGREY machine. Indeed, he is arguably the embodiment of that heart, being the sole consistent member. Now, having met Tom on several occasions and also in consideration of every interview I have ever read, the stark nakedness with which he approaches his craft is incredible, his gregarious nature one hundred percent authentic. Being in possession of, hands down, one the most incredible voices in music doesn't hurt. If we could just stop making me teary eyed, that would be great. "Stories" is one of the most astoundingly beautiful and instantly moving songs I have heard in recent memory, not just from Evergrey, but period. Its movements, cadence, melody, arrangement, and overall feeling is truly beyond the ability of words to accurately describe and displays the true magic of music, the most universal of all languages. It is perfect, and a perfect placement (three tracks in for a ballad may seem a little off but I promise it isn't).

Three songs in, and this phoenix only rises, with "Dandelion Cypher" representing not only a great song title but, musically, the hallmarks of everything that make the band standouts in their field - and a chorus that just keeps, well, going in circles. A selling point on the one sheeter, though, is the collaboration between Englund and James LaBrie, found on "The Beholder".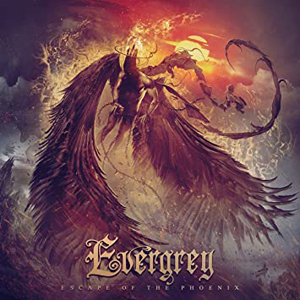 Interestingly, the song finds Englund arguably at the top of his range, with LaBrie at the lower end of his, and the resulting collaboration pays dividends. Just go listen to it, but keep an open mind, because the orchestration steps out of the comfort zone of both singers while still somehow remaining in both wheelhouses.
Earlier, there was brief discussion of the 3 album concept that precedes Rise of the Phoenix and those albums do bear mention again because although at times difficult to weather for whatever reason, they set up the backdrop from which the new album leaps forth, and in certain cases will be judged against. Truly, we are all judged based on our past actions and bands are no different, with every new album being compared to the last one, or ones from years passed, justifying opinions whether good or bad, the perception of missteps almost salivated after. After all, schadenfreude is a very real thing - we like seeing a person slip and fall, and we like critiquing bands we love (case in point, right here and now). We debate merits.
Give Rise of the Phoenix all the merit badges - this is the most cohesive EVERGREY has sounded in years. Every song can stand on its own as a single, encompassing statement, while not detracting from the whole. I said earlier how the album opens in a spectacular and majestic fashion and must say that it ends in much the same way. If you strip "Eternal Nocturnal" down to its skeleton, it's an absolutely beautiful love song. To me, that is the most enduring aspect of the album - it's just beautiful. And beautiful feels good, whatever beautiful means to you.
4.75 Out Of 5.0

Please log in to view RANTS