DIO Evil Or Divine: Live In New York City Reissue

By George Mihalovich, Pure Rock Patroller
Wednesday, February 10, 2021 @ 10:47 AM

| | | |
| --- | --- | --- |
| | | |
DIO
Evil Or Divine: Live In New York City Reissue
BMG




For those who never saw Ronnie James Dio perform, Evil Or Divine: Live In New York City demonstrates how he could deliver challenging material in a live setting as convincingly as in the studio — always a rare feat for metal vocalists who tend to push the levels of aggression and range to their personal limits. RJD was no longer a young man at this point, but his vocal prowess remained largely undiminished. He also tastefully displayed his improvisational skills and keen melodic sense while staying true to the original intent of the songs. To state the obvious, the man could sing at a level that was not heard previously and may never be reached again.

Evil Or Divine: Live In New York City represents a lineup and album (2002's Killing the Dragon — this recording is from the support tour) that is on par with the trilogy of records released in the 80s that many consider his best solo material (Holy Diver, Last in Line and Sacred Heart). It is also noteworthy because it is the final time that longtime bassist and writing partner Jimmy Bain (RAINBOW, GARY MOORE, THIN LIZZY, WORLD WAR III, LAST IN LINE) was part of DIO's touring band. It's a great chronicle of the talents of two musicians who are sadly no longer with us.

Unsurprisingly, this concert performance focuses heavily on material from the first two of the aforementioned three key DIO albums, namely Holy Diver ("Egypt" [paired with "Children of the Sea"], "Stand Up and Shout", "Don't Talk to Strangers", "Holy Diver" and "Rainbow in the Dark") and Last in Line ("The Last In Line" and "We Rock"). A few tracks from DIO's latter albums including Magica ("Lord of the Last Day" and "Fever Dreams") and Killing the Dragon ("Killing the Dragon", "Push" and "Rock and Roll") appear alongside classics from RAINBOW ("Man on the Silver Mountain" and "Long Live Rock 'N' Roll" medley, including an extended solo spot from Doug Aldrich) and BLACK SABBATH ("Heaven and Hell"). The band is strong across the board, but the chemistry really comes through on the material from Killing the Dragon.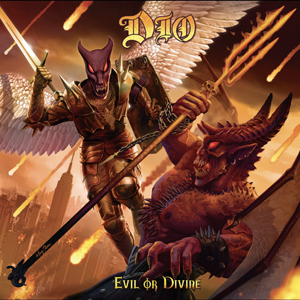 Doug Aldrich is a commanding presence and was the best fit in the DIO guitarist slot since Vivian Campbell. In addition to helping to create the fantastic Killing the Dragon album, his precise rhythms and blazing leads were the most convincing and stylistically correct across a wide range of material from RJD's storied career. Doug is backed by solid melodic support and ambience courtesy of tenured DIO keyboardist Scott Warren, and this version of the CD also includes a previously unreleased Simon Wright drum solo.
Certainly, live albums tend to appeal more to the initiated, but Evil Or Divine: Live In New York City is a nicely remastered and repackaged edition of an out-of-print title (originally released in 2005) that provides the audio quality — loud, punchy and clear — that makes this a worthwhile listen without qualification. Yes, there may have been some of the usual "touchups" (as with most live records), but nonetheless it still sounds authentic in a way not often heard just 20 years later.
Evil Or Divine: Live In New York City captures a specific moment in time in the career of the legendary Ronnie James Dio — one where he was backed by a band that was up to the task. It's fantastic to hear this collection of classic music from one of the genre's finest vocalists, writers and innovators. The material and performances hold up very well, and for the sentimental, it's very moving to hear Ronnie's onstage banter; it's like a familiar conversation with an old friend. RIP RJD
4.0 Out Of 5.0 Fire-Breathing, Laser-Eyed Dragons