TODD LA TORRE
Rejoice In The Suffering
Rat Pak Records - 2021
http://www.toddlatorre.com




It took me a little while to come around to enjoying Todd La Torre's work once he was hired to be the singer for QUEENSRYCHE. This is due to the fact that I thought his vocals came off as a bit too much like he was imitating GEOFF TATE rather than providing his own vocal presence in the performance.

But the last couple of albums QUEENSRYCHE has put out have been what I consider a marked improvement and that is due largely to the vocals sounding more and more like Todd seeming more at home with his own vocal style on the albums. Obviously, this is just my opinion and I could be wrong but that's how I saw it.

When I saw that he was going to be releasing a solo album, I was actually quite keen on checking it out. I avoided hearing any of the material that was put out ahead of the album's release so I could hear it for the first time as part of the whole album package. When I told a friend that I was going to be reviewing the album, he told me that it was pretty heavy sounding and not really anything like a QUEENSRYCHE album. My friend knows where my musical "comfort zone" falls and I guess he figured he would give me fair warning.

But I have to say that I found myself rather openminded as I listened to the album. It is by far a very different sound that QUEENSRYCHE fans might be expecting. It's got a heavier and more aggressive posture to the music, at times getting both thrashy and even a bit of brutality in the music.

Rejoice In The Suffering first grabs your notice with the artwork. It's visually striking with the main art set against a stark white background. When I looked at the liner notes, I discovered just how much of SOLO project this is for La Torre. He's obviously the singer, but he played the drum tracks. He co-wrote and co-produced all the material with Craig Blackwell (the vocalist/guitarist for DISCIPLES OF MAYHEM). In fact, other than a couple of small guest appearances, Blackwell was the only musician (he played all the guitar, bass and keyboard tracks) that was involved in the creation of the album.

I know you must be wondering about the actual music by now. So let's get down to brass tacks and talk about the album's thirteen songs. The first three songs are a triple shot of glorious metallic indoctrination. The opening track "Dogmata" has a rapid fire pace and delivery. La Torre's vocals are intense and there's a decidedly different lyrical content than I had been prepared to hear at first.

I really enjoyed the slap to the head lyrics employed on "Pretenders", which seems to take to task those who pretend to be religious and are anything but. Meanwhile, "Hellbound and Down" is a pure shot of adrenaline that doesn't slow down at all.

The main hiccup I discovered with the album came with track four (and by extension, track seven). But it had nothing to do with the songs themselves. Instead, the quality control putting the package together was lacking. According to the order information on the Rat Pak website, track four was listed to be "Darkened Majesty" and the title track was supposed to be track seven. But the back of the CD and the liner notes booklet have the songs reversed. Making matters even more confusing, momentarily at least, the songs are actually in the order they were originally announced. While some people might not really care, this is a particular nitpick of mine.

Anyway, "Darkened Majesty" was a solidly entertaining uptempo track, while the title song ended up being a pretty cool track. I particularly enjoyed the phrasing employed in the lyrics at times. It really made for a deepening of the overall song quality.

If you are wanting some vocal takes that are reminiscent of what you might hear from TODD LA TORRE when he's fronting QUEENSRYCHE, there are some brief passages that will satisfy those desires. But they give way to a more impassioned and in-your-face delivery before too long. Songs like "Crossroads To Insanity" start out a bit slow and with a very deliberate pace. But a couple minutes into the song, a far heavier sound kicks in to up that intensity level. The song does close out more like it started but overall it just feels very HEAVY. The song "Apology" has that same slow pacing start to the vocals as well.

The other prime example of this particular vocal stylistic choice is the track "Vexed". The song's intro and first verse is much more of a soft delivery but then this overwhelmingly gritty rocking edge to the music takes over and makes the song absolutely phenomenal. I will not shy away from my belief that this is one of the best songs on the entire album.

I found myself with a bit of work to do when it came to the song "Critical Cynic". The first listen didn't really grab me at all when it came to the vocals. I thought they were a bit too arched in their delivery. But the music was really good, so when I played the album through a couple more times, I found that it was a song that actually bettered its first impression to the point that my initial thoughts on the vocals were more on me than anything really against the track itself. It grows on you to say the least.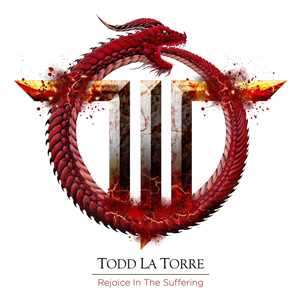 The version of the album I bought contains three bonus tracks and they all are pretty fiery numbers. "Fractured" has an extremely sharp edge to it and it is another album highlight for me. "Set It Off" is a pretty solid song as well. The last bonus track is "One By One" and it is nothing like I could've been prepared for. After a 90 second intro, the music goes into a full on explosion that borders on that thrash sound I mentioned at the top of the article. But the weird thing for me is that the vocals, save one brief passage mid-song, are pure cookie monster vocals. They wouldn't have seemed out of place on an outright death metal song. It was such a weird thing for me that I am still wondering if Todd La Torre sang just the one brief passage and let Craig Blackwell do all the other vocals. I have no way to verify if this is true since there's no information available. But the most shocking thing regarding this song is that I actually rather enjoyed it! Normally, I hate cookie monster vocals but this track was so well executed that I can't imagine the vocals being delivered any other way.
The one track I haven't mentioned yet is the third of my three favorite tracks on Rejoice In The Suffering. While "Vanguards Of The Dawn Wall" might sound like a superb title for a fantasy novel epic, the song itself is in a class by itself as well. There's an unfettered relentlessness to the music and the viciously intense vocal take on the song is simply out of this world. Each time I play the album I am looking forward to when this song starts playing.
I was trying to think of a way to sum up my thoughts on the Rejoice In The Suffering album. I finally thought of the Doro Pesch song "Brutal and Effective" from her Love Me In Black album. It succinctly sums up the overall quality that is woven through Todd La Torre's solo debut which makes for an electrifyingly entertaining listening experience!
4.7 Out Of 5.0