SAXON
Inspirations
Silver Lining Music




The aptly titled Inspirations is SAXON's latest and their entry into the "cover album" genre.

Generally speaking, cover albums seem to serve both as a vehicle for bands to pay tribute to the influences that shaped them and act as a stopgap between original releases (similar to a live album). The best provides a meaningful addition to their catalog — and the worst come across as a self-indulgent and poorly-conceived waste of time.

Even though SAXON's next studio release will come in 2022 on the heels of 2018's Thunderbolt, they can't be accused of taking the easy way out with this project, as they are one of the most prolific and consistent bands in heavy metal. Even at this latter stage of their career, their stalwart cycle of releasing a new album of stellar original material every two or three years and undertaking heavy tour support are admirable (and would be daunting even for much younger bands). They get the benefit of the doubt, and front man Biff Byford confirms their pure intentions with Inspirations:

"We wanted to do an album based on our influences, the songs and bands that inspired us to write what we did and still do," continues Byford, "and it was also interesting to see what my voice could do as I haven't sung many of these songs before."

The latter statement resonates, as Biff generally does not get his due as one of the great metal vocalists (even though he seems to keep getting better with age). As always, the entire band is excellent; they have been together so long that at this point they are a machine — but these selections generally rise or fall on Biff's performances.

The majority of the songs chosen were originally cast in the hard-rock mold, which serves SAXON well. Their "metallized" treatment of most of the tracks was a wise decision, as it works to their strengths and gives them a familiar canvas for interpretation. That said, as usual with these affairs, some tunes come across better than others. The best of the lot on Inspirations includes the three official videos "Paint It Black" (THE ROLLING STONES) and "Speed King" (DEEP PURPLE), along with "Paperback Writer" (THE BEATLES). "Stone Free" (JIMI HENDRIX) is an attention-grabber thanks to Biff; it fits his voice perfectly and falls squarely in his wheelhouse. "Bomber" (MOTORHEAD) is another solid cut, likely because it's very close stylistically to SAXON's MOTORHEAD tribute "They Played Rock and Roll" from Thunderbolt. "Problem Child" also fares well courtesy of Biff; anyone that has heard AC/DC covers knows that it's no mean feat to sing Bon Scott's melodies. The rhythm guitars are also big and crunchy and the solos are a done in an excellent Angus Young mold. Their take on Immigrant Song (LED ZEPPELIN) — like all the previous versions over the years — won't make anyone forget the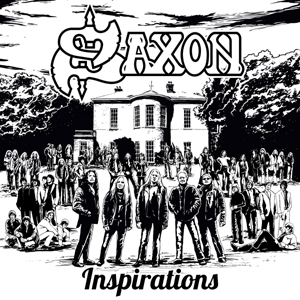 unparalleled original, but it's a heavy take on the piece and a respectable homage. Inspirations is rounded out by additional tracks from BLACK SABBATH, THIN LIZZY, TOTO and THE KINKS.
The production (courtesy of Biff Byford) is workmanlike and less polished than their Andy Sneap-helmed output, but this is not necessarily a bad thing. The approach was the right one, even if the results (courtesy of Jacky Lehmann's recording and mixing) are somewhat inconsistent. The mix and sound quality vary in quality from track to track, and the vocals are sometimes pushed too far down in the mix. However, kudos to the band for doing it "old school" with real amps and drums. This approach is definitely to be appreciated in an age of ultra-processed and overly-engineered and corrected recordings.
The sum total is that die-hard SAXON adherents will likely enjoy hearing them stretch out on this diverse collection of material from their favorite artists:
"We didn't want to change any of the songs too much, just play them more like SAXON," concludes Byford, "and we also think it's very important to have -and share with the fans- some fun in these dark times."
Well-said. Thinking of Inspirations as fodder that could be thrown into their live set to break things up — while putting a smile on the faces of the bandmembers and audience — places this release in its best light.
3.5 Out Of 5.0 Replica Battle Axes