WITHERFALL The Curse of Autumn


By Nathan Dufour, Great White North
Friday, March 5, 2021 @ 11:33 AM


| | | |
| --- | --- | --- |
| | | |
WITHERFALL
The Curse of Autumn
2021, Century Media Records




Consistency is good and something we all crave. After all, we are beholden to our routines. Think of it like fast food - no matter what, your Quarter Pounder with Cheese will always, always taste the same. On occasion, though, you want something different. Just a little bit off centre, still comforting but slightly off centre. Variety, then, is also good and something we crave. In a similar way to that very poorly constructed metaphor, as music fans, we crave both consistency and variety and the balancing act that often ensues usually comes without a net. Where then, do WITHERFALL land with their newest opus? On their feet, naturally.

It is truly a testament to the cup runneth over talent and drive of each member of the band that none of their albums sound similar. Sure, the DNA is the same, with Joseph Michael and Jake Dreyer forming the nucleus of its being, but with each new evolution that WITHERFALL undertake on their journey, the animal changes: it becomes more dangerous, more hungry. The Curse of Autumn is, plainly put, the sound of a band firing on all cylinders and through pure force of will alone, taking the listener along for the ride. The amazing architecture holding up the compositional structure of lead in tracks "The Last Scar" and "As I Lie Awake" is stupefyingly ornate - both choruses are among the best I have heard, ever. Not just this year. Ever.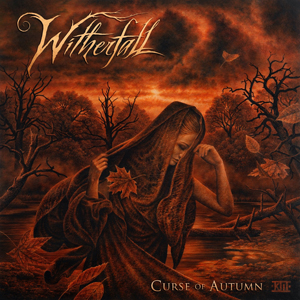 The instrumentation on the album is at a level of clarity perhaps beyond crystal, shining through what is ultimately a rather grim album, lyrically at least. Here too, though, WITHERFALL ardently display why they are often unsung masters of the craft of song with Joseph Michael being both an unstoppable force and immovable object, his range and gift for wordsmithery are truly a treat. I can't get over the shimmer effect heard in the first few movements of "Another Face" as it literally sends a chill through my being. It's gorgeous. Anthony Crawford's intricate, sublime, and above all just damn seductive bass is all over this record and it provides an excellent counterpoint to the shredfest courtesy of Dreyer. And, of course, woodshedding away in the back is Marco Minnemann, who needs no introduction and is absolutely a joy to listen to.
"The River" is an absolutely emotionally crushing outing and it is meant to tug at the heartstrings. The song also allows Michael to showcase the softer side of his personna and also his vocal range before belting out the refrain near the culmination of the track - an act which, given the subject matter, I am sure resulted in more than a few tears. Great work on this song and also on the placement in terms of running order for not putting the ballad smack in the middle.
The Curse of Autumn is a difficult album. It's an album that will take several listens to fully appreciate and I am not sure I am there yet nor will ever be. Everything about the release is an exercise not so much in excess but in envelope pushing. WITHERFALL have released what is, so far, the very best material of their career. Interestingly enough, something tells me they are just getting started.
R.I.P. Adam Sagan - I know you're proud.
5.0 Out Of 5.0




Please log in to view RANTS

If you don't have a username, click here to create an account!