BLAZE BAYLEY War Within Me


By Daniel Höhr, European Correspondent
Sunday, March 14, 2021 @ 9:41 AM


| | | |
| --- | --- | --- |
| | | |
BLAZE BAYLEY
War Within Me
Blaze Bayley Recording, 2021




BLAZE BAYLEY's eleventh studio album War Within Me will be released on 9 April – just after Easter. Easter is pretty much about resurrection, new life and new hope. Not that BLAZE BAYLEY himself needs a resurrection – he has been alive, kicking, and incredibly creative for many, many years. No. But as far as I can see it, the world is very much in a crisis and the last year has been horrible in many ways while hope has been pretty scarce in recent months. There is, however, some light on the horizon and also a massive boost of energy that will hopefully contribute to some sort of mental resurrection many of us – including this KNAC.COM contributor – desperately need. And when I write 'massive boost of energy' I do have War Within Me in mind. Play it – and play it loud. You will see, hear, and feel what I mean.

But back to BLAZE BAYLEY, who, unfortunately, many metalheads still have in their books as the former IRON MAIDEN singer before Bruce came back to the band. I wish he were generally given more attention because too many people out there are oblivious of the fact that he has been making superb music, is an outstandingly creative and hard-working artist and an extremely kind man, who loves being close to his fans. You seriously need to check out the work he's done since his seminal Silicon Messiah album and, particularly his Infinite Entanglement trilogy – Infinite Entanglement (2016), Endure And Survive (2017), and The Redemption of Wiliam Black (2018). BLAZE BAYLEY certainly found musical soulmates in Chris Appleton (guitars, backing vocals), Karl Schramm (bass, backing vocals) and Martin McNee (drums). Together with Chris Appleton's brother Luke, they form the British heavy metal band ABSOLVA and if you haven't done so, you need to check out their latest live album Live in Europe.

With the Infinite Entaglement Trilogy completed and after the release of the live album/DVD Live in Czech, which amply and impressively demonstrates the explosive live qualities of Blaze and his band, it is now time for the four-piece to move on with War Within Me. Once you hit the play button, the main riff of the title track kicks you in your stomach with supersonic force. The title itself may sound gloomy but when I heard the the music for the first time, it immediately put a massive grin on my face – something that hadn't happened too often in previous months. This up-tempo rocker has an incredibly positive feel to it. This is mainly due to the vocal line, which is ever so typical of Blaze's sense of melody, but also by the the chord progressions and the lead guitar, which melodically hovers over the high-octane riffing of the rhythm section. The title track sets the tone for the entire album. Blaze and his band unleash ten stellar heavy metal tracks oozing with energy, creativity, and positive vibes. With no fillers but only winners, it is difficult to single out specific tracks.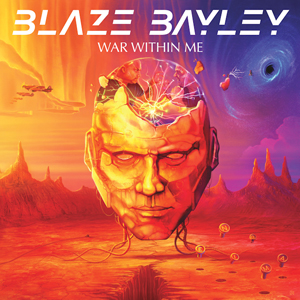 "Witches Nights" is a prime example of the premiere songwriting and the musical mastership of Blaze and his bandmates. Heavy, fast, melodic, and thoroughly captivating. The stomping "18 Flights" must be a killer of a live song while Blaze almost steps onto Power Metal territory with "The Dream of Alan Turing". Here it is the interaction of the sometimes quite dissonant harmonies and Blaze's singature vocal lines that turn a great song into a heavy metal masterpiece. This song actually forms trilogy together with the following fast-driven and uber-melodic "The Power of Nikola Tesla" and "The Unstoppable Stephen Hawking". You can see where this is going, can't you? These three men were amongst the brightest minds that achieved things which have had an enormous impact of our lives, the technology we use, and the way we see our world and the universe. At the same time, the difficulties they faced and the hardships they endured were enormous, even unsurmountable. War Within Me is not just an album filled with incredibly positive musical feel, it also sends a message worth considering. And there is another one: the present crisis will be over. This is beautifully expressed in the closing track, "Every Storm Ends". After so much unbridled heavy metal drive on the previous nine tracks, this balladeque song comes across as especially emotional – and consoling.
And maybe this all that is what is needed for a resurrection: brilliant music, positive energy, role models to look up to.
War Within Me is exactly the sort of album I desperately needed to hear and I know this is true for many people out there. In any case, it is a masterpiece – musically and soundwise, thanks to the mixing and producing, which was in the most capable hands of Blaze and Chris Appleton, and the mastering by Ade Emsley (IRON MAIDEN, TANK, BRITISH LION, VOODOO SIX). Happy Easter!
5.0 Out Of 5.0

Please log in to view RANTS