Book Review: …AND JUSTICE FOR ART – Stories About Hard Rock & Heavy Metal Album Covers – Volume 3


By Alex Yarborough, Orlando Contributor
Monday, March 29, 2021 @ 6:28 AM


| | | |
| --- | --- | --- |
| | | By Ramón 'Oscuro' Martos |
Book Review: …AND JUSTICE FOR ART – Stories About Hard Rock & Heavy Metal Album Covers – Volume 3
2020 Dark Canvas Publishing
www.andjusticeforart.com
andjusticeforart@gmail.com



The release of the third volume of Ramon Martos' trilogy on album cover art may have been delayed, but the wait was well worth the hassle. The groundwork laid by Martos on the first two volumes really paid off, because Volume 3 is arguably the greatest volume in the set. As impressive as the first two volumes were, the features in Volume 3 are on another level. For example, the first ten studies are on these amazing album covers and their artists:
LED ZEPPELIN II
KISS - Destroyer
AC/DC - Highway To Hell
JUDAS PRIEST - British Steel
RUSH- Moving Pictures
TYGERS OF PAN TANG - Crazy Nights
BLACK SABBATH - Mob Rules
DIO - Holy Diver
METALLICA- Kill 'Em All
MEGADETH - Peace Sells … But Who's Buying?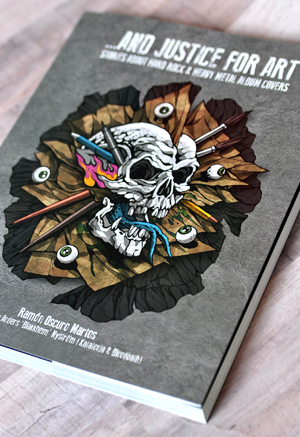 That's just scratching the surface. My jaw dropped each time I turned the page. Finally, IRON MAIDEN is included, and it's arguably the band's greatest cover artwork, Somewhere In Time. That cover is scrutinized in detail with the man himself, Derek Riggs. Thought you knew all the details about this cover art? There's much more to it. The original artwork for GUNS N' ROSES' debut album Appetite For Destruction is included. You know the one— Robert Williams' controversial illustration of a robot versus a red creature. Martos talks with British artists John Kosh and Mark Wilkinson about their work on W.A.S.P.'s The Headless Children and JUDAS PRIEST's Painkiller, respectively. Other classics I dig here are KREATOR's Coma of Souls, DEATH's Human, STRATOVARIUS's Visions, AMORPHIS's Under The Red Cloud and ICED EARTH's The Glorious Burden. These are just a few of the 59 album cover studies in this book. Once again, as in the previous volumes, even the bands and albums I wasn't previously familiar with were fascinating reads indeed.

There is great insight into the creative process and the thinking behind the art. Like a time capsule, Martos' books have preserved these album covers for posterity. In a perfect world, Martos would release a volume like this every year, highlighting the previous year's best album art. If you are a fan of album cover artwork like me, this book belongs in your collection. Well done once again, Ramon!

5.0 Out Of 5.0




Please log in to view RANTS

If you don't have a username, click here to create an account!