BLACK SABBATH Heaven and Hell And Mob Rules - 2 CD Deluxe Editions


By Alex Yarborough, Orlando Contributor
Wednesday, March 31, 2021 @ 7:23 AM


| | | |
| --- | --- | --- |
| | | |
BLACK SABBATH
Heaven and Hell And Mob Rules - 2 CD Deluxe Editions
2021 Rhino Entertainment




The year: 1979. BLACK SABBATH was nearing the end of their career if things didn't change, so lead singer Ozzy Osbourne was summarily booted from the lineup. According to guitarist Tony Iommi, the band was in "absolute turmoil" at the time, and one can only imagine the pressure Iommi, bassist Geezer Butler and drummer Bill Ward were under while trying to create another album for their label. Ronnie James Dio (RIP), formerly of RAINBOW, was brought in to take over the vocalist position. Against the odds, the band released arguably their best material: Heaven and Hell (1980) and Mob Rules (1981), two absolute classics in every respect. These now legendary hallmarks of the heavy metal genre have cast their influence far and wide throughout every metal nation on earth. These albums ultimately gave rise to many of the styles that are now mainstays in heavy metal.

The platinum-selling Heaven and Hell contains masterpieces like "Neon Knights", "Children of The Sea" and the title track. Disc one of this set is the new 2021 remaster of the entire album. Disc two features live bonus tracks never released before in North America: "Children of The Sea" and "Heaven and Hell" (originally released as B-sides), as well as "Neon Knights", "Children of The Sea", "Heaven and Hell" and "Die Young" (performed in Hartford, Connecticut during the band's 1980 tour promoting the album). There is also a mono edit of "Lady Evil" included. This set differs from previous remasters by adding four songs formerly released in 2007 on the Rhino collection, BLACK SABBATH, Live at Hammersmith Odeon 1981-82: "E5150", "Neon Knights", Children of The Sea" and "Heaven and Hell". Inside the expanded 20-page booklet is a lengthy essay by Rolling Stone's Kory Grow and a Lynn Curlee feature wherein he describes his experience creating the album's iconic cover artwork. There are numerous photos, posters and tour book images featured inside the booklet as well as underneath the discs.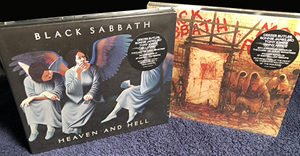 The gold-selling follow up, Mob Rules, contains the masterpieces "Voodoo", "The Sign of The Southern Cross", "Falling Off The Edge of The World", and the title track. I would be remiss if I didn't mention one of my all-time favorite songs, "Turn Up The Night". (It's a shame the band didn't perform this song more live!) On this album, Vinnie Appice replaced original drummer Bill Ward. Bonus tracks on disc one include the version of "The Mob Rules" from the Heavy Metal Soundtrack, a live version of "Die Young" (a different version than on the Heaven and Hell bonus disc), and a new 2021 remix of "The Mob Rules" that begins with a count off from Vinnie and definitely sounds heavier and with Geezer Butler's bass higher in the mix. Additional tracks include four live songs from the same Hammersmith Odeon shows in 1981-82. The final touch in this set is the entire (previously unreleased) concert the band performed in Portland, Oregon on the Mob Rules tour on April 22, 1982. The songs start at the end of disc one and continue through disc two. There are a total of 15 songs in the concert, essentially the same set list that appears on Live Evil (1982), but the drum and guitar solos are extras here. Again, there is an essay by Kory Grow of Rolling Stone, and two pages written by Greg Hildebrandt about his classic cover artwork. This booklet is also 20 pages, and is chock full of memorabilia and photos from the era.
Did the world need another remaster of these two albums? Maybe, maybe not. These two-disc "Deluxe Edition" fold out digipaks are definitely packed with goodies and sound great. There isn't really much to fiddle with on an album that was originally produced and engineered by the legendary Martin Birch (RIP), so that's why these songs remain largely unmolested and in their original form each time they remaster them. Hugh Gilmour and his team did a great job preserving these albums for posterity. These deluxe editions are also available in double LP.
5.0 Out Of 5.0




Please log in to view RANTS

If you don't have a username, click here to create an account!