RONNIE ATKINS
One Shot
Frontiers Music Srl - 2021




If you peer back through the mists of time, you'll eventually find your way to a time when the Internet and social media didn't exist (or was in its infancy). Music fans across the globe were not in touch a the drop of a hat or keystroke. One way that we were able to find each other was through pen pal programs in magazines like Metal Edge. I was an active participant in that and one of my pen pals was a woman living in Japan. She was a HUGE fan of the band PRETTY MAIDS and was always touting them to me in her letters.

Time passed and we've long since fallen out of touch. I had never taken her advice to check out PRETTY MAIDS but whenever I think of her I am reminded of the band. Then came the news in 2019 that the band's singer, RONNIE ATKINS, was fighting lung cancer. He recovered from that first diagnosis, but the cancer returned last year. With the pandemic shutting down live performances and activity with PRETTY MAIDS seemingly in a holding pattern, the singer turned his unexpected downtime into his debut solo album One Shot.

RONNIE ATKINS made the album with a huge helping hand from Chris Laney, who produced the album and played some of the guitar on the disc. But other than a single co-write with Laney, Ronnie wrote the songs on his own.

The disc kicks off with the song "Real", a song that starts off with a bit of restraint before the track's chorus grasps the listener's ear as the pacing and intensity of the song's delivery increases. It's hard not to read into the lyrics and see spots where the words give off an air of the singer saying, in one form or another, goodbye. But it's not a maudlin experience. There's a joyous sound to the music and the lyrical content of songs like this are more reflective that openly grim.

The song "Scorpio" is more uptempo and driving and the lyric line in the chorus that goes "If you hurt me / I will hurt you back / so don't oppose my glee / Don't tread on me" comes off pretty declarative. I really got into that particular line a lot.

Some of the tracks on One Shot start off slow as if to give you the sense that the song will be a ballad, but after the first verse on songs like the title track, the chorus suddenly bursts out of the speakers with a huge backing chorus sound enhancing the more rocking turn the song takes. That happens on "Frequency Of Love" as well.

One of the stand out tracks on the album is the song "Subjugated". There's an incredible rhythm to the song and the chorus was an instant earworm to me. As I listened to the album a few times, whenever this song came on I found myself singing along to that chorus. It's a great vocal take from RONNIE ATKINS, combined with a smoking musical soundtrack. Oh, and the guitar solo for the track is played by former EUROPE guitarist Kee Marcello.

As I said, some of the album's lyrical content reflects what is going on with the artist but then there are songs that stand apart from that. A true blood pumper of a rock and roll song is "Before The Rise Of An Empire" is like the overture for a story of high fantasy. The vocal phrasing/delivery of the song's chorus is a stunner. It's a glorious track, bar none!

There's a lot on One Shot to commend but I was left cold by the song "Miles Away". It's a mid-to-uptempo track with love song lyrical content. There's a big vocal presence in the background to give a lift to the chorus but I just couldn't find my way to full enjoyment of the song. The album closing "When Dreams Are Not Enough" is appropriately hard rocking enough but it was another track that just didn't find the bulls-eye for me.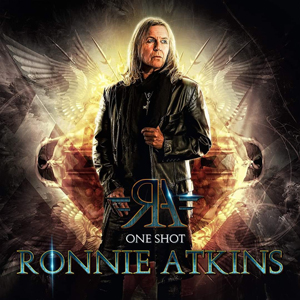 There's a three song arc on this album where RONNIE ATKINS ruminates on the notion of a better world. That arc starts off with "Picture Yourself" as Atkins describes the world as it is now ("We all need correction / To reconcile and heal / We need redirection / To find what's real") before leading into a chorus that imagines people picturing themselves in a world where they want to be. The chorus is fantastic. I noted throughout the album that Atkins uses words that you don't normally find in rock and metal songs. As a lover of words and stories, I quite enjoy seeing that expanded lyrical vocabulary on display.
I should point out that I don't know if it was the intent of Atkins to have these three songs form an arc. It might just be me reading too much into the lyrics. But if I'm not, part two of the arc is the song "I Prophesize". I think the song is sensational. The slate of lyrics for this one is somewhat darker than "Picture Yourself". The song's main verses are direct and maybe a bit accusatory but then things take off to a higher level with a chorus that blows you out of the water.
The concluding chapter of this particular trilogy is "One By One", a song that seems to evoke a more aspirational tone with lines like "In life / There's no mountain too high to climb / No river to deep to dive / Let your heart and soul be your guide/ One by one". The tempo gets your blood pumping and over the course of these three songs you get a full storyline of what can be seen as hope for one imagined future.
Speaking of that future, I don't know what it holds for RONNIE ATKINS. Circumstance may have played a huge role in the creation of this album and its songs. There are a couple of hiccup tracks on the album for me personally, but if you'll forgive the sports metaphor, RONNIE ATKINS buried his One Shot at the buzzer!
4.3 Out Of 5.0