KORPIKLAANI Jylhä


By Nathan Dufour, Great White North
Tuesday, April 20, 2021 @ 2:19 PM


| | | |
| --- | --- | --- |
| | | |
KORPIKLAANI
Jylhä
2021, Nuclear Blast




Is urgent an appropriate adjective when attempting to describe accordion driven folk metal? If not, it is now, because on 11th album Jylhä, KORPIKLAANI are firing on all cylinders in an astounding display of urgency and experimentation. And in case you wondered at all, listening to the band is still one of the most fun experiences you can have.

After 11 albums, there is little left to be surprised at (or one would think) - the sound of the band is ultimately familiar at this point. KORPIKLAANI, though, are not content to rest on their laurels in any way. With rolling, thunderous drums and an almost neoclassical riff structure, "Verikoira" announces itself with aplomb - hints of thrash creep in towards the midsection but the real kisser here is the drum fill that heralds the chief riff back again. A fun and rolicking start to things! There is that thrashy bit again. I am really enjoying this experience, perhaps more than on their last album

. KORPIKLAANI has always been a party band, and for some reason, taking themselves only as seriously as is required at any given time. So, it makes absolute sense that there is some ska influence to kick off the total confusion fest of "Leväluhta" because of course it does. The song skips and jumps easily all over genre convention, settling into itself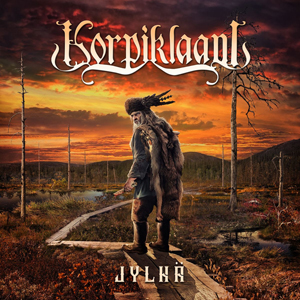 an absolutely inspired polka section, really allowing the accordion to have one of many featured moments. Oh, and the violin work is simply top shelf.
It is a safe bet, if that's your thing, that every KORPIKLAANI album is better than the one that precedes it, and Jylhä is no different. Of course, that is not to say that every swing hits the ball but the average is still quite good. There are no skippable tracks here. The album itself is a little long at an hour but dammit, that used to be standard issue time. There are enough moods and quirks to keep me coming back for more to discover nuances missed on the first few listens. I think "Pohjja" is my current favourite KORPIKLAANI song that isn't written in English about liquor.
Plainy put and without concern of brevity or hyperbole, Jylhä is a triumphant album sure to put a smile on your face. I encourage everyone to track it down.
4.0 Out Of 5.0




Please log in to view RANTS

If you don't have a username, click here to create an account!