BODOM AFTER MIDNIGHT Paint The Sky With Blood


By Francisco Zamudio, Metal X Candy 2.0
Wednesday, April 28, 2021 @ 8:08 AM


| | | |
| --- | --- | --- |
| | | |
BODOM AFTER MIDNIGHT
Paint The Sky With Blood
Napalm Records




With the tragic news of Alexi Laiho's passing still fresh in the minds of CHILDREN OF BODOM fans all over the world, the release of new music from the re-branded outfit led by Laiho would be the best means to provide some comfort. This new chapter entitled BODOM AFTER MIDNIGHT and their debut EP released this April entitled Paint The Sky With Blood (Napalm Records) ended up becoming a short eulogy dedicated to his loyal following. Supported by guitarist Daniel Freyberg, drummer Waltteri Väyrynen (PARADISE LOST), bassist Mitja Toivonen (ex-SANTA CRUZ) and live keyboardist Vili Itäpelto – many had high hopes of this new era in the career of the largely admired and respected shredding frontman out of Finland. While the details of his cause of death are sad to say the very least, there is no doubt his young legacy will live on in the music after his passing, just as he intended.

The COB Hate Crew as their fan base is affectionately called (dubbed after the 2003 release HateCrew Deathroll) had no idea what they were in store for. The 2 original songs on Paint The Sky With Blood are way much more on the aggressive side and a far cry from COB's finale, Hexed (2019), coming off harder edge albums like Halo of Blood (2013) or 1999's Hatebreeder, this EP goes even heavier than expected. The title track itself demonstrates a style COB hadn't really reached too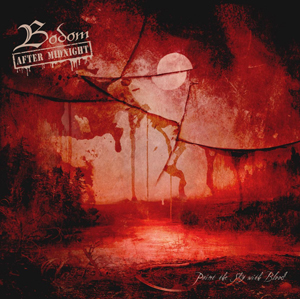 often, or not often enough. The combination of Väyrynen's blastbeats and Laiho's screams unleash a fury on the listener. The second track "Payback's A Bitch" could have some blatant message but whatever it is, it's translated into music with intensity. Both tracks demonstrate something Laiho was known and praised for. Not just his voice but influential guitar playing as well. Ultimately, Freyberg and the rest of the band provide a great support from all directions on these 2 songs and showed a real intense and promising band whose debut would be cut short. Rounding out this 3 song EP is an excellent cover of "Where Dead Angels Lie", a track from the phenomenal album Storm Of The Light's Bane (1995) by one of my favorite bands of all time, DISSECTION.
It's uncertain if Alexi reached a success he needed with CHILDREN OF BODOM, if he sought something more in BODOM AFTER MIDNIGHT and once here, saw his vision of the music he wanted to create, achieved. We'll never know. These last 2 original cuts will be the last of what we know of him and what a way to go indeed as this is a far heavier side that some perhaps craved and others had not expected.
4.0 Out Of 5.0




Please log in to view RANTS

If you don't have a username, click here to create an account!