PUSCIFER "Billy D and the Hall of Feathered Serpents" Livestream


By Brian Davis, Contributor
Tuesday, May 4, 2021 @ 9:51 AM


| | | |
| --- | --- | --- |
| | | |
In the wake of the widely successful livestream of their latest masterpiece Existential Reckoning it didn't take long for PUSCIFER to recognize the aptness of how this medium suits their music, and mere months later they're back with another full-album performance in the guise of their 2015 endeavor Money Shot. Opening with a slightly altered version of the intro to the recent video release for the track "Bullet Train To Iowa" from Existential Reckoning, "Billy D and the Hall of Feathered Serpents" sets off with PUSCIFER mastermind Maynard James Keenan's unique comic tone as the band's endearing, ne'er-do-well alcoholic mascot Billy D, a fan favorite staple of the band's live performances since their first shows, wandering into a Lucha Libre wrestling bar where he obliviously takes shots of tequila and potshot jokes at the uniformed patrons in their "Garanimals lingerie". The "bartisian" bartenders, played by actors Jacob Vargas (Sons of Anarchy, The Hills Have Eyes 2) and Clifton Collins, Jr. (Traffic, Westworld), both of whom grace the video and album cover of Money Shot, serve up a special concoction for Billy D – the "Manstration" – sending him on a psychedelic freefall into and through the mesmerizing world of Money Shot.

Those familiar with the album will likely recognize the luchador themes used in the videos for "The Remedy", "Money Shot", "The Arsonist" and in the stage set for the album's live tour, which involved vocalists Maynard James Keenan and Carina Round performing within a luchador wrestling ring periodically transitioning back forth between actual luchador wrestling matches in the ring onstage; therefore, it should be no surprise to those familiar with the band to see them return to this engaging interplay of imagery while taking familiar material into unexplored territory – something PUSCIFER does better than any other artist or group in the world. Filmed at the magnificent Mayan Theater in Denver, CO, replete with ancient Aztec imagery and MJK & Carina performing in luchador masks, the viewer is treated to a perfectly produced and immaculately performed live conjuring of the entire album, complete with the rare bonus track "Flippant".

With "Billy D and the Hall of Feathered Serpents" PUSCIFER assert their infinite creative capacity by significantly raising the bar on the potential of what a concert livestream can accomplish. As an inherently visual and multimedia-oriented band it's not difficult to see why this environment is so befitting, the livestream environment holds the key for the band to innovate a way of weaving its many creative threads into a cerebral tapestry of their infinitely various elements. Rarely have so many artistic aspects come to such vivid life in a single instance, and Maynard has already stated that more of these events dedicated to other PUSCIFER albums extremely likely and based on their first two forays into livestream this is bound to be a most excellent thing.

Meanwhile fans can only hope that both concerts will become permanently available because there are many moments too brilliant to only experience in a limited timeframe, such as the end credits of Existential Reckoning: Live At Arcosanti which features MJK & Carina onstage at a karaoke bar drunkenly attempting (and hilariously failing) to sing "Man Overboard" from the Conditions Of My Parole album. As for Billy D's delirious journey through the Hall of Feathered Serpents the highlight has to be the profound and thought-provoking message on human nature in a re-imagined intro for the song "Simultaneous" in the humorous guise of a fantastic Billy D soliloquy: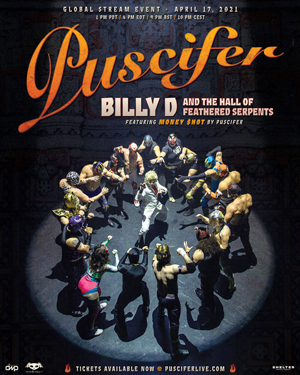 "We in the modern age operate under a dangerous misconception regarding our heritage. If one should ask the average citizen if we are more highly evolved than our ancient ancestors they will more often than not express the belief that we are indeed far, far superior. Surely we are more sophisticated, more capable of reason than the hunter/gatherers of 13,000 B.C.; more civilized than the marauding Vikings of a thousand years ago. We imagine these peoples as ignorant, primitive and barbaric; we are not those peoples. But, in fact, homo sapiens inherit a gene pool with the earliest hominids, like the Australopithecus who lived two and a half million years ago. We possess no significant physiological differences from the Cromagnons or the Neanderthal, nor does evidence suggest that our tendencies toward the barbaric have lessened over time.
On the contrary, present day humans are capable of the same self-destructive behavior, the same crimes against humanity, the same violent power struggle as our ancestors. We appear to be doomed by our own DNA to repeat the same self-destructive behaviors our forebearers have repeated for millennia. If anything, our problem-solving skills have diminished with the advent of technology and our ubiquitous modern conveniences.
And yet, despite our previous position towards fear-driven hostilities towards what we anachronistically term 'primitive behavior', another instinct is just as firmly coded in our make-up: We are capable, as our ancestors were, of incredible, breath-taking acts of kindness. Every hour of every day a man risks his life at a moment's notice to save another. Forget for a moment the belligerent billionaires who grant the unfortunate a crumb of cost-free cake; I speak of pure acts of selflessness: the mother that rushes into the street to save a child from a speeding vehicle; a person who runs into a burning building to save a family in an upper story; a man who can barely swim who dives into a lake to save a drowning stranger. Such actions, such moments, such unconscious selfless decisions, define what it is to be human."
5.0 Out Of 5.0




Please log in to view RANTS

If you don't have a username, click here to create an account!