NIGHT RANGER, LOVE AND WAR, ROZY In Houston, TX With Photos!


By Larry Petro, News Monkey
Tuesday, May 18, 2021 @ 8:46 AM


| | | |
| --- | --- | --- |
| | | Concerts Return To Texas With The Second Of Back-To-Back Shows |
All Photos By Larry Petro/Petrofyed Photography
So if you follow KNAC.COM at all then you've probably seen my review of the first real national acts to perform a concert in Houston in over a year, that being WINGER and JACK RUSSELL'S GREAT WHITE, which you can read HERE. The second night of the back-to-back shows was none other than NIGHT RANGER, who just happened to be one of the last shows I covered before the pandemic shut everything down.
There was a strange contrast between the prior show the night before and this one, most notably the seating arrangements. For the first show it was entirely general admission, standing room only with a fenced off VIP area in the front. For this show however, it had been announced that there would be reserved seating in place. My initial thought was that this was so they could social-distance the show and that the seating would be in 'pods' or groups of chairs together that were separated from each other by six feet or whatever. No, this was not the case. When I arrived and got inside I noticed that there were 10 rows of chairs up front but they were not separated in any fashion. I pondered to myself, what exactly was the point of the seating then? The only assumption I could make was that this was so that they could charge more, especially since the cheapest 'seats' were around $80, with one of my buddies paying $162 for front row seating. At any rate, this show would end up selling out as once again Houstonians proved that they were more than ready for the return of live music.
First to take the stage this time around were local up-and-comers ROZY. Though the pandemic kept the band from playing shows, they did not sit idly by; they signed a record deal with Megaforce Records during the summer and have released several singles and videos in the ensuing time, including one for a cover of NIRVANA's "Come As You Are", which you can check out HERE. With youngsters Zoe and Molly Flores leading the way on vocals/guitar and drums respectively, they too showed the pent-up energy of not playing live for over a year and put on a solid opening set of original material and even a couple of covers in the form of "No One Like You" (SCORPIONS) and a nice rendition of IRON MAAIDEN's "The Trooper". You'll probably be hearing more from this group in the future.
Setlist:
"Mayday"
"Drunk On Love"
"Kiss Me (Like Ya Miss Me)"
"No One Like You" (SCORPIONS)
"One For All"
"The Trooper" (IRON MAIDEN)
"Pretty Lonely"
"Doll"
"Pretty Little Lies"
Next up, another Houston band LOVE AND WAR. For these guys the pandemic could not have come at a worse time. After spending several years working on their sophomore recording effort The Edge Of The World (a killer album if you have not checked it out yet), it was released in early 2020 and just as they were perform an album release show Covid shut everything down and so now they have been waiting for over a year to celebrate its release and about 18 months since they last played live, To say that they were chomping at the bit to play live again is the understatement of the year and to commemorate the occasion they also announced the addition of a second guitar player to the mix, Greg Gill, another familiar face on the Houston music scene, having played in numerous bands here over the years until moving to Missouri and opening a recording studio which just happnes to be where LOVE AND WAR recorded their new album with Greg at the helm. The group lit the stage up as they kicked off their set with their namesake song, "Love And War" and from there just kept the rock and roll train rolling with songs like "Psycho Ride", "Mercenary Man", the new album title track and my personal favorite, "We All Fall Down", a song that actually got airplay on KNAC.COM! The band was supposed to play for a good hour but they managed to blow through their 8 song set in about 30 minutes.
Setlist:
"Love And War"
"Psycho Ride"
"Mercenary Man"
"Edge Of The World"
"Start Believin'"
"Final Destination"
"We All Fall Down"
"Six Feet Under"
Now it was NIGHT RANGER's turn. One thing that stood out right away was the absence of guitarist Brad Gillis, who opted out of the trip while recovering from rotator cuff surgery. There was, however, no mention that Brad would not be making the show on social media or anything. I was aware of this fact but only because of a friend who talks to Brad on a regular basis. And even though the show was a sellout I couldn't help but wonder how many people would have passed on the show had they known Brad wouldn't be there. So it was up to guitarist Kerri Kelli to do double duty for the night.

Things got started with "Somehow Someway" as NIGHT RANGER took the fans along for a rock ride for almost an hour and a half. Hits such as "Four In The Morning", "Sentimental Street", "When You Close Your Eyes" and "Don't Tell Me You Love Me" were performed, along with several DAMN YANKEES tracks, "Coming Of Age", "Come Again" and "High Enough". As with prior shows there was the Alice Cooper cover "School's Out" in the set (because of Kerri being in the band at one time) and this time instead of an Ozzy cover (for Brad being in his band briefly) they played a cover of THE DOORS' "Roadhouse Blues". The band finished up their show with a pair of encores, "Sister Christian" and "(You Can Still) Rock In America".

It was a solid finish to the weekend of the return of national live shows in Houston but in my opinion a band like NIGHT RANGER, that has such an extensive catalog to choose from, could be playing more of their songs instead of playing so many covers and DAMN YANKEES tunes. The DAMN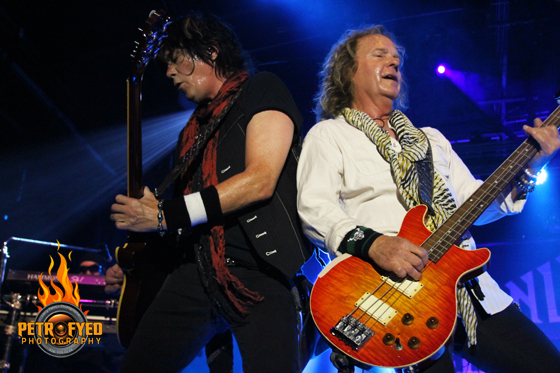 YANKEES covers I can sort of understand but playing the covers for Brad and Kerri mystify me just a bit. And though the show was great and Kerri did an admirable job playing all the guitars, Brad Gillis Setlist:
"Somehow Someway"
"Four In The Morning"
"Sing Me Away"
"Coming Of Age"
"Sentimental Street"
"The Secret Of My Success"
"School's Out" (Alice Cooper cover)
"Roadhouse Blues" (The Doors cover)
"Night Ranger"
"Come Again"
"High Enough"
"Goodbye"
"When You Close Your Eyes"
"Don't Tell Me You Love Me"
Encores:
"Sister Christian"
"(You Can Still) Rock In America"
Check out some more photos from the show!
All Photos By Larry Petro/Petrofyed Photography

Please log in to view RANTS




YNGWIE J. MALMSTEEN, GLENN HUGHES In Worcester, MA With Photos!

ALICE COOPER Road

RAT ROD Four On The Floor

GIRLSCHOOL WTFortyFive?

DANKO JONES Electric Sounds

AVATAR, ORBIT CULTURE, THE NATIVE HOWL In Houston, TX With Photos!

THE DEAD DAISIES In Hollywood, CA With Photos!

KILL DEVIL HILL Seas Of Oblivion

THE DEAD DAISIES In Ottawa, Canada

MAMMOTH WVH In Santa Ana, CA

UADA Crepuscule Natura

BARONESS Stone

KAMELOT, BATTLE BEAST, XANDRIA In Houston, TX With Photos!

CRYPTOPSY As Gomorrah Burns

RAY ALDER II

GHOST, AMON AMARTH In Houston, TX With Photos!

U.D.O. Touchdown

DETHKLOK Dethalbum IV