HERMAN FRANK Two For A Lie


By Alex Yarborough, Orlando Contributor
Wednesday, May 19, 2021 @ 2:03 PM


| | | |
| --- | --- | --- |
| | | |
HERMAN FRANK
Two For A Lie
2021 AFM Records




Guitarist Herman Frank has played with ACCEPT, PANZER, SINNER and MOON'DOC, (among others) in the past. He currently plays with VICTORY, POISON SUN and of course has his own solo band. Two For A Lie is his fifth solo studio album, due out on May 21st.

Immediately, you notice a few big differences on Two For A Lie versus the band's previous material: 1. The production is a step up. This album sounds focused, crystal clear and heavy. 2. New drummer Kevin Kott is arguably the best drummer Herman Frank has had so far. I've enjoyed listening to this album A LOT because of these two reasons, but not only these. In addition, Herman's guitar tone is wicked, and he absolutely shreds it from beginning to end on Two For A Lie. Vocalist Rick Altzi is one of the best in the business. I typically buy everything he sings on, and this will be no exception. Guitarist Mike Pesin and bassist Michael Müller return to complete the lineup.

So, what about the songs? Well, there are some great power metal anthems to be found on Two For A Lie. Opener "Teutonic Order" (video on KNAC.COM HERE) gets the ball rolling with distinction. This is a really solid rocker, with an infectious chorus. "Venom" slaps you across the face, and Rick's vocal performance is key here. "Hate" gets a little darker and thrashier, with Kolar breaking out the double bass drums, which continue on "Eye Of The Storm", one of the standout tracks for sure. "Liar" finds the band slowing things down to a grinding groove, while Rick exorcises demons. "Hail The New Kings" accelerates back to a near speed metal tempo. Try driving slow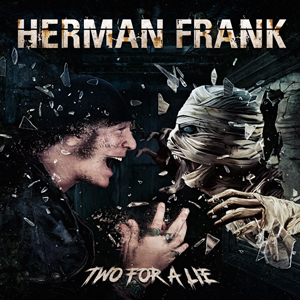 with this song - I couldn't. "Just A Second To Lose" became my favorite song on the album; here's a great riff, bridge and chorus that can't be denied. Kolar's fills are a nice touch, and check out those guitar leads flying everywhere! Headbanging hymn "Danger" is a solid and tasty track, while "Stand Up and Fight" is a heavy metal call to arms, eventually tugging at the speed metal reins. Album closer and longest track "Open Your Mind" is the only real mid-tempo track here, and its marching quality keeps the listener engaged throughout.
For all these reasons, Two For A Lie is arguably the best album the band has released so far. You may or may not agree, that is certainly up to each listener. But for me personally, a fan of the band since the first album, I made my mind up pretty easily. This album was on rotation for quite a while in my stereo. Two For A Lie contains 10 solid tracks from this group of veterans, showing the world how it's done. Nice job!
4.75 Out Of 5.0




Please log in to view RANTS

If you don't have a username, click here to create an account!