Herman Frank is noteworthy in the metal world for his tenure in ACCEPT and his bands VICTORY, MOON DOC, and, most recently, HERMAN FRANK. In this conversation, Herman discusses his long and successful career, his philosophy on music, and the latest HERMAN FRANK offering Two For A Lie. He also shares details on new records from VICTORY and a "to be announced project" — both slated for 2021 release.

KNAC.COM: Hi Herman. I'm speaking to you on behalf of KNAC.COM, which was the legendary radio station in the 80s during the heyday for metal. They've continued up to this point as a streaming platform with live DJs and programming along with reviews and interviews.

FRANK: I do remember when I was back in the 80s on tour in America. Everybody was talking about KNAC.

KNAC.COM: Yes, it was a big force that helped to break a lot of bands; it's nice to be a part of something that has such a strong history. I'm sure many people know you from your work with ACCEPT, VICTORY and the HERMAN FRANK band, but let's start with how you became a musician. When did you start playing guitar and who were some of your musical inspirations?

FRANK: As I remember — thanks I'm not Ozzy, I can remember. (laughs) I guess, I started actually playing guitar at the age of 14 as a youngster. Right there before I was in musical kindergarten, and in a musical high school, started playing violin, flute and stuff like that. But that was kind of like boring. One day I decided, "Oh, I just want to be a rock star in the future." So, I started playing guitar, bought myself a guitar — for at these times for $50 maybe? And so I started practicing, met up with a couple of friends out of my school. So there was a drummer and a bass player and that's how I started.

KNAC.COM: From what I understand, ACCEPT was your first big break into music?

FRANK: You're absolutely right. The first thing I have done was ACCEPT's Restless And Wild — I guess it was a long time ago — 1982? (laughs) Maybe, if I'm right? That was the first major thing I had done musical wise or let's say international-wise.

Before that I just was playing in my school bands in the local area. Then I was in a variety band; at this time, in Germany the U.S. Army had a lot of bases, so we had the chance to do shows at the army bases during the week and the weekends. That's where I kind of like learned to play on the stage; we did maybe 10-15 shows a month, so it was quite good training. As we were booked as a variety band, we had to play both kinds of music — country and rock.

KNAC.COM: In addition to being a songwriter and guitarist, you have also done a fair amount of production work in your career on your own records/projects and for many other bands. I particularly liked your work with MESSIAH'S KISS on Prayer for the Dying and Dragonheart and SAXON's Killing Ground albums. What are your recollections of these sessions?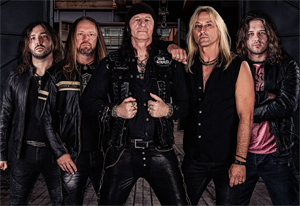 FRANK: I mean I'm still in touch with Michael (Tirelli) from MESSIAH'S KISS, I guess he's doing his band HOLY MOTHER these days. He's such a good singer, and one day I would like to do an album with this guy because he has an amazing voice. MESSIAH'S KISS at this time was a pretty good band, nice songs, and I really enjoyed producing this album. I did a couple of other things too, as you mentioned — SAXON — I think I did one or two albums for them (Killing Ground and Heavy Metal Thunder) and a live album (The Saxon Chronicles DVD). Also, I've done ROSE TATTOO (Pain). I was very proud that I got the chance to produce this. So that was quite a good experience. And I learned a lot from these other musicians, you know, they had been professionals in these days, and was quite good experience for me.
KNAC.COM: Let's come back to SAXON for a minute. I thought that on Killing Ground — even though it isn't as well-known as some of the other albums in their catalog — the production and songs were excellent.
FRANK: Thank you, I appreciate it. This band is obviously able to create some very good albums, you know, that these are legends. And for me, at this point, I was a fan of SAXON (laughs) when I was a youngster. Then all of a sudden, sitting next to them on a board and recording Paul Quinn on guitar. I mean, that was a kind of feeling I can't describe, you know? It was a big moment in my life.
KNAC.COM: I can imagine. I think Biff Byford does not get the credit he deserves. He's one of the classic vocalists in heavy metal, almost right up there with Halford, Dickinson and Dio.
FRANK: Yeah, you're absolutely right. And first of all, he's a real gentleman. He was such a nice person and really honest, and really professional in recordings, in the recording way. I mean, he was right spot on when he started singing. Wow, I got goosebumpers.
KNAC.COM: I've seen him live, and singers 20-30 years younger than him could learn something because — just like you said — when he gets to the microphone, he's ready.
FRANK: He's the man. He's one of the men.
KNAC.COM: We agree on that.
FRANK: And he's one of a kind too.
KNAC.COM: Yes, he's a legend! Given your production skills, what made you decide to work with co-producer Arne Neurand on the last two records? What does he bring to the table in terms of helping you with the production?
FRANK: First of all, I have known Arne for a long time. When I did a couple of productions in Hanover in Horus Studio, he was starting his career as a sound engineer and a producer, so he learned from my style. And now he's the owner of the studio. So, I came back to this guy and said, "Hey, I should take the chance." It's next to my house, this studio. It's easy for me to walk in and he's a very talented producer and sound engineer. He plays drums very well; he's able to play the bass; he's a guitar player; and he's one of the only guys that I allow to change my guitar playing. When he's starting to tell me, "Oh, Herman, you should do this again. Maybe that's not exactly the style people expect from you." (laughs) So I trust this guy very much, and he helps a lot. For example, when we record the drums, he's so into this, and he knows what the drummer is doing. When you have to punch in in a song, he can tell the drummer, "Oh, on the last take, you used the left cymbal, so please use the left cymbal again." He's really into it.
KNAC.COM: The record sounds great. Now that you mentioned the drums, they're very clear and punchy. You can hear everything; they're not overpowering, but all of the detail is there.
FRANK: Yeah, that's what I was looking for. And that's what I was asking for as a producer, to the sound engineer, you know, because I like the real drums. If you record drums, don't overdo them with samples or something. That's not the meaning of drums.
KNAC.COM: I agree. With the HERMAN FRANK band, there are elements of your other projects such as VICTORY and MOON DOC. However, to my ears, the past five records under the HERMAN FRANK banner have been very focused on a classic heavy metal sound, with elements of European power metal and hard rock. Do you agree, and how did you develop such a clear focus on this sound over the past 10 years?
FRANK: I absolutely agree with what you said, and let's put it this way — maybe it's just my DNA. Maybe I'm lucky that I found the way I want to do music. And that's exactly how I want to do songs and how I want to create and compose songs, and how I want to play my guitar. It's kind of like easy to do this kind of music for me — I just love it.
KNAC.COM: I think it shows because you're doing a record almost every two years and the quality remains high from release to release.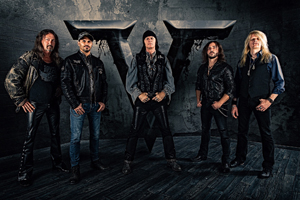 FRANK: Thank you so much, I appreciate that. I try really hard. I mean, it's not that easy to come up with any record, as every musician knows. And I'm glad that it happened. So far, so good! (laughs) Let's keep fingers crossed that the future will be the same. And I'm always happy when I'm finished with a record, 'cause you always live in the fear, "Am I able to come up with some new stuff, some new songs?" It shouldn't sound that similar to the last album, but people expect you to sound similar. So that's the most difficult part in creating a new album.
KNAC.COM: I'm a musician also, so I appreciate your honesty. Every time I write something, I say to myself, "Okay, I like that, but am I done? Am I not going to be able to do this again?"
FRANK: (Laughs) Same situation; I mean, every year or every second year, you have the same situation, you know, and you're so glad that you finished the product. And then until the master is finished, and the record comes out, you already start thinking about the next one. And let's kinda like live in fear for the next 10 or 15 songs, you know? (laughs) It's a horrible sort of story, and kind of, like a never-ending story. But maybe that's the thing, which keeps you going on and live on, you know? On the one side, I do like this situation very much because it keeps you alive.
KNAC.COM: Exactly. It always gives you something to strive for and you're always looking forward to the next project or challenge.
FRANK: Challenge was the word I was looking for, thanks so much.
KNAC.COM: You're welcome. On Two For A Lie, there isn't a track that matches the title of the album. How does the title sum up the concept or the sound of the record for you?
FRANK: The most difficult part for me is not writing songs, it's to get the idea for an album title. That's the most difficult part for me, and to come up with an idea for the cover. This time it happened as a little accident. I sent out my vocals for "Venom" — the second song on the album — to Rick. So, he put his voice on a demo track. And maybe he mixed it not quite well. He sent it back and I listened to it and I understood all "two for a lie, two for a lie" blah blah in the verse — but he was singing "truth or a lie." In this moment, I said "Hey, that's the hook line. That's the album title I'm looking for." It fits perfectly in these days or in history in any decade you want to put it in. If two people or more than two people show up, there's always a chance that a lie will be spoken out. And in the same second, I got this picture, this album cover in my mind, two guys screaming at each other. Obviously, one is a liar and the other one screams at this liar. I got lucky this time; this album title came up by accident — "truth or a lie", "two for a lie." (laughs)
KNAC.COM: It's funny how sometimes things come from a place that you just would never expect.
FRANK: It's always the same, it's always like this. Also, if you come up with a catchy riff, and the most catchy riffs, they come up if I practice in the morning with my guitar for an hour or two, and then all of a sudden you get this riff you want to work on. These are always the moments, thank God!
KNAC.COM: Yes, that they keep happening. The first two singles that you released from the album are "Eye of the Storm" and "Venom". Can you tell me why these songs were chosen to introduce the new material to the fans and how they fit into the album as a whole?
FRANK: The first, I mean you have to discuss this with the record company anyway (laughs), but they agreed to my advice (laughs) — let's put it this way. And I have a song, I think it's a catchy song: good guitars, nice hook line, and maybe it's an example for the whole album. That's the reason why we chose this one. And "Venom", for my personal thinking is the most commercial song in a certain way. I got this feeling in "Venom"; this is so sticking in your mind, if you listen to the song for one or two times. And it got the feeling, if you drive down the highway and lean your left arm out of the window, and have a cigarette or whatever, a can of beer in the right one, and listen to this song, that's a perfect feeling.
KNAC.COM: That makes sense. And certainly, this is a good record for the summer, right?
FRANK: I think it should be a record just to enjoy the music, you know?
KNAC.COM: Agreed. In your mind, how does the latest record differ from the previous releases — if at all? Do you feel that it's a continuation, or did you introduce some new elements?
FRANK: The most different is they are ten brand new songs. (laughs) I have to continue in the style I'm born with, you know? Maybe you live this kind of, it's a kind of life, but also, if you live in this way, and I've done this kind of music for decades now. It's just coming out of my guts or my heart or wherever you want to tell it. Going on, going on, going on...
KNAC.COM: I became aware of your work on the Loyal to None release.
FRANK: Cool, that's a long time ago.
KNAC.COM: About 10 years ago, maybe 11? I really liked that record. I investigated to learn more about VICTORY and MOON DOC, and that was my introduction to your catalog of work.
FRANK: What kind of instrument do you play? Are you a singer?
KNAC.COM: I wish I was a singer! My life would be so much easier if I could sing.
FRANK: I'm always looking for good singers — and for good-looking singers!
KNAC.COM: It's hard to find someone that can sing at all, let alone that looks good while they're doing it! (laughs)
FRANK: You might help me out with a new band name, because I'm working right now on another project with a singer I've known for 35 years now or 30 years. And I never got the chance to meet this guy personally.
KNAC.COM: Can you reveal who it is?
FRANK: In a couple of weeks. (laughs) We just started to send the material back and forth. We played in the same band, but when he was in the band, I wasn't in the band. I mean, I just want to keep myself busy. There are so many things I want to do in the future or I still want to do — and as a matter of fact — I started mixing the new VICTORY album. The recording is finished and it will also be out via AFM Records the end of September or October, something like that.
KNAC.COM: Fantastic! Who sings on this VICTORY album?
FRANK: I found a brilliant guy out of Basel, Switzerland, where Fernando Garcia (original VICTORY vocalist) came from. It's the same town, Basel, where Fernando Garcia was from. Gianni Pontillo is a fantastic singer, and if you close your eyes and he sings back the older tracks from VICTORY, you're thinking Fernando Garcia is singing. Quite the same voice. It's unbelievable.
KNAC.COM: I'm glad to hear you're keeping so busy and that there will be two additional releases from you this year. Speaking of vocalists, the HERMAN FRANK band has featured two excellent singers in Jioti Parcharidis and Rick Altzi, who I think is one of the best vocalists working in metal today. How important is the choice of vocalist to you to help achieve your vision with your projects?
FRANK: It's the most important thing you have to look for. And I'm really happy that I found these two guys. There's a sad story about Jioti. He was one of the guys that just showed up in the room and started screaming singing. He never practiced. So wonder what happened?
KNAC.COM: That's interesting. He had some problems with his voice?
FRANK: Exactly. I mean, what can you expect if you go from zero to hero in one second? And it took just a couple of years, and then his voice got really damaged. He's not allowed to sing anymore; otherwise, he will lose his voice. That was a really sad moment at this time. (Note: Jioti Parcharidis sang two tracks — "Feed My Soul" and "King of Pain" — on Lethal Mind, the 2018 debut of HEAVEN'S TRAIL.)
And then, I got so lucky that a friend of mine — he lived in Canada, eh? — and I talked to him and said, "Hey, I'm looking for a new singer for my HERMAN FRANK thing." And he said, "Oh, I know a guy out of Sweden, Rick Altzi." He put me into contact with Rick and I sent Rick two songs, two playbacks. And on the next day, he sent me back the songs completely done with his voice. I was overwhelmed. It was awesome. And from that day on, it was clear, very clear, that I will work with this guy. He's one of the best singers, as you said, and is just the singer I can imagine for my sound.
KNAC.COM: I think he's done a fantastic job on the work he has done with you. Other than the vocal spot, there seem to be some lineup changes from release to release. Any thoughts on why this happens? For example, is it that the musicians have commitments to other projects or life changes?
FRANK: Andre Hilgers, the drummer, he decided to go on with some other projects musical-wise. If somebody wants to go, what can you do? And Heiko Schröder (guitars), he got an offer from the government of the town where he lives to work on entertainment and stuff like that. And productions. Oh, what's the word for you? It was his profession. He said to me, "Hey Herman, I'm so sorry, but I have to take this time the left lane. The left lane will fill up my 'fridge." You can't blame this guy then. I was forced to keep an eye out for new musicians. Mike Pesin, the new guitar player, he's living next to me in Hanover. It's a really comfortable situation. I knew this guy for a long time. And so I just asked him, and he felt honored to be a part of the HERMAN FRANK band. It's really comfortable because every time he can show up in my studio, we can practice together, we are able to discuss the music. And he's really talented, as I said, and Kevin (Kott) was mentioned by Rick as a drummer. Kevin is doing — or was doing — lots of other projects in other German heavy metal bands. It was obvious to ask this guy, "Do you want to be a part of it?" And he said, "Yes, I would like to do it." And I was right, he gave really the right guts to this whole thing. He's an absolute beast on the drums.
KNAC.COM: I think you've had excellent players all around, and while I'm sure you'd like to keep the consistency…
FRANK: I would love to!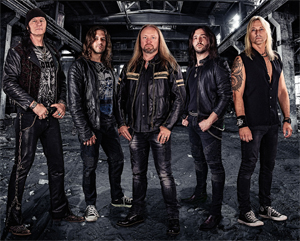 KNAC.COM: I understand that the changes are difficult. But I think you're getting guys who are so good that they're providing the continuity you need. They're coming in and doing such a good job that the albums sound like they have a flow and there's no disconnect from the previous record.
FRANK: No. As it's not the first record, and as a producer, I'm looking for the best result. If you choose some musicians, you might be sure that they're able to do this, to perform the thing the right way.
KNAC.COM: Speaking of writing and performing, what is your normal songwriting process? Do you just send the demos to Rick with a vocal line? Or maybe you just send him an instrumental? How does it work?
FRANK: Most of the songs I send Rick with vocal lines, or my ideas on what I call vocals (laughs). For sure, he's doing some of the lines, he's changed it 'cause he's a much better singer than I am. But at least I would like to give him the idea in which direction the song goes, or my meaning of writing the songs. And the same way I do the bass and the drums. But I'm expecting or it's obvious that these guys, they are experts on their instruments — they put something special to it. But all in all, if you would listen to the demos, you would recognize the songs.
KNAC.COM: Right. I've found that as well, when you give somebody a rough demo, and you're working with good players, they take the song in the direction that you want it to go, but they make it better.
FRANK: Sure. (laughs) If I could sing like Rick, wow!
KNAC.COM: If I could sing my life would be so much simpler. Because you know, the singer is always the hardest part of the band to find.
FRANK: I'm lucky that I can give him a lot of ideas. You know, that's the main point. But as you said, if I would be lucky, dead lucky, that I would sing as well Rick, I would be really a rock star. Just think about playing guitar and singing at the same time.
KNAC.COM: There are a few guys that have done it very well, but it's difficult. Speaking of guitars, I'll ask a question for the guitarists in the audience. What equipment did you use on Two For A Lie? Specifically, what guitars and amplifiers?
FRANK: I came back to my old stuff in the latest year, using a handmade guitar from Duesenberg (Duesenberg Guitars), it's a German factory. They might be a little bit more well-known these days, but this is a guitar I got in 1986 and it was handmade just for me. And I'm back on this guitar. It's kinda like a Strat thing. And for some rhythm parts I like to use a Heritage, an old one. It's a Heritage Les Paul style. Let's put it this way. This gives you a real bottom for the rhythm things, and it's nice to play on this guitar. And for amplifiers, I still stick with my ENGL stuff, three old straight ones. They're very old now and I had them on tour all over the world. But they are still running. And it's still pretty good.
KNAC.COM: ENGLs sound great. Generally speaking, for recording you're using real amps and you're not using modelers or software plugins?
FRANK: Quite honestly, once in a while if I'm too lazy to put a mic in front of a speaker. (laughs) Hey, and I have to be quick, quick, quick — sometimes I use a modeler and why not? I went to Charlie Bauerfeind, a really good engineer who is producing HELLOWEEN and engineering a lot of good bands. He modeled my amps into this Kemper (digital modeling amplifier). And once in a while if I'm too lazy to put a microphone in front of a speaker, I just use this thing. I record a direct input (DI) track; one track on the DI signal and on the other track the real sound — and sometimes I reamp them.
KNAC.COM: Yes, that's a common recording strategy these days. I have a Kemper also and it's amazing the sounds you can get out of it — even though I still prefer the real amps. But it is hard to tell in the mix if you used a real amp or a Kemper if you have a good profile.
FRANK: I went into Kemper when I was with ACCEPT because we had a lot of shows we flew into. Then you showed up and the gear they offered you was once in a while, it was a "Monday Marshall" or whatever you know (laughs), and it sounded pretty well, weak, let's say weak. So we traveled with a Kemper, you had it as a hand luggage for the flight, and then just put it on top of any speaker in a festival and you got your sound, you know? It was much easier once in a while. And that's the reason why I chose also to use it once in a while in the studio — why not?
KNAC.COM: The bottom line is whatever works, right?
FRANK: You're absolutely right.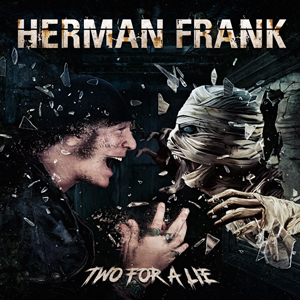 KNAC.COM: Two For A Lie will be released on May 21, 2021. What's next for the HERMAN FRANK band? Do you hope to tour later this year or next to support this release?
FRANK: The reason for me to put an album out is to go on tour. That's the only main thing you're looking for. I'm still excited when I'm entering any stage and it doesn't matter if there are 50 or 50,000 people, I really just enjoy to play guitar and play in front of the audience. If I would know when concerts will be going on again, I would be one of the richest guys. (laughs) So serious planning is for 2022. There will be a tour. We will start in Europe, maybe two, three weeks, it depends on the venues that have been left. In 2022, every band will be out on tour, I guess. And there will be a show at noon, 4 p.m. and 8 p.m. and maybe some 'midnight special' show (laughs) or whatever; it might get really complicated into 2022.
KNAC.COM: I certainly hope that you can get out there and support the record.
FRANK: We'll see. Let's keep fingers crossed.
KNAC.COM: Exactly. Fingers crossed for everyone. There's been a lot of great music released during the pandemic, but people do miss the live shows. When most fans pick up a record that they enjoy, they want to and see the musicians perform it.
FRANK: But we have to handle the situation anyway. I mean, we are complaining about live shows, and people are dying.
KNAC.COM: Of course, I agree. We need to wait until it's the right time.
FRANK: We just have to sit down for a couple of months and be patient. That's it. There will be live shows again. If you miss one year, then you just missed it.