MONSTER MAGNET A Better Dystopia


By Andrew Depedro, Ottawa Corespondent
Thursday, May 27, 2021 @ 6:19 AM


| | | |
| --- | --- | --- |
| | | |
MONSTER MAGNET
A Better Dystopia
Napalm Records




If he were any more cosmically intergalactic some 3 decades into his career, you could probably find his name amongst the family tree of Neil Armstrong or Chris "I Played "Space Oddity" Pretty Damn Well In Actual Outer Space That Even David Bowie Had To Tweet About It" Hadfield. Yet, the mind of psychedelic rock legend Dave Wyndorf shows no boundaries as both himself and MONSTER MAGNET delve deep into the cosmos and pay their homage forward to many of the heroes of the psychedelic garage rock era. With their first-ever covers album in the form of A Better Dystopia, rock's own stratospheric space lords – and that includes musicians Phil Caivano, Bob Pantella, Garrett Sweeney and Alec Morton – run many gamuts throughout this mind-blowing platter of obscure underground psychedelia honoring the rustic and gritty garage sound of the past with many memorable results.

I'm gonna be straight up here with my own prognosis on these mostly obscure cover choices on this album, of which the only track on this album I could actually immediately recognize being PENTAGRAM's "Be Forwarned": Dave Wyndorf is the Vince Gilligan of hard rock. He can scope out and deal out the best undetected underground numbers for a covers album without any fixed schedule and work them out to his own advantage; seriously, if either Breaking Bad or Better Call Saul didn't already have their own perfect cliffhangeing soundtrack music for their most groundbreaking and euphoric individual scenic highlights, A Better Dystopia would be the next best aural window into the soul of the proverbial outlaw and outcast.

The album opens with "The Diamond Mine", as Dave Wyndorf recites a wildly classic monologue by Dave Diamond, an American radio DJ whose programs in the late 1960s and early 1970s helped popularize many psychedelic and acid rock bands and is as absolutely out of the mainstream stratosphere as one would expect thanks to Wyndorf's intrinsic yarn-spinning skills. From there on, more garage days are revisited with some underappreciated heavy acid fuzz rock anthems such as their rendition of HAWKWIND's "Born To Go" and the aforementioned cover of "Be Forewarned", with Wyndorf's take on the latter being so conjoined to Bobby Liebling's baritone pipes it's mind-blowing in of itself. Other standout tracks include a brooding cover of "Mr. Destroyer" (POO-BAH), which boasts swaggering riffs and swirling vocals, spurring visions of some untold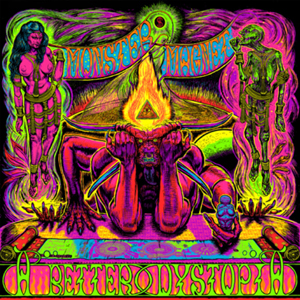 Freak revolution – or perhaps dinosaurs battling on a burning planet at the end of time – creating the ideal blend of hard rock and psychedelia, and the feverish white-knuckle punk rock ride of TABLE SCRAPS' "Motorcycle (Straight To Hell)" evoking a cross between IGGY POP and MOTÖRHEAD as Wyndorf wails "I'm gonna drive it straight to HELL!" – a pretty bold contrast at least lyric-wise when matched up against their cover of "When The Wolf Sits" by 70's Swedish Christian rockers JERUSALEM.
Falling even further down the mind-bending rabbit hole, MM offers their stunning, whirlwind take on the often-overlooked hard rock classic "Learning To Die" (DUST) and a masterful version the STOOGES meets Goth epic, "Solid Gold Hell" (THE SCIENTISTS). The album closes with a nuclear cover of MORGEN's "Welcome To The Void", inviting you to restart the ride again and again.
As heavy-sounding as it is ambitious in its choice of deep classic rock/proto-metal cuts, A Better Dystopia is indeed the sound of the MAGNET bringing the best of the ying and yang together with little resistence.
5.0 Out Of 5.0
https://www.zodiaclung.com/
https://www.facebook.com/monstermagnet/
https://www.instagram.com/monstermagnetofficial/
https://twitter.com/monstermagnetnj




Please log in to view RANTS

If you don't have a username, click here to create an account!