MYLES KENNEDY The Ides Of March


By Halo, Heavenly Contributor
Wednesday, June 2, 2021 @ 11:21 AM


| | | |
| --- | --- | --- |
| | | |
MYLES KENNEDY
The Ides Of March
Napalm Records




I don't believe this man needs a lengthy introduction. If you profess to be rock music fan, well then you know the Man, the voice, the writer and all the talent that is Myles Kennedy. His ability to showcase his different musical influences depending on whether he's playing an ALTER BRIDGE song or performing a song with SLASH AND THE CONSPIRATORS and chiefly something from one of his solo albums is unparalleled. His vocal range and one of the most widely recognized voices in rock music today is self-explanatory. His 2nd solo album The Ides of March is definitely a project that he poured his soul into. His 1st solo album Year of The Tiger, released in 2018, was received with great reviews. It was a fantastic collection of songs that we love and sounded like a few could have been on an ALTER BRIDGE album. The Ides of March is obviously more of a sound that is largely influenced by Myles's love for the soul, bluesy, Texas-esque Austin music scene with some Tennessee mixed in. This album allowed Myles to get back to his true love of the guitar.

There are 11 songs on this album. The album's premise works around the times of quarantine and the pandemic, the state our world is in. By far my favorite is the third track "In Stride". I have no doubt the guitar intro will become one of those notable intros to a song, it will immediately become one of those that the song will be "that song" people recognize. He uses his national resonator guitar with a rock slide and a 1958 fender deluxe amp for the sound for this intro and song. This amp sound is basically what this album's foundation is sonically based on. This song is telling us to chill in simple terms" "Cool down baby, you know your gonna burn out in time", "sometimes you gotta let go and just open your mind", "Just live your life you know I'm right. Goddamn I'm right!" These are some of my favorite lyrics on this album. Simple but to the point. On the ballad side is "Worried Mind", one I listed to more than a few times. "Let me ease your worried mind." This song is a reminder that even in the chaos going on around us, try not to worry so much. Myles's guitar solo that begins at 2:01 is very soulful, bluesy and beautiful. It ends at 2:47. Listen to this song please. The guitar is perfection. If you are familiar with GOV'T MULE and the amazing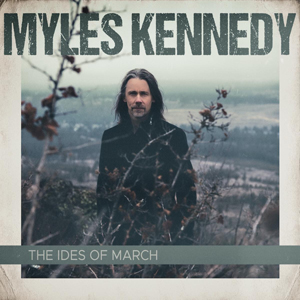 Warren Hayes, this song is reminiscent of their song "Soulshine". Actually, several of the tracks on The Ides of March have the GOV'T MULE sound. The title track "The Ides of March" is a 7:32 minute long song. The first half of the song is dark and bleak, like the times at the beginning of quarantine. The second ½ of the song leads into a more positive outlook and future: "Remember who we are, Remember what we are." This song took Myles more than four months to complete. The original chord progressions and melody came to him in a dream. "Wanderlusts Begins" is a song about dreams and imagination. This along with "Moonshot", which are milder tempo'd, give you your ballads we all love. Every song on this album is beautifully written.
I could go on and on with every track. Myles, along with Zig Uddin and Tim Tournier and producer Michael "Elivs" Baskette put together and arranged an amazing album. Myles , the man that didn't even set out to be a vocalist, sure knocks it out of the park. American Songwriter states "Myles is one of the last true rugged, gritty and compelled songwriters in the scene." I will whole-heartedly agree. His voice is authentic and one of a kind. Mix this with his writing style and talent on the guitar and it makes him one of the greats in music today.
5.0 Out Of 5.0




Please log in to view RANTS

If you don't have a username, click here to create an account!