JARED JAMES NICHOLS Releases New Single "Skin 'N Bone"


By Larry Petro, News Monkey
Friday, June 11, 2021 @ 12:03 AM


| | | |
| --- | --- | --- |
| | | New EP Shadow Dancer Out September 17th |
Nashville-based, singer-songwriter-guitarist JARED JAMES NICHOLS returns today with a brand-new track, "SKIN 'N BONE", which is available now on Black Hill Records. The new song is a preview of his highly-anticipated EP titled SHADOW DANCER which is now confirmed for September 17. Listen to "SKIN 'N BONE" BELOW.

Armed with one guitar--his battered-and-bruised, heavily-customized Gibson Les Paul, aka "Old Glory"--a gritty, soul-stirring voice, and an unshakable spirit, JARED JAMES NICHOLS reaffirms the power and glory of good ol' hot-wired, blues-drenched rock 'n' roll. Since the beginning, Nichols has carved out his own singular path in the music world and his new songs reveal newfangled sides and a different level of depth to the JJN experience. On "SKIN 'N'BONE", Nichols takes an introspective look at what divides us as people, but also, what should unite us. Due to this past year, the timely lyrics and message came first, Nichols says. "The idea stems from making sure our eyes our open and coming together instead of breaking apart, and I express it all through this energetic trio. I may not be great at sitting down and having a conversation with you about my feelings, but I can play a song like "Skin N' Bone" that shows you how I'm feeling and support it with sound and with guitar and with all the bombastic craziness that I put on it."

While Nichols is only beginning his career, he has already picked up plenty of rabid acolytes along the way, and he partnered with Epiphone luthiers twice in the past two years to re-create his favorite legendary Gibson models, the "Old Glory" a Les Paul Custom in Ebony and the "Gold Glory" Les Paul Custom in Double-Gold Aged Finish both of which quickly became best-sellers. On June 9, Jared was officially welcomed into the Gibson family as a brand ambassador onstage by Cesar Gueikian, Brand President of Gibson at the grand opening of the new Gibson Garage in downtown Nashville, TN.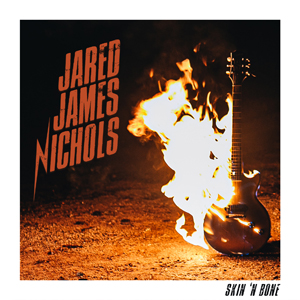 "I get to release new music and become a Gibson brand ambassador on the same day, this is a dream come true," says singer-songwriter-guitarist, Jared James Nichols. "So much more than just 6 strings and a piece of wood, Gibson Guitars embody who I am and have been the soundtrack and inspiration of my life. I am honored and grateful to be recognized as an ambassador for the most iconic guitar maker in the world. From being born in Waukesha, Wisconsin, the same town as Les Paul, to now being a Nashville-based and part of the vibrant music scene here, I feel like this a testament to Les, and the legacy, as well as the future of this iconic brand. So here is my cheers to every 15 year-old-kid with a dream to someday join a band, play some gigs, and hopefully get a Gibson guitar…keep on pickin' and play from your heart!"
"Welcoming Jared, aka the Blues Power man, as our official Gibson ambassador is a confirmation of the symbiotic partnership we already have with Jared and a recognition of his success as a guitarist, modern riff-lord, musician, band leader and overall ambassador of rock n' roll," says Cesar Gueikian, Brand President of Gibson. "Since the age of 15, Jared has made Gibson his own DNA, celebrating Gibson's influence in his music by naming his guitars – starting with 'Old Glory' and most recently, 'Gold Glory'. Jared is not only a virtuoso guitarist and soulful songwriter, he's also one of the hardest working young musicians of his generation. Today, we celebrate Jared, his passion for Gibson and for music and we get to enjoy his new single "Skin 'N Bones". The future is bright for Jared."
Known for his high-energy, pick-less guitar-playing from his electrifying riff-'n'-roll from records like his 2015 debut Old Glory & the Wild Revival, and the 2018 follow up Black Magic, Jared has performed over 400 live dates traveling around the world with his band and performed onstage with giants like Slash, Billy Gibbons, Joe Bonamassa, Zakk Wylde, and the late, great Leslie West, among others. Nichols is now ready to head back out on the road and has announced a handful of U.S. tour dates (see full itinerary below).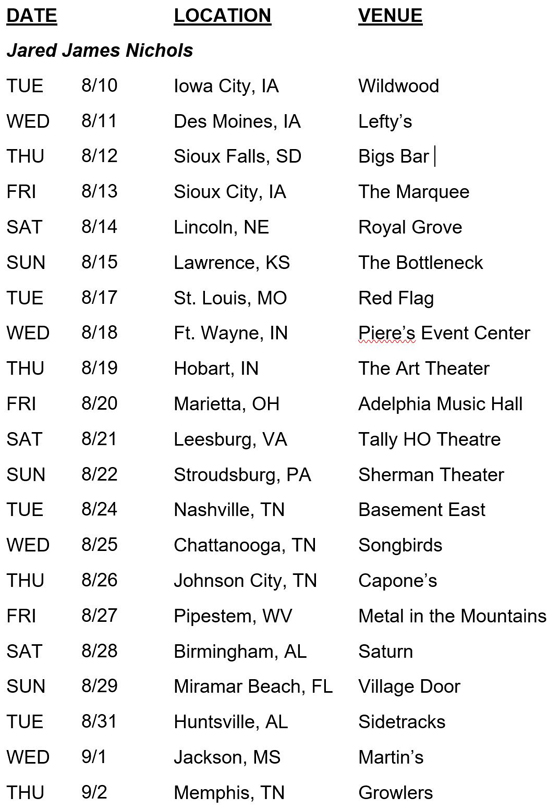 Please log in to view RANTS