SLAUGHTER, KIX, LILIAC In Houston, TX With Photos!


By Larry Petro, News Monkey
Monday, June 14, 2021 @ 10:18 AM


| | | |
| --- | --- | --- |
| | | Fans Were Up All Night Blowing Their Fuse At Warehouse Live |
All Photos By Larry Petro/Petrofyed Photography
Concert season is in full swing in Texas and after my back-to-back reviews of WINGER, JACK RUSSELLL'S GREAT WHITE and NIGHT RANNGER it was time for yet another National show, this time SLAUGHTER, KIX and LILIAC taking place at a venue that seems to grabbing all the good gigs lately.
Opening the show on a hot and humid Saturday night in Houston was hard rock's version of The Partidge Family, that being LILIAC. The last time that this band played in H-town they had not yet released their EP Chain Of Thorns and were relegated to playing mostly covers, something that had garnered LILIAC national attention. Now, 2 years later, the band had also released its debut full-length Queen Of Hearts in October of last year. This time the set would be different and include more of the band's original material, with some covers thrown in again of course. The band launched their 9 song set with a cover of MEGADETH's "Symphony Of Destruction" which was nicely done and followed up by a pair of originals, "Not Afraid" and "We Are The Children". Covers of "Holy Diver" and "Crazy Train" were next, 3 more originals and then set closer Rainbow In The Dark". The group did a fine job of getting the crowd pumped for what was to come, having matured quite a bit the past few years. We'll have to keep an eye on them in the future.
Setlist:
"Symphony Of Destruction" (MEGADETH)
"Not Afraid"
"We Are The Children"
"Holy Diver" (DIO)
"Crazy Train" (OZZY)
"Nothing"
"Mars"
"Chain Of Thorns"
"Rainbow In The Dark"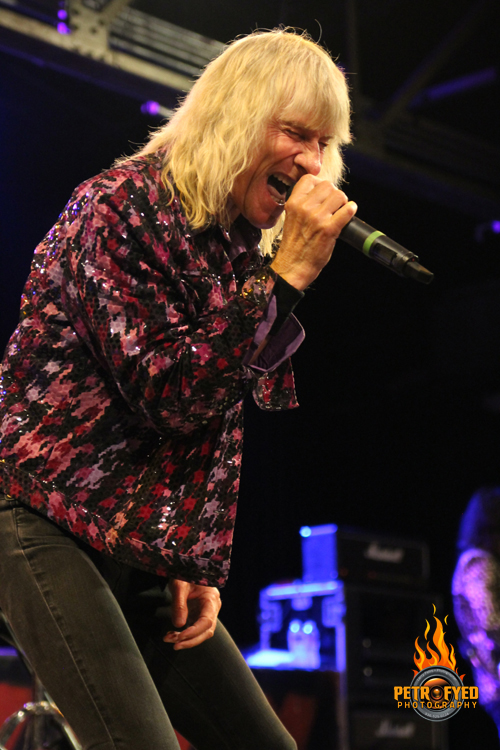 Next up was Maryland favorites KIX, a band I hadn't had the chance to catch live since an appearance they made at Rocklahoma probably 10 years ago so I was looking for to their set with much anticipation. The did not disappoint, with the band, in particular vocalist Steve Whiteman looking about the same as he did back in the day and definitely showing some signs of rejuvenation from the prior year of no shows. He was quite energetic and as excited to playing live again as the rest of the band as they launched into their set with "Midnite Dynamite". The band was clicking on all cylinders as the fans got all the hits such as "Sex", "No Ring Around Rosie", "Get It While It's Hot", "Cold Shower" and probably the band's biggest hit, the ballad "Don't Close Your Eyes". Notably absent from the band during this performance was guitarist Ronnie "10/10" Younkins, a fact that Whiteman addressed to the crowd after the band's first few songs. Younkins has been dealing with addiction issues for some time recently after being sober for a couple of decades and according to Whiteman, he was getting help this time in rehab. Whiteman mentioned the fact that KIX had considered performing as a four piece but that it would not have been fair to the other guitarist, Brian "Damage" Forsythe, so he is being temporarily replaced by accomplished session guitarist Bob Pare, who performed admirably in Ronnie's absence.

After "Cold Shower", Pare got his chance in the spotlight for an impressive guitar solo, which the band followed up with the one-two closing punch of the raucous "Cold Blood" and "Blow My Fuse". An interesting part of KIX's performance was that they played 14 songs and an hour and fifteen minutes, compared to SLAUGHTER's 11 song, just around one hour set. It isn't very often if at all where you have an opener playing longer than the headliner, unless of course this was a co-headline show, which if it was I was unaware of that fact. KIX definitely put on a show that disappointed no one.

Setlist:
"Midnite Dynamite"
"Lie Like A Rug"
"Sex"
"The Itch"
"No Ring Around Rosie"
"Get It While It's Hot"
"Scarlet Fever"
"Girl Money"
"Love Me With Your Top Down"
"Don't Close Your Eyes"
"Wheels In Motion"
"Cold Shower"
Guitar Solo
"Cold Blood"
"Blow My Fuse"
Now SLAUGHTER is another one of those bands that seemed to catch more than their fair of shit back in the hair band days but let me tell you, they put on a great energetic performance every time and tonight was no exception. Firing things up with "Mad About You", Mark Slaughter and company, bassist Dana Strum, guitarist Jeff Blando, and drummer Will Hunt (EVANESCENCE) also showed the excitement of being back on the road again with Slaughter exclaiming how glad he was to 'get out of the house'. Burning Bridges" and "Spend My Life" preceded a cover of LED ZEPPELIN's "Immigrant Song" and then it was "Eye To Eye, "Desparately" and "The Wild Life". Now, the last time SLAUGHTER played Houston, Mark Slaughter seemed to have put on a few pounds but this time around he looked a bit trimmer and sounded fantastic as they continued on with "Days Gone By", "Real Love" and the ever-popular "Fly To The Angels". OF course it wouldn't be a SLAUGHTER show without being "Up All Night", which the band closed with, but with a slight twist. At the end, the band performed a brief snippet of THE WHO classic "Won't Get Fooled Again" before ripping into an impressive cover of VAN HALEN's "Ain't Talking 'Bout Love" as a tribute to the late Eddie Van Halen. Another fine show in the books.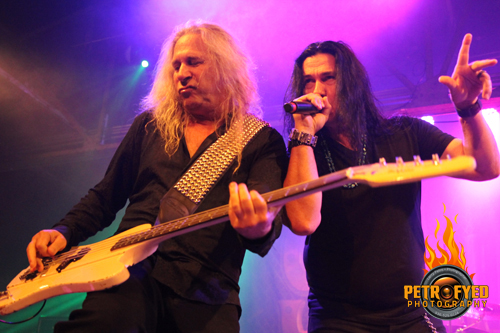 A very special thanks to Justin Ellerton, John Escamilla and the folks at Blackhorse Limo and Warehouse Live for being at the forefront of bringing live shows back to Houston. Here's hoping for a rockin' hot summer of shows!
Setlist:
"Mad about You"
"Burning Bridges"
"Spend My Life"
"Immigrant Song" (LED ZEPPELIN)
"Eye To Eye"
"Desparately"
"The Wild Life"
"Days Gone By"
"Real Love"
"Fly To The Angels"
"Up All Night"/"Ain't Talkin' Bout Love" (VAN HALEN)
Check out some more photos from the show!
All Photos By Larry Petro/Petrofyed Photography

Please log in to view RANTS




ALICE COOPER Road

RAT ROD Four On The Floor

GIRLSCHOOL WTFortyFive?

DANKO JONES Electric Sounds

AVATAR, ORBIT CULTURE, THE NATIVE HOWL In Houston, TX With Photos!

THE DEAD DAISIES In Hollywood, CA With Photos!

KILL DEVIL HILL Seas Of Oblivion

THE DEAD DAISIES In Ottawa, Canada

MAMMOTH WVH In Santa Ana, CA

UADA Crepuscule Natura

BARONESS Stone

KAMELOT, BATTLE BEAST, XANDRIA In Houston, TX With Photos!

CRYPTOPSY As Gomorrah Burns

RAY ALDER II

GHOST, AMON AMARTH In Houston, TX With Photos!

U.D.O. Touchdown

DETHKLOK Dethalbum IV

STEVE VAI In Ottawa, Canada

PANTERA, LAMB OF GOD In Houston, TX With Photos!

OVERKILL, EXHORDER, HEATHEN In Los Angeles With Photos!

PUPIL SLICER Blossom