GO AHEAD AND DIE Go Ahead And Die


By Peter Atkinson, Contributor
Monday, June 21, 2021 @ 9:56 AM


| | | |
| --- | --- | --- |
| | | |
GO AHEAD AND DIE
Go Ahead And Die
Nuclear Blast Records




Max Cavalera has become a man of many side projects. In addition to his "day-job" band SOULFLY, the ex-SEPULTURA frontman saw his long-running CAVALERA CONSPIRACY with his brother/drummer Iggor and SOULFLY guitarist Mark Rizzo blossom into the more recent MAX & IGGOR CAVALERA, with essentially the same crew going out on tour to play classic SEPULTURA material. Last November, his alt-metal supergroup KILLER BE KILLED – featuring past and present members of MASTODON, THE DILLINGER ESCAPE PLAN and CONVERGE - issued its second album Reluctant Hero.

Now comes GO AHEAD AND DIE, Cavalera's latest venture, a trio that includes his son, Igor Amadeus Cavalera, and BLACK CURSE/KHEMMIS drummer Zach Coleman yet harks back in some ways to his first side project NAILBOMB from 30 years ago. But where NAILBOMB's lone studio album, 1994's Point Blank, offered a crusty take on industrial metal, GO AHEAD AND DIE is "crusty" in the classic sense. It's low down and dirty hardcore/thrash/grind hybrid pays homage to the elder Cavalera's long-time influences like DISCHARGE, AGNOSTIC FRONT and vintage NAPALM DEATH, with some CELTIC FROST groove thrown in for good measure.

Go Ahead And Die delivers straight up, no bullshit, politically charged brutality in its rawest, purest form. Its lack of polish and utter ferocity make it sound like a jam room rehearsal caught on tape, giving it the sort of urgency and immediacy that made SEPULTURA so potent back in the Beneath The Remains-Chaos A.D. era. There's certainly no denying the conviction and zeal behind the material or the performance here.

Despite mushy guitar tones and thudding drums that result from the minimalist production - and a sludgy mix to go along with it - the trio sound like a wild animal uncaged as the album opens with the snarling fury of "Truckload Full Of Bodies" and maintain that tenacity throughout, even when the tempos slow. "Toxic Freedom", "I.C.E. Cage", "Prophets Prey", "In The Slaughterline" and "Worth Less Than Piss", or the chug and blast of "G.A.A.D." aim right for the throat and don't let go, powered by Coleman's assertive pacing.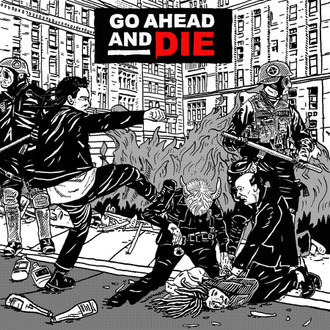 The songs, by and large, are simple and direct, being crafted from a hardcore perspective. But the material is delivered with the agility of a thrash band that lends some welcome craftiness and complexity, as on "Punisher" or album closer "Roadkill", the two longest tracks here, or "El Cuco", which borrows the opening riff from NAPALM DEATH's "Scum" and closes with a CELTIC FROST-inspired breakdown.
Along with sharing guitar duties here, Max and Igor also split the vocal work. And as their grizzly-ish rasps are quite similar - obviously the apple did not fall far from the tree in that department - it can often be tough to tell who is whom. But no matter, as they both effectively present the venom reflected in the lyrics, as on the all too topical "Toxic Freedom" - "It's always authorities killing minorities/Shut up and do as you are told/No rights, closed eyes, die when you're told to."
Whether GO AHEAD AND DIE is a one-off spawned by COVID-related idle time or will find its way into Max Cavalera's expanding rotation of active side projects remains to be seen. But he and Igor, along with Coleman, definitely capture some genuine lightning – or, perhaps more fittingly, piss and vinegar - in a bottle here.
3.5 Out Of 5.0




Please log in to view RANTS

If you don't have a username, click here to create an account!