SKARLETT RIOT Invicta


By Daniel Höhr, European Correspondent
Monday, June 21, 2021 @ 9:57 AM


| | | |
| --- | --- | --- |
| | | |
SKARLETT RIOT
Invicta
Despotz Music 2021




Some bands value quality over quantity and SKARLETT RIOT, formed in Scunthorpe, North Lincolnshire, England in 2010 are most certainly one of them. Invicta is the band's third full-length studio effort after their 2013 debut Tear Me Down and their 2017 sophomore album Regenerate, which received well-deserved critical acclaim from magazines across the planet. While the Brits turned the heaviness controls up a fair bit on Regenerate, singer/rhythm guitarist Chloe "Skarlett" Drinkwater, lead guitarist and backing vocalist Danny Oglesby, drummer Luke Oglesby and bassist Tim Chambers extend their musical vocabulary by branching out into metalcore with a frequent good dash of gothic on Invicta.

The result is a colourful, well-balanced metal album with many a jaw-dropping moment along the way. Constantly vacillating between an aggressive, heavy edge and almost fragile melodic moments, SKARLETT RIOT take you on an emotional rollercoaster ride that sounds neither constructed nor artificial. To achieve this, not only top notch writing skills but also good taste is needed and the quartet do not leave a trace of a doubt that they have both. Without trying to reinvent the wheel, the combination of background growls and ultra melodic vocal lines works extremely well, for example on the high-octane opener "Breaking The Habit". There's also ample evidence of the fact that singer Chloe Drinkwater's vocals versatility also includes growling – check out the bits before and after the guitar solo on the othewise balladesque mid-tempo track "Black Cloud". And this is just one example of how masterfully SKARLETT RIOT build up and release tension, how organically different, often completely contrasting moods develop out of each other.

The evocations of EVANESCENCE and LACUNA COIL are clearly evident, though. Thus the album abounds in anthemic moments like the chorus on "Underwater" or the straight-in-your-face vocal lines on "Cut the Ties". The sometimes massive use of synth strings in the background gives the tracks a huge sound with symphonic depth.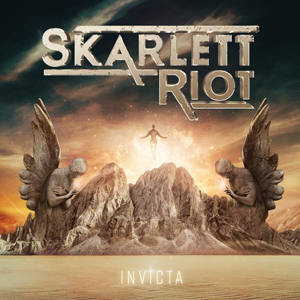 There is certainly no shortage of emotional moments on Invicta. One of those is the ballad "Into Pieces". Calm guitar arpeggios and steady synth strings forming a soothing soundscape in the background are meditative enough to lower your pulse rate and put you in a somnambulistic state of mind. This goes on for three minutes – unusually long for a ballad like this – before the inevitable eruption into its anthemic chorus. Call me an over-emotional softie but this song gives me goosebumps and sends shivers down my spine.
It is very difficult to single out individual songs on Invicta as each and every one of the eleven tracks is a winner. The closer "Human", however, deserves a special mention as it is one of the absolut highlights on the album. Alternating between riffing at full speed, belting out anger and frustration and an uber melodic chorus, this track sums up and incorporates SKARLETT RIOT's stellar writing and performance skills.
Invicta leaves no doubt that SKARLETT RIOT are a metal force that is to be reckoned with in the future. To me, this album is one of the best new releases this year and so I give Invicta a wholehearted and totally well-deserved five out of five.
5.0 Out Of 5.0

Please log in to view RANTS