PHARAOH The Powers That Be

By George Mihalovich, Pittsburgh Contributor
Monday, July 12, 2021 @ 6:52 AM

| | | |
| --- | --- | --- |
| | | |
PHARAOH
The Powers That Be
Cruz Del Sur Music




PHARAOH's fifth release, The Powers That Be, documents the continued evolution of their interpretation of the traditional/classic/melodic metal genre. This time out, the nine tracks have a slightly more progressive feel by virtue of thoughtful, complex riffs and classy arrangements and lyrics that never come across as pretentious or overly cerebral (unlike some other bands that delve into these areas).

The title track kicks things off in grand fashion and sets the tone for the album, which features memorable and relatable songs and exceptional individual performances —enhanced by meticulous production that is dense and layered but remains clear. Specifically, the rhythm section of Chris Black (drums) and Chris Kerns (bass) provides a thunderous and technical foundation for all of the compositions (note "I Can Hear Them" and "Lost in the Waves").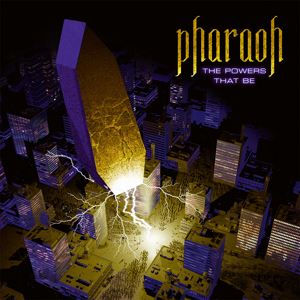 Matt Johnsen (guitars) adds strong riffs enhanced by deft, dazzling and sometimes hypnotic lead work and harmonies. He also showcases some tasteful acoustic touches on several tracks, with the moody and introspective "Waiting To Drown" as the most prominent example. "Ride Us To Hell", another standout, features a blazing guest guitar solo by Jim Dofka (DOFKA, PSYCHO SCREAM), "as is tradition" (South Park fans will understand the reference) on all PHARAOH releases. Daniel "Chewy" Mongrain (VOIVOD) also shares his lead guitar talents on the title track.
Finally, noted Pittsburgh vocalist Tim Aymar (CONTROL DENIED, PSYCHO SCREAM, XTHIRT13N) ties everything together with his dark and aggressive vocals and stacked backgrounds. Tim's idiosyncratic approach and range are an integral part of the PHARAOH sound, and he really shines on this disc.
The Powers That Be is a stellar effort that provides variety while remaining cohesive and maintaining momentum from start to finish — and further establishes PHARAOH as an important presence in the global metal scene.
4.5 Out Of 5.0