KISS Off The Soundboard: Tokyo 2001


By Rob McNees, Vinyl Aficionado
Monday, July 12, 2021 @ 7:15 AM


| | | |
| --- | --- | --- |
| | | |
KISS
Off The Soundboard: Tokyo 2001
Universal Music




This is a special review for me, and it's because I owe my absolute love of Hard Rock & Heavy Metal to one band, and that's KISS. When I was a wee lad back in 1975 my favorite auntie at the time gave me a purple KISS iron-on T-shirt (remember those?) and the cassette of KISS Alive!. And it's true, your Vinyl loving scribe here didn't even own a turntable back then! Nor a cassette player. So I somehow finagled my woeful parents into buying a cheap one speaker cassette player, and I was off!! And in those days there was no foldout cover, just the picture on the front and the tape. So endlessly I played that tape over and over again not knowing who these crazy looking guys were, much less their names. And my little boggled mind trying to figure out what those loud booms were (flashbombs I know now). And so it went on 'till my poor little KISS tape finally wore itself out. Luckily enough I got a stereo for my next birthday (the Old-School kind with a turntable, cassette & 8-track player all in 1 big box!) Then I found a magazine about KISS (Teen Favorites Presents KISS and other Heavy Metal Bands, that I still own to this day!) which was like a book from school, and the subject was Rock & Roll!! Besides KISS, there was UFO, STARZ, CHEAP TRICK, VAN HALEN and the list goes on. And the rest is history. Or Kisstory as it were.

We with the release of the 2-night A&E Biography about the band recently and the resuming of 'The End Of The Road' Tour, it seemed the perfect time to unleash a new series of live concerts for the music starved KISS Army (of which I was a card carrying member BTW.) If you ever went to a KISS show in the 2000's, then you know they were recording every show and you could buy yourself a CD set of that night's show as the ultimate tour collectible! So bearing that in mind, the new fully authorized Live 'bootleg' series has been curated to take the listener to a different time and place of KISS's choosing to let you hear and enjoy the vast treasure trove of Live shows from their archives. And since Alive! was the album that finally put them over the top then you know how important Live shows are to their history. Show #1 in this series KISS Off The Soundboard is Tokyo 2001, from the Tokyo Dome in Japan 03/13/01. Now if you're a fanatic then you know that KISS has always put cool things in their albums, like posters, temporary tattoos and even booklets with tons of cool pics. This release is the exact opposite, a very minimalistic approach with no pictures at all and very little info other than song titles and what members are on it. But as it's supposed to be a 'Bootleg' this approach works perfectly. If you're an Ace Frehley fan, then you'll be very chuffed to know that the man and his Les Paul are front and center here, along with Gene, Paul and Eric Singer in the Catman seat. So what about the music you ask? Well you get mostly the same songs KISS has been playing for almost 50 years now. And if I have any complaint, that would be it. One of the more asinine things that Paul Stanley has or ever will say was when someone asked him why they don't play deep cuts or bust out seldom if ever heard Live tracks. His stupid remark was people only come to hear the hits. While I catch his drift, a REAL KISS fan knows the catalog front to back and would piss their Gene Simmons undergarments to hear something unheard of. That's what really got me excited about this show! Of course you have "Detroit Rock City", "God of Thunder", "Love Gun", "Firehouse" and "Cold Gin", but you get the ballsy ballad "I Still Love You" from their heaviest album, Creatures Of The Night, the title track from the reunion album Psycho Circus, along with the single from Creatures, "I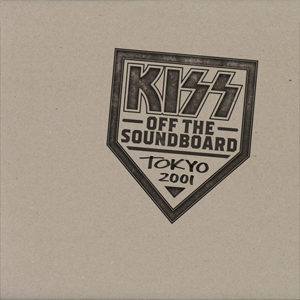 Love it Loud" and "I Was Made for Lovin' You" off 79's Dynasty album, my 1st ever KISS concert! And "Do You Love Me?" from 1976's Destroyer, the Bob Ezrin produced album that help solidify KISS as the biggest band in the world. But the topper to it all, and the reason I shelled out my hard earned cash was for the uber-Creeper track, the Ace penned and sung "Talk to Me", off the poppy but fun Unmasked album from 1980!!! Yes, I realistically bought a limited edition triple album for 1 song. Hey, the blood of a thousand fire-breathing demons flows through my veins, there's no stopping it. Of course the sound quality is top notch, so no worries there.
There's no doubt that any self-respecting KISS Army member will buy this, but what about Joe Average? If someone would ask where to start with KISS, I would probably steer them to Alive! or Alive II, and Double PlatinumKISS old and new, including a couple of tracks from the no makeup 80's version of the band, namely "Heaven's On Fire" and "Lick it Up". There's no denying that the end of the line for the masked Rock 'N' Roll crusaders is nye, the legacy of music and the concert experience will live on for generations more. So head to your favorite Mom & Pop record store (or online if that suits you more) and revel in everything KISS. After all, you wanted the best, you got the best.
And for the KISS Army Vinyl fan, this is a 3-LP set. There are 2 versions: black and a limited edition colored variant, which I purchased from the band themselves. So put your 2 lips together and KISS!!!!
4.2 Out Of 5.0 Long Tongues




Please log in to view RANTS

If you don't have a username, click here to create an account!