MARTA GABRIEL Metal Queens


By Andrew Depedro, Ottawa Corespondent
Tuesday, July 27, 2021 @ 7:05 AM


| | | |
| --- | --- | --- |
| | | |
MARTA GABRIEL
Metal Queens
Listenable Records




She's vocally brash, she's passionate and well-versed in the heavy metal underground – and to be honest, I thought that she was originally from Spain because of her obvious-sounding name, but as it turns out according both collectively to my brother-in-law Hubert and a friend of his from back home, she's actually from Poland. Maybe that extremely faithful rendition of "Reencarnación" by Madrid trad-metal warriors SANTA partially swayed my opinion – by "partially" I mean "why didn't anyone from the cast of private school teen drama Elite push for this version to be on its otherwise godawful soundtrack?" – but singer/musician MARTA GABRIEL knew where to stick her sword into when she came up with her first solo album titled Metal Queens.

But who is this mysterious metal maven upstart unleashed in the East who's suddenly been namedropping all of these mostly-overlooked 80's female-fronted singers and bands such as LEE AARON (because the album title, obviously), HELLION and WARLOCK anyway, you're wondering?

Well, if you're familiar with the fast-paced frenetic power metal of Katowice's cracking quintet CRYSTAL VIPER, you'll evidently recognize the soaring vocals of its founder/frontwoman MARTA GABRIEL, whose fiery vocals have propelled the stinging energy of the band's longevity since their formation in 2003. And when the band aren't adding to their own vinyl catalogue, as is the case with the recent release of their 8th studio album, The Cult, on Listenable Records, the versatile Marta has been honing her session musician skills by guesting on albums, or appeared on stage with several legendary bands such as VADER, MANILLA ROAD, JACK STARR'S BURNING STARR, MAJESTY and WITCH CROSS. And while Metal Queens initially reads like an odd anomality of a solo album being a celebratory tribute to 80's female-fronted metal bands, it works as the ideal introductory album into that largely undiscovered category – and as Marta points out, it's a term that merits the challenge of its definition:

"The term "female fronted metal" is used to describe bands that simply have a female singer, although some people try to suggest it's a genre, while obviously it's not. It's like saying that "male fronted metal" is a genre, or that "American metal" is a genre. Makes no sense, right? Metal scene is of course very male dominated, and the female singers and musicians are often something exotic, something unusual. There were female singers and female musicians that were doing that before me. They were MY Metal Queens."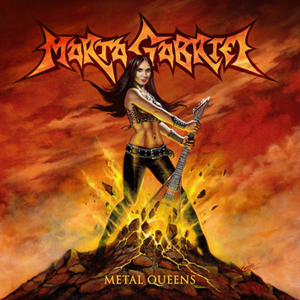 Really, once the breakneck impact of opening number "Max Overload" by Belgian speed-metal dealers ACID burns away your earbuds for the next three minutes, aren't you already satisfied that Metal Queens ISN'T cutting any corners with obvious HEART or PAT BENATAR covers like one would expect from any other tribute album to hard rock's better half? As she'd elaborated earlier, this album is about paying homage to Marta's own influences – many of whom whose fledgling careers often went no further than underground cult status – which have shaped her own music path. And with some backing talent in the form of her line-up including Eric Juris (lead, rhythm and acoustic guitars, choirs) and Cederick Forsberg (drums and percussion, choirs), Marta already has a promising debut with this album. And if that's not enough, she's amassed some top names for collaborating on this album – among them, John Gallagher of RAVEN handling bass guitar duties on her cover of ROCK GODDESS' "My Angel", Harry Conklin of JAG PANZER duelling on CHASTAIN's "Light In The Dark" and Todd Michael Hall of RIOT V also lending his similar vocal expertise on "Call Of The Wild" by NYC street savvy metallers BLACKLACE.
In summary, while continuing to carve out a larger role for female headbangers around the world, MARTA GABRIEL has also made a similar name for herself with this crowning jewel of awesomeness with Metal Queens.
5.0 Out Of 5.0
https://www.facebook.com/martagabrielofficial
https://www.shop-listenable.net/en/




Please log in to view RANTS

If you don't have a username, click here to create an account!