YNGWIE MALMSTEEN, PARALANDRA In Houston, TX With Photos!


By Larry Petro, News Monkey
Wednesday, August 4, 2021 @ 11:27 AM


| | | |
| --- | --- | --- |
| | | Guitar Maestro Makes His Return To The Bayou City |
All Photos By Larry Petro/Petrofyed Photography
On July 23rd, guitar wizard Yngwie Malmsteen released his 21st (!) studio album title Parabellum. In celebration of its release Yngwie took to the road for a short run of dates that included a stop in Houston, Texas at Warehouse Live. Coming along for the ride were Missouri rockers PARALANDRA and Arizona's own IMAGES OF EDEN for the Texas shows. And for those wondering, Yngwie has still got it!
Opening the night was IMAGES OF EDEN and even though the show started earlier than normal causing me to miss most of their set (and the ability to take photos), what I did hear of the band sounded great. Fronted by Gordon Tittsworth, the band plays original material of the hard rock, almost progressive style variety with poise and great stage presence. IMAGES OF EDEN no doubt played a track or two form their recently-released fifth CD Angel Born before finishing their brief set with an impressive cover of the TRIUMPH classic, "Fight The Good Fight". Look for these guys to again accompany Yngwie later this fall (more on that later in the review).
Next up was PARALANDRA, I band that I had not heard of prior to this tour, but one that, especially if you like female-fronted hard rock and metal, is definitely worth checking out! The band has a couple of releases under their belt and for those unfamiliar with the band, 2 of its 4 members are a father/daughter tandem, that being Paul Carson on Lead Guitar and his daughter Casandra Carson on Vocals and Rhythm Guitar. Rounding out the band are Bassist Sawyer Rikard and Drummer Dakota Watson. Another band that has a couple of discs to their name, they were very energetic onstage and the vocals of Cassandra were superb, right alongside some of the more familiar female voices in hard rock, and her style could be compared to that of HALESTORM Frontwoman Lzzy Hale. The band performed all their single and videos from the past few years such as "All Fall Down", "Killer Queen" (not to be confused with the classic QUEEN song), "Back To Life", new single (and video which drops August 13th) "Despicable", Before finishing their portion of the night with "Love Will Win".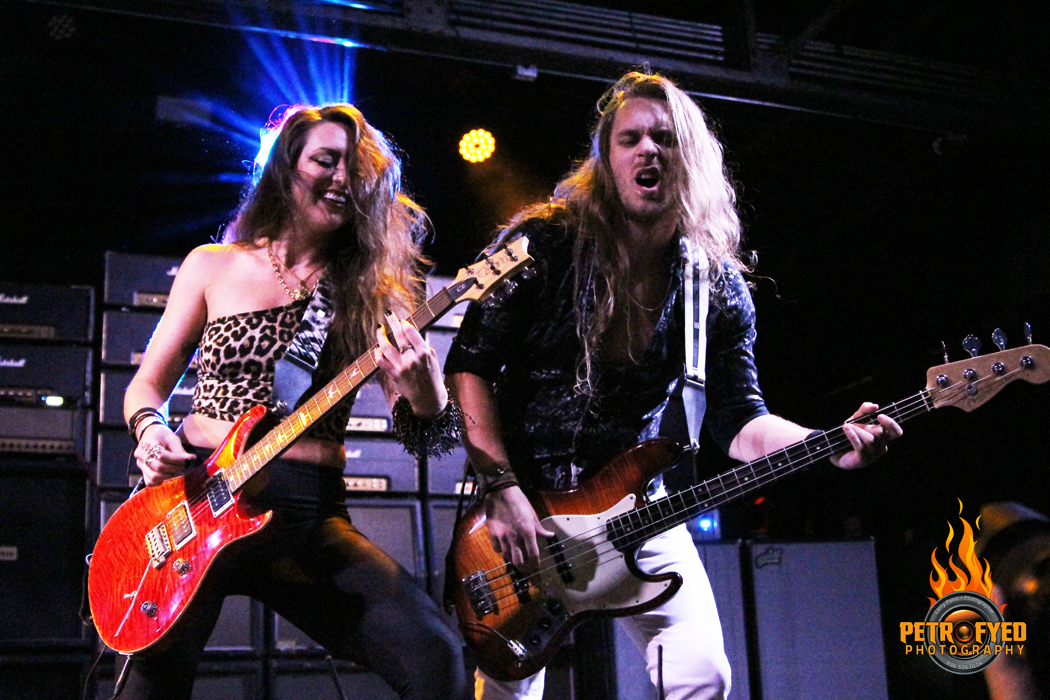 Setlist: (provided by the band since there wasn't one on the stage lol)
"Pretty Little Liar"
"All Fall Down"
"The Spirit Of Radio" (snippet)
"Fortunate Ones"
Drum Solo
"Back To Life"
"Killer Queen"
"Despicable"
"Never Without Me"
"Love Will Win"
As mentioned at the top, the show seemed to be progressing along at at an earlier pace than other shows I've attended and just before 9pm, Yngwie Malmsteen took the stage in traditional fashion with smoke cascading across the stage. Several years back I had the opportunity to shoot his set and at that time he seemed to have gained some weight, probably due to the same thing that affects a lot of us: middle age. Whatever the reason, Yngwie has worked himself back into shape and looked fantastic! And even though he's approaching the age of 60 (58 currently), the man has not lost a step!

He launched into his 23+-song set with "Rising Force" from the 1988 album Odyssey and from there it was just a full frontal assault of the audience's auditory senses as he plowed through his set like a steamroller. Whether it was tracks like "Demon's Eye", "Black Star", "Smoke On The Water", "You Don't Remember, I'll Never Forget", "Into Valhalla", songs from the new album ("Relentless Fury", "(Si Vis Pacem) Parabellum") or even set closer "I'll See The Light Tonight", Yngwie showed us all why he is still considered one of the greatest 6-stringers of all-time. With 21 album releases to his credit choosing a setlist could definitely be a challenge but he did an admirable job of running the gamut of his career, from the debut album Rising Force ("Now Your Ships Are Burned", "Evil Eye") to Seventh Sign (title track), Facing The Animal ("Like An Angel - For April") and even 1998's Concerto Suite For Electric Guitar And Orchestra In E Flat Minor Op. 1 ("Fugue", "Adagio"), he provided a little bit of everything to please fans both new and old and even paid his respects to America with a nice rendition of "The Star Spangled Banner". One thing I couldn't help but chuckle at was about 2/3 of the way through the setlist was a 'Guitar Solo'. I'm sorry, but isn't that what an Yngwie Malmsteen concert is, one big, long guitar solo?? I jest of course....or do I? :)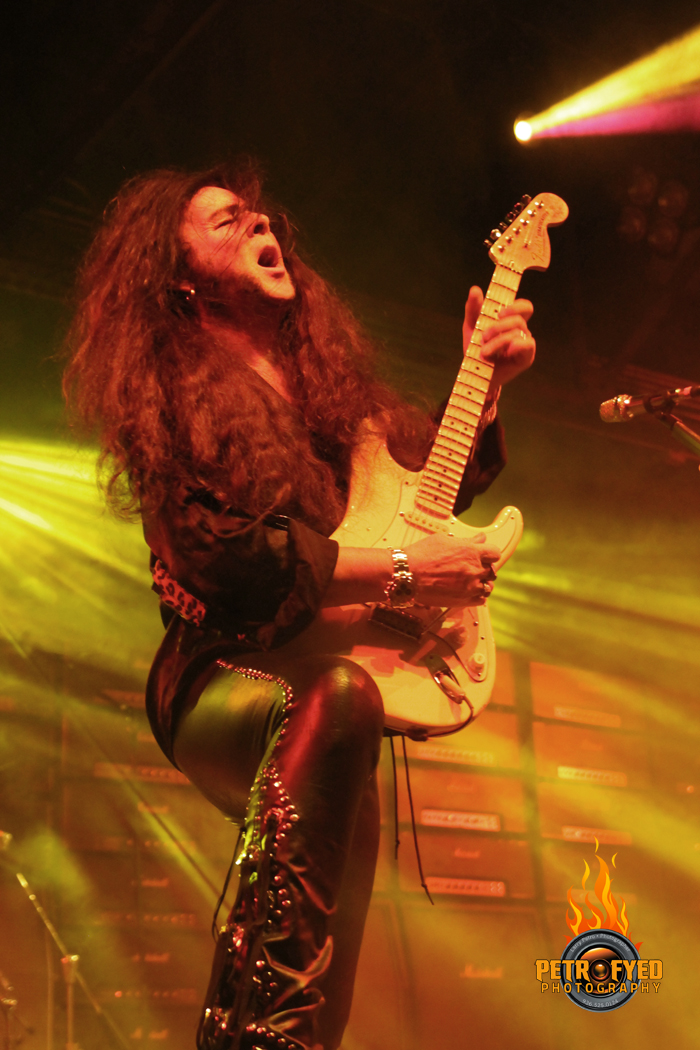 One thing that was most apparent right from the start was Yngwie's attitude. The man has been dogged over the years for being a primadonna, diva, or (insert your own word here) and rightly so at times (anyone remember the 'unleash the fucking fury' tirade from years ago?). I mean, he's probably the best at what he does and he knows it, so one can slightly understand where the ego comes from, but I have to say, it appears as though he has mellowed in the ensuing years because according to someone who did the Meet And Greet with him, he was super friendly, took lots of photos, signed anything that was brought and even let this person touch his own guitar. Granted, the fact that the M-N-G was $400 might have played a part in it, but from what I saw onstage, he was in a fantastic mood and smiled more than I have probably ever seen him do and was truly having a ball. That alone added to the pleasant evening as we were schooled on what it is to be a true legend.
Given the fact that Eddie Van Halen is no longer with us should make us appreciate even more that guitarists like Yngwie are still around and if you've never seen him before you owe it to yourself to see him at least once in your life. You will have the opportunity to do so this Fall as new dates have been announced, including a return trip to Houston, with support coming from JOHN 5 and once again IMAGES OF EDEN, this time for the whole run, not just Texas. Tour dates below.
Setlist:
"Rising Force"
"Sun's Up Top's Down"/"No Rest For The Wicked"
"Soldier"
"Relentless Fury"
"Into Valhalla"/"Baroque And Roll"
"Like An Angel"
"(Si Vis Pacem) Parabellum"
"Badinerie"
"Paganini Violin Concerto No. 4 In D Minor"/"Adagio"
"Far Beyond The Sun"
"Seventh Sign"
"Overture"/"Arpeggios From Hell"
"Now Your Ships Are Burned"
"Evil Eye"
"Smoke On The Water"
"Trilogy (Vengeance)"
Guitar Solo (LOL!)
"Demon's Eye"
"Fugue - Noise"
Drum Solo
"You Don't Remember, I'll Never Forget"
"Black Star"
Encore:
"I'll See The Light Tonight"
Fall 2021 Tour Dates:
11.18 - Glenside, PA - Keswick Theatre
11.19 - Buffalo, NY - Showplace Theater
11.20 - Poughkeepsie, NY - The Chance Theater
11.23 - Munhall, PA - Carnegie of Homestead Hall
11.24 - Harrisburg, PA - HMAC CENTER
11.26 - Derry, NH - Tupelo Music Hall
11.27 - Newton, NJ - Newton Theater
11.28 - Richmond, VA - The National
11.30 - Ashwaubenon, WI - EPIC Event Center
12.01 - Columbus, OH - King of Clubs
12.02 - Des Plaines, IL - Des Plaines Theatre
12.03 - Detroit, MI - Diesel
12.06 - Grand Junction, CO - Mesa Theater
12.08 - Reno, NV - Virginia Street Theater
12.09 - Agoura Hills, CA - Canyon Club
12.10 - Fresno, CA - Tower Theater
12.11 - Montclair, CA - The Canyon Club
12.12 - Santa Clarita, CA - Canyon Club
12.17 - Tulsa, OK - Tulsa Theater
12.18 - Houston, TX - Rise Rooftop
Check out some more photos from the show!
All Photos By Larry Petro/Petrofyed Photography




Please log in to view RANTS

If you don't have a username, click here to create an account!