DEE SNIDER
Leave A Scar
Napalm Records - 2021




After the success of the For The Love Of Metal studio album and succeeding live album documenting the tour for the release, the partnership between singer Dee Snider and HATEBREED's Jamey Jasta is looking to bear fruit once again with the brand new album Leave A Scar.

My initial thought about the album after I listened to it was that it wasn't quite as melodic as For The Love Of Metal. But don't take that as much of a criticism because while there might be a bit less of a focus on the more melodic side of things, it doesn't weigh the album down in the least. The heavier sound of the music actually livens things up a bit more than I might've initially suspected and that really helps drive the album home for me.

Unlike the first collaboration between Dee Snider and Jamey Jasta, Snider is a little more invested creatively speaking. He is credited with co-writing the songs with Jasta and guitarist Charlie Bellmore and drummer Nick Bellmore. That investment gives an even more cohesive sound to the material.

With fast moving tracks like "Before I Go" and "The Reckoning", Leave A Scar serves continual notice that you aren't going to be able to sit back and relax. Instead, the album is musically explosive throughout. Factor in some really interesting lyrics and listeners will be taken on quite a ride.

The lyrical focus of "In For The Kill" centers at least in part on self-reliance and unsurprisingly, Dee's vocals give instant credibility to the words. I was also taken with the song "Silent Battles" which barring a complete misinterpretation on my part addresses the topic of mental health, but inside of a crushing musical soundtrack that elevates the track to a different level.

The opening track on Leave A Scar, "I Gotta Rock (Again)" is Snider's declaration of intent that he's not done yet...by any means. There's an instant connection with the song because of just how killer the sound is.

There's a number of anthemic tracks on the album. The song "All Or Nothing More" has a harsher edge to it but it combines that musical feel with a rousing and rambunctious tempo. That same kind of aggressiveness is also evident in the song "Open Season" which has an in-your-face confrontational vibe to the performance both musically and lyrically.

The song "Down But Never Out" is another raise-your-fist anthem, but what I liked with this song is how the chorus was crafted. With Dee singing "Down Down Down" in such a way that you might think it is aiming for a more depressing kind of outcome. But then the backing vocals kick in with "But Never Out" and takes the song in the direction that it was clearly intended to go all along.

What did end up frustrating me as I gave repeated listens to the disc was two songs that I had either a hard or impossible time getting into. The first example of this feeling was "Crying For Your Life". The song's intro does start off a bit slower than most of the music on the album but by the time the first verse of the track is over, the slower pace has given way to a much faster tempo. But that didn't do much to actually improve the overall quality of the song to me. It was just a flat song for me.

But it was "Time To Choose" that really got to the more critical side of my appreciation. It's a heavy and fast moving song, really crushing it musically. And the performance from Dee is kind of fantastic. But the song falls apart for me with the guest vocal appearance from George "Corpsegrinder" Fisher from CANNIBAL CORPSE. Look, I know that as a metal fan, I'm expected to be open to all forms of metal, but the cookie monster vocal style just does nothing for me. It generally will turn me off to any song that incorporates it. The 2021 TODD LA TORRE album Rejoice In The Suffering is the only notable exception to this. So when those backing vocals show up, it threw off the entire song for me. Without those vocals, this song might just have been a highlight, instead it is a skip track for me now.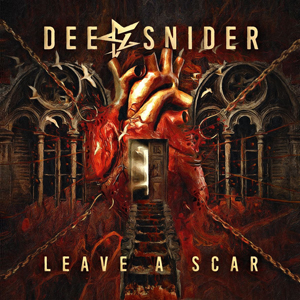 But Leave A Scar does turn things around quickly with the album ending strong on a couple of vastly different songs. "S.H.E." is Dee's ode to his wife Suzette. And before you wonder just how sappy the song might be, let me tell you that this song is a far cry from what you might expect. Instead of some sappy music that rots your teeth and makes your ears bleed, the music is actually kind of heavy and ballsy. And while the lyrics leave no doubt in conveying Dee's feelings for his wife, they aren't the standard BS type of lyrics you'd get from a band like say FIREHOUSE. Rather, this song manages to convey emotion without requiring castration.
As the closing song, "Stand" takes a detour on the road to being a shockingly good anthem. Instead of that rah-rah fast paced fist pumping style, the song takes a different tact. It's got a kind of foreboding soundtrack that moves at a more dramatic and determined pace. The way the music is played gives the track a different kind of shading to the impassioned lyrics where Dee implores us as listeners to "Don't leave a mark, leave a scar". I know it might be easy to dismiss this as some kind of simplistic way to work in a line with the album's title, but I found myself really connected to the sentiment that the songwriting was looking to convey. It gave the song a particular kind of strength and lets the album finish on such a strong note.
Leave A Scar might not have the same amount of musical melody as I think For The Love Of Metal did, but that doesn't make it a lesser album. In fact, the fact that the formula is shaken up at least a little for Leave A Scar makes the album that much more of a powerful musical statement for me. Dee Snider's refusal to rest on the considerable laurels of his past has staked him to yet another fantastic album that shows he's far from done and continues to fit right into today's scene!
4.5 Out Of 5.0