THE BLACK CROWES, DIRTY HONEY In Concord, CA With Photos!


By Junkman, On-Air Personality
Wednesday, August 25, 2021 @ 10:14 AM


| | | |
| --- | --- | --- |
| | | The "Shake Your Money Maker" Tour Stops At The Concord Pavilion On August 21st |
All Photos By Junkman
It was FINALLY back on, and it felt so good. The lights, the sounds, the excitement, the people. "I know it's been awhile since you've had live music in front of you, but we have a remedy for that!" exclaimed BLACK CROWES singer Chris Robinson, who summed up everything that every rock fan has felt for the last year and a half, before launching into the band's set ending song "Remedy". The Covid-19 lockdown and its crowd-distancing repercussions have deflated the live rock show since March of 2020, and it was time to administer the cure for what live music fans have been craving. A look around the Concord Pavilion in Concord, California on a Saturday evening solidified the entire thoughts of our assembled masses, as we cheered, screamed and sang the words to that huge radio hit from 1992. THIS is what has been missing from our lives. A good, old fashioned rock n roll show from a reformed classic band, as well as the hottest newcomers on the scene to get the evening started.
Boy did they ever! Tour openers DIRTY HONEY kickstarted the night's festivities with an energetic twelve song set. Opening with "Gypsy" from their self-titled full length debut LP, they immediately brought life into the still arriving crowd. Guitarist John Notto and bassist Justin Smolian were back and forth across the stage from the get-go, slamming out chunky riffs on their guitars and banging their heads. Drummer Corey Coverstone was all business, rarely smiling, and content with laying down his huge beat throughout the set.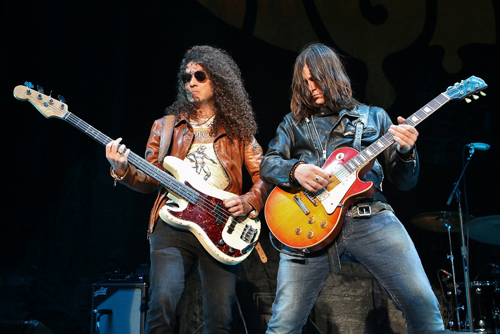 The powerful voice of singer Marc LaBelle is what got the curious and mostly older rock fans attention. His amplified wail on songs like "Break You", "The Wire" and "Heartbreaker" is like an air raid siren. Again the ears and eyes of people who were experiencing DIRTY HONEY for the first time were opened, and sold on them when they played a spot-on version of the AEROSMITH classic "Last Child". As a long-time fan of the band, I love to watch them reel in even the most jaded of older classic rock fans with their skills that have made more than one critic praise them for their skillful efforts, as well as proclaim them at the top of the "new breed" of rock and rollers.
The band also had the balls to perform solos for bass, drums, and Notto's blazing guitar, which led into the impressive first single from their independent EP, "When I'm Gone", which is the first single in HISTORY from an unsigned band to go to number one on Billboard Magazine's Rock Radio Chart. Quite a story, indeed. DIRTY HONEY finished their set with their bluesy second single from the aforementioned EP, "Rolling 7s" and with a standing ovation from the crowd, they left their mark, as well as left the stage, another audience converted to DH fans. Many of them would certainly be sporting DIRTY HONEY merchandise the next day.
It had been awhile since THE BLACK CROWES have performed together as a band. Since 2014 in fact, before officially disbanding in 2015. But the 30th anniversary of their classic Shake Your Money Maker album brought the Robinson Brothers, singer Chris and guitarist Rich back together to celebrate not only that record's popularity, but a homecoming of sorts for themselves personally after going their separate ways. Both had formed other bands such as Chris's band THE CHRIS ROBINSON BROTHERHOOD and Rich with THE MAGPIE SALUTE. Now together, their touring band consisted of themselves along with guitarist Isiah Mitchell, bassist Sven Pipien (who played with the band from 1997-2015), keyboardist Joel Robinow, and drummer Brian Griffin, as well as backing singers MacKenzie Adams and Leslie Grant. The stage itself, was set up as a honky-tonk bar, complete with a jukebox and a powder blue tuxedo-clad bartender.
A woman seated at the bar strode up to the jukebox, and pushed the buttons. Naturally, Elmore James' classic "Shake Your Money Maker" blasted out of the PA system, and the band arrived onstage. Chris Robinson, who had calmly been sitting on the front of the drum riser, twirled a parasol with the BLACK CROWES logo on it. Soon the guitar intro to "Twice As Hard" was heard, and just like that, it was show time!
Chris Robinson, looking resplendent in a bright gold and black patterned suit, with a wide brimmed hat, was in vintage style from the minute he stood up. His "Jaggeresque" dance moves, as well as his microphone gripping were very entertaining, and his pleading vocals were on point all night. The band proceeded to play the entire Shake Your Money Maker LP in its entirety to open the show, all ten songs in order. Naturally, the audience was thrilled.
"Jealous Again" made it seem like it was 1990 all over again. The band's energy level, especially Chris Robinson's, exploded. Keyboardist Robinow's fingers danced across the keys like Robinson's feet danced across the stage. THIS was the band that we have missed. Could it really have been 30 years since we were all blown away by this outstanding release? An absolutely stunning version of "Seeing Things" took on a whole new meaning in that context. Musically, the band was at its peak for this number. The band's background singers, perched on an elevated corrugated metal roofed "Porch" blended their gospel-like vocals with Robinow's organ, and supporting Robinson's wailing voice made it seem like a southern Baptist revival. Being a fact that the band is from Georgia, I'm sure this sound is exactly what they intended to achieve.
Robinson gave props to soul legend Otis Redding, referring to him as "Big O" before the band rocked their version of Redding's hit "Hard to Handle" urging the fans to help him with the chorus by extending his mic stand into the jacked- up crowd. Clearly, everyone in the crowd was into it. It was full-tilt-boogie at the Concord Pavilion. Again the band slowed things down, after revving them up. The familiar sound of Rich Robinson's acoustic guitar intro to "She Talks to Angels" had many in the crowd scrambling for their cell phones to attempt the now standard, shaky, cell phone video's that will no doubt invade YouTube this week. The rest of us sang like it was karaoke night at the local bowling alley bar, not caring if we were off-key or not. This is always the sign of a great song. And this one truly is, and was brought with love by the band that wrote it.
Finishing up the SYMM first part of the set with "Stare It Cold" the band was clearly enjoying their time onstage, although it seems that neither Rich Robinson or his counterpart Isiah Mitchell smiled the entire set, preferring to stick to the business of trading off incredible notes with their wide assortment of vintage guitars. What we were treated to was an incredibly tight band, letting their singer have the spotlight for most of the show. As a drummer myself, I can relate.
The second half of the set had the band dipping into their back catalogue, in particular 1992's The Southern Harmony And Musical Companion, of which they played 4 tracks including "No Speak No Slave" which started the second half. Chris Robinson strutted and screamed, howled and wailed along to the grinding boogie of that groove, which brought to mind an early Rod Stewart.
"Soul Singing" from their 2001 sixth release Lions spotlighted the talents of their soulful background singers, while "Wiser Time" featured an outstanding bluesy intro from Robinson and Mitchell as well some fabulous harmony sung by the brothers Robinson. As far as I was concerned, this song featured the best guitar solos of the night from both Rich Robinson and Mitchell. Their playing off each other was absolutely magical, and brought out new depth to an already classic CROWES number.
Following band introductions from Chris Robinson, the band finished off the set with three classics from Southern Harmony And Musical Companion that could not have been more different from each other, showing their range from the almost Country "Thorn in My Pride" to the full on rocker "Sting Me" that cranked the volume and the rhythm section of bassist Pipian and drummer Brian Griffin up a notch or two, and featured some great harmonica from Chris Robinson, as the crowd sang the chorus back to them, eliciting smiles all around. THE BLACK CROWES then finished their set with the mid-tempo "Remedy" complete with the intro that I mentioned at the beginning of this review.
After leaving the stage to thunderous applause, they returned with a surprise. Instead of playing THE ROLING STONES' "Its Only Rock N Roll (But I Like It)" like they have done on most of the tour dates so far, they treated us all with "A song that Jimmy Page taught us" as Chris Robinson referred to their brief collaboration with the LED ZEPPELIN guitarist way back in 1999. What followed was a bang-up version of the mighty Zep's "Hey Hey What Can I Do" that sent the excited crowd into orbit. It was a terrific end to a fantastic night of rock n roll done the right way, with grit, soul, and most of all, great songs and musicianship. My faith in rock music continues, and with a new generation of rockers, as well as some established ones coming out of the woodwork after the long lockdown, things are really looking up, going forward. My thanks to all that helped me attend.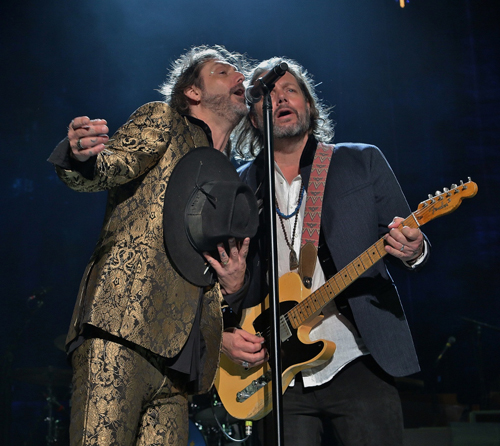 Setlists
THE BLACK CROWES:
"Twice as Hard"
"Jealous Again"
"Sister Luck"
"Could I've Been So Blind"
"Seeing Things"
"Hard To Handle" (Otis Redding cover)
"Thick N' Thin"
"She Talks To Angels"
"Struttin' Blues"
"Stare It Cold"
"No Speak No Slave"
"Kickin' My Heart Around"
"Soul Singing"
"Wiser Time"
"Thorn In My Pride"
"Sting Me"
"Remedy"
Encore:
"Hey Hey What Can I Do" (LED ZEPPELIN cover)
DIRTY HONEY
"Gypsy"
"Break You"
"The Morning"
"Last Child" ( AEROSMITH cover)
"Tied Up"
"Heartbreaker"
Drum Solo
"Down The Road"
"The Wire"
Bass Solo
"California Dreamin'"
"Another Last Time"
Guitar Solo
"When I'm Gone"
"Rolling 7s"
Check out some more photos from the show!
All Photos By Junkman

Please log in to view RANTS