JOE SATRIANI's Longtime Manager MICK BRIGDEN Passes Away


By Larry Petro, News Monkey
Wednesday, September 8, 2021 @ 1:41 PM


| | | |
| --- | --- | --- |
| | | Following Accident On His Property |
Mick Brigden, longtime manager for Joe Satriani, passed away following an accident on his property on September 5. Mick was a wonderful man who was a friend to many including KNAC.COM's own Junkman, who worked with him on the "Concert For Cliff" series of benefit shows as the MC. He was 73 years old.

Joe posted the following message:

"The first time I met Mick Brigden I was just 15 years old. Along with a few friends, I was able to sneak backstage after a HUMBLE PIE concert at Gaelic Park in the Bronx, NY. After getting pressed into service by the local road crew I ran right into Steve Marriott as he was getting into his limo. He shook my hand and gave me a friendly hug as I told him what a big fan I was. Just then, another exotic British fellow comes up and says, "All right, time to get Steve going, thank you very much" as he whisked Steve into the waiting car and sent me on my way in one very firm, professional yet gracious move. I never forgot his face or his voice.

Ten years later I was in San Francisco Playing in the Squares, opening for a few BGP acts now and then. At one Eddie Money show I was warned not to have anything to do with Eddie's guy "Mick Brigden", as he was known to keep the opening bands on a very tight leash. I kept my distance but thought, "Don't I know that guy?"

Then at the start of '88 I find myself not only with a solo career taking off and a hit album, but I'm unexpectedly playing in Mick Jagger's solo band. It was January in NYC where Bill Graham was producing Jagger's solo tour, and working right beside him at the rehearsals was Mick Brigden! This was the beginning of my association with Bill Graham Management, and finally getting to know the real Mick Brigden.

Since then, it's been a crazy and wonderful 33 years of rock 'n' roll. I've never worked so hard, played so hard, laughed and cried so hard, made so much music and had so many worldwide adventures, and all with Mick by my side. He was the ultimate music business mentor. Honest, tough, nurturing, hardworking, respectful, tenacious, insightful, he was all of those things and more. I learned so much about how to be a good person from Mick. Throughout his illustrious career he worked with the biggest and the best, but always knew it was important to be kind, be respectful, be cool and do things the right way.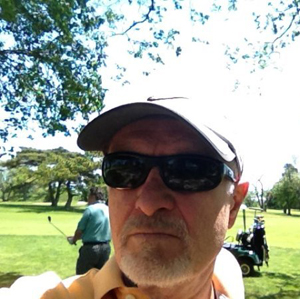 He, along with the entire BGM team, guided my solo career from its start. Mick was always full of energy and endlessly creative. He could help you get an album project organized, pick the right mix, pick a single, help with album artwork, book a tour, manage a tour, review the contracts, crack the whip with a smile and get a table at the right restaurant when you needed one. And, then, over a few glasses of wine, share his feelings and insights, listen to yours, and remind you to smell the roses along the way.
Mick was from South End on Sea, just outside London, UK. He was an original, with a wonderful sense of adventure in both his professional and private life. His enthusiasm for life was off the charts. "Renaissance Man" doesn't quite live up to describing him. He loved his family and his friends. Although I have hundreds of photographs of us together at our respective homes and on tour around the world, there is not one that can live up to representing our bond.
It's not lost on me that as I type these words out that Mick was my proofreader. Whenever I had to write something for publication I would send it to Mick first, and he would find and fix my grammatical errors, and eliminate my excessive use of commas. He was a great editor of my ramblings, so, forgive me now as I'm not sure how to stop writing about my good friend. RIP Mick Brigden.
Joe Satriani
San Francisco 2021"
Mick is survived by his loving wife Julia, his beloved son Jack, stepdaughter Jessica and grandson David Merz.
At this time, memorial plans are pending. As an animal lover, his family asks that any donations in Mick's name be sent to The Humane Society of Sonoma County.




Please log in to view RANTS

If you don't have a username, click here to create an account!