POWERWOLF
Call of The Wild
Napalm Records




German symphonic power metal maestros POWERWOLF are back with their latest opus Call of The Wild and it may be their most creative offering to date. In keeping with the religious historical themes of their earlier work, guitarist Matthew Greywolf, guitarist Charles Greywolf, keyboardist Falk Maria Schlegel, vocalist Attila Dorn, and drummer Roel Van Helden have created powerful music that must be heard. This is a band that is known for their somewhat controversial concepts and that is why they have appealed to all kinds of metal fans. If you ever thought that power metal was not for you, give this album a listen and you will change your mind.

Long a staple in the power metal scene, POWERWOLF are known for their consistent and properly executed musical creations. If you follow their social media you will see fan interactions that show the band is very in tune with their fans; and if all goes well maybe we will soon see touring plans posted! Their stage show is created to complement their releases and the new album should have a mesmerizing stage show.

The bandís creative aspect has attracted fans of all kinds and the band has experienced success with all of their releases. The more this band does, the more their sound grows, and I think this has yielded the smashingly brilliant tone of the album and it is a fun ride from beginning to end.

Kicking off the album in spectacular form is "Faster Than The Flame". It gets things started with the bandís signature sound before driving into "Beast of Gťvaudan". This song articulates the pure excitement that becomes the focal point of the album; each song gives the listener something different and new without losing the flair the band is known for.

The dramatic and brilliant "Dancing With The Dead" and Slavic toned "Varcolac" solidifies the bandís undeniable power metal superiority, while "Alive or Undead" was a shocker because I have never heard anything even closely resembling a ballad from this band. POWERWOLF has always been known for their unique take on power metal so adding a ballad is unique for them and is a rather unexpected surprise.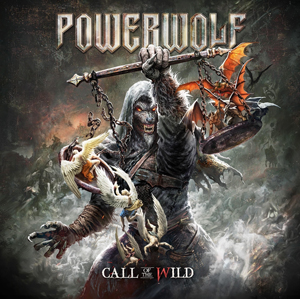 "Blood for Blood (Faoladh)" is flashy and fun because the band incorporates bagpipes...yes, bagpipes, into the song and regales us with a werewolf legend. The band slows it down a bit for "Glaubenskraft", and the fact that it is sung in the bandís native German adds a nice touch.
The title track has the bandís formulaic flair and following that is "Sermon of Swords". Both songs keep the blood pumping, but then we move forward into "Undress To Confess". If you liked the bandís super hit, "Demons Are A Girls Best Friend", you will love this. Itís a bit raunchy but itís oh so fun!
The last tune is "Reverent of Rats" and it ends on a high note. This album keeps true to the bandís tried and true sound and keeps up the use of concepts and story lines that worked so well for them on Sacrament of Sin and Blessed And Possessed. If you love the aural attack of German power metal, this album is for you.
5.0 Out Of 5.0