GEORGE LYNCH Seamless


By Andrew Depedro, Ottawa Corespondent
Monday, September 13, 2021 @ 1:53 PM


| | | |
| --- | --- | --- |
| | | |
GEORGE LYNCH
Seamless
Rat Pak Records




Starting out in 1977 and with over 45 years playing guitar and songwriting as a professional musician as well as over 50 studio albums to his credit, career firsts are minimal for someone as prolific as George Lynch. His work has spanned from his best-known era with DOKKEN and LYNCH MOB all the way over to recent projects such as KXM, SWEET & LYNCH and THE END MACHINE. But also after four decades of providing the soundtrack to some of the most renowned singers in the business such as Don Dokken, Oni Logan, Michael Sweet and Dug Pinnick to name but a few, the virtuoso known as Mr. Scary has decided to let his own voice be heard for the first time with his instrumental debut titled Seamless. With the backing talents of drummer Jimmy D'Anda and bassist Eric Loiselle on the album, this platter features nine brand new tracks and three bonus tracks from Lynch, who also produced the album and features some of his most diverse playing while managing a fine balance between his OTT-style soloing and heavy progression. As he put it himself: "I wanted the record to be challenging but not exhausting; personal without being belligerently self-indulgent and include a fair amount of guitar histrionics and pay tribute to the masters without making it sound like I'm competing to be the end all summation of all guitar legacies that preceded me."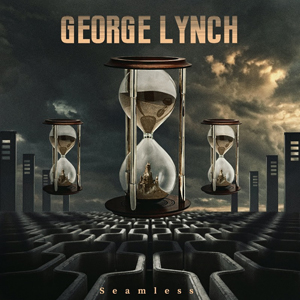 With the opening riff-heavy number "Quiver", Lynch's work on Seamless stays true to its aim to shake up his own playing approach, swapping in most of his signature high-energy riff histrionics for more experimental-sounding rhythmic patterns. And his range is certainly more showcased further along the album on songs like "Cola", "Sharks With Laser Beams" and "Supersonic Hypnotic Groove Thing" which further explore the various musical styles George likes to play while giving him room to experiment with new sounds alongside his signature tone, varying between Frank Marino's trippy slow blues rock groove to Joe Satriani's exploratory prog/jazz-sounding tones for a significant comparison here. Even the album's improvised-sounding lead-off single "Death By A Thousand Licks" demonstrates Lynch's delicate sound balance between the old and new school approach to his renowned love of the instrument.
For an added bonus, Seamless features three tracks that were added to the album after the extra tracks were presented to the label. "Blue Light Effect", "House Of Eternal Return" and "The Weight" also show the musical diversity that only George Lynch as a trio can create as well as provide the type of well-honed virtuosity the legend has been known for throughout his stellar career. Seamless as a whole is the sound of Lynch's career finally coming full circle after finally finding the right pieces to put everything together.
5.0 Out Of 5.0
https://www.ratpakrecordsamerica.com/george-lynch
https://georgelynch.com/

Please log in to view RANTS


THUNDERMOTHER Black And Gold

SOILWORK Övergivenheten

IRON SAVIOR Reforged - Ironbound (Vol. 2)

SPEAKING TO STONES (In)Human Error

ANTHRAX, BLACK LABEL SOCIETY, HATEBREED In Hollywood, CA With Photos!

STYX, REO SPEEDWAGON, LOVERBOY In Nashville, TN With Photos!

ARCH ENEMY Deceivers

THE HALO EFFECT Days Of The Lost

DIO Holy Diver Super Deluxe Edition

MICHAEL MONROE I Live Too Fast To Die Young

ZEPPARELLA In West Hollywood, CA With Photos!

RAGE AGAINST THE MACHINE, RUN THE JEWELS At Ottawa Bluesfest

AMON AMARTH The Great Heathen Army

THE PRETTY RECKLESS, THE WARNING, LILITH CZAR In Houston, TX With Photos!

LOVE IN CHAINS Everyday Heroes

MUNICIPAL WASTE Electrified Brain