TREMONTI Marching In Time


By Andrew Depedro, Ottawa Corespondent
Tuesday, September 21, 2021 @ 1:20 PM


| | | |
| --- | --- | --- |
| | | |
TREMONTI
Marching In Time
Napalm Records




He's played in one of the most critically-reviled mainstream hard rock bands from the past two decades, he made a brief go at playing speed metal (though perhaps not really a giant stretch here given that his musical influences are mostly thrash/speed bands to begin with) and his own self-titled solo band once had Wolfgang Van Halen amongst its lineup for about two albums. Yet, what's even more intriguing about CREED/ALTER BRIDGE axeman Mark Tremonti's versatile balancing act between at least two of these bands – or three, depending if CREED's much talked-about reunion garners enough interest to move beyond the rumor stage here – is that he's a much more versatile guitarist than what we give him credit for. Granted, CREED's own music output alone would be far more bearable for many of us if the overwrought brooding (and preaching) of Scott Stapp's imitable Eddie Vedder-style vocals hadn't been so engulfing to the point that the music itself was sidelined, and while ALTER BRIDGE also had a similar-sounding blueprint to its musical approach, it fared far better in showcasing Tremonti's guitar skills no matter how conventional the sound could be. On the other hand, it's also that same sound that Tremonti could claim as his own, incorporating elements of hard rock, power-heavy blues and even speed metal in its execution, and so far, he's recorded four of his own studio albums – including Cauterize and Dust, both of which Wolfgang played bass on, as well as 2018's speed metal-inspired A Dying Machine – in between his time with ALTER BRIDGE. And while the upcoming effort titled Marching In Time also features a significant amount of radio-friendly unit shifters, it also walks the walk when it comes to displaying both TREMONTI and, indeed, Tremonti's musicianship to a greater platform.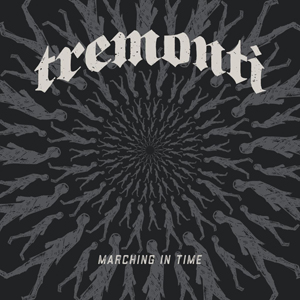 Soaring choruses, melodic timbres, uplifting and well-versed lyrics from a personal perspective and even a bit of fast chugging riffs and solos in between are the marching orders of Marching In Time – and that's just from the opening number titled "A World Away". And even if Tremonti's lead and rhythm fretwork doesn't immediately sway the listener, the songwriting and storytelling style of his lyrics throughout likely will. Songs such as "Thrown Further", the rapid rhythm prowess of "Let That Be Us" and "In One Piece" and the lead-off single "If Not For You" in particular resonate many calls for self-improvement, the nucleus of the song's easily-relatable subjects of fear, isolation, despair, and hope. Also of worthy mention here is TREMONTI's skill in writing and playing lengthy 5 to 7 minute-long sagas, as also evidenced in number such as "Not Afraid To Lose" and the closing 7-minute long title track, which builds up enough brooding momentum for Tremonti to bring in a powerful-sounding solo.
All in all, Marching In Time shows that TREMONTI, and, indeed, its lead foot soldier Tremonti have forged a route that's completely alternate from their past while remaining comfortable and familiar with their overall path.
4.5 Out Of 5.0
https://marktremonti.com/
https://www.facebook.com/MarkTremonti/
https://www.instagram.com/markttremonti/
https://twitter.com/marktremonti

Please log in to view RANTS