GEORGE LYNCH Seamless Review #2


By Daniel Höhr, European Correspondent
Monday, September 27, 2021 @ 10:56 AM


| | | |
| --- | --- | --- |
| | | |
GEORGE LYNCH
Seamless
Rat Pak Records, 2021




I'm never really sure about instrumental tracks on albums. Very often they are come across as fillers and make me wonder whether the songwriters couldn't find a proper vocal line or ran out of ideas for the lyrics. And I positively avoid entire instrumental albums, at least as far as rock music is concerned. And when it's an album by a guitarist, I run as fast as I can because they usually spell G-U-I-T-A-R-S-T-U-R-B-A-T-I-O-N.

GEORGE LYNCH's latest release is, despite his impressive back catalogue, a debut in as much as it is his first full instrumental album. I didn't know that when I volunteered to review it – and I'm glad I took on the job. Contrary to my expectations, most of the material on Seamless couldn't be further away from being a mere shredfest. The twelve tracks (nine regular ones plus three bonus tracks) are indeed proper pieces of music, keeping the balance between crunchy riffs, killer grooves and excellent lead guitar work. Together with GEORGE LYNCH, bassist Eric Loiselle and drummer Jimmy D'Anda turn out to be a formidable trio that blast out one killer groove after the other – listen to "TJ69" and you will see what I mean.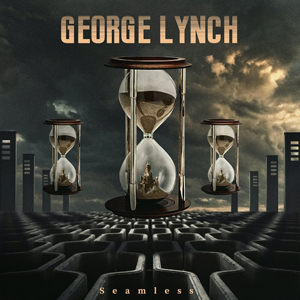 It takes seasoned musicians with solid taste and good foresight in the writing process to avoid repetition, unnecessary filling noises and vain showing off when putting together an instrumental album like this. And GEORGE LYNCH and his colleagues absolutely nail it. Numbers such as "Cola", "iThink", and "Blue Light Effect" are more in the vein of KXM, featuring Doug Pinnick (KING'S X) and Ray Luzier (KORN). When a track features Lynch's soloing skills, it showcast an admirable combination of virtuosity, musicality, invention, and sound. "Death By A Thousand Licks" and "Sharks With Laser Beams" is a prime example. Generally, Lynch's lead guitar doesn't come across as metallic or aggressive as it did in his DOKKEN days but sounds rounder and more colourful. A real musical feast and by far the most sophisticated track on the album is the almost seven-minute-long "Octavia". This proggy composition is incredibly colourful as far as the instrumentation and the arrangement are concerned, and the different parts develop organically out of each other. "Falling Apart" is another of my personal highlights, maybe because the lead work is in my opinion most reminiscent of DOKKEN. "The Weight" adds a good dash of blues to this altogether splendid album.
Bottom line: a must not only for GEORGE LYNCH fans but for many guitarists and composers out there who want to learn what makes an instrumental album special. Chapeau.
4.5 Out Of 5.0
Editor's Note: I totally screwed up and had two different writers reviewing this album. So, as to not be partial I decided to post them both!




Please log in to view RANTS

If you don't have a username, click here to create an account!