GRINDER BLUES El Dos


By Andrew Depedro, Ottawa Corespondent
Monday, September 27, 2021 @ 10:57 AM


| | | |
| --- | --- | --- |
| | | |
GRINDER BLUES
El Dos
Metalville Records




Crossroads!
The Delta Divide!

Losing your prized fiddle in a card game or whatever Charlie Daniels was on about in "The Devil Went Down To Georgia" – though that last one isn't technically blues even though it actually includes a fiddle in the song, right?

Vowing to keep their version of the blues free of any and all-encompassing clichés since dropping their self-titled debut album in 2014, esteemed power blues trio GRINDER BLUES are back with their sophomore effort titled El Dos. You might recognize a bit of a similarity between this band and esteemed progressive hard rock trio KING'S X other than the fact that legendary frontman/bassist dUg Pinnick lends his soulful vocal and lyrical talents to both groups. There's also the well-placed Easter egg of lyrical trickery which Pinnick is known for, particularly on songs such as "Somebody" and the playful-sounding "Who Wants A Spankin'", his versatile mobility stemming from experience in fronting a solid-sounding power rock trio, and his overall ability in incorporating his soulful-sounding influences throughout a mostly sonic hard rock trajectory, with the songs being no longer than 4 minutes in length on average to the point that perhaps El Dos could even qualify as a well-performed and well-produced punk album for its songs simply getting quickly to the point.

Starting off with the slide guitar-heavy opening number "Another Way Around", the band, also featuring guitarist and vocalist Jabo Bihlman, and Scot "Little" Bihlman on drums, percussion, and vocals, weave between powerful bluesy hard rock riffs and thundering garage rock grooves with lots of earnest blue-eyed soulful vocal stylings in between. Pinnick can cut a decent Jimi Hendrix-like croon on "Everybody" while melodically howling away Sly Stone style on "Gotta Get Me Some Of That". The two Bihlman brothers are practically the two-man version of the JIMI HENDRIX EXPERIENCE with their rough-and-tumble raw-sounding riffs and powerful tubthumping skills, in particular Jabo with his skilled dobro talents on the opening notes of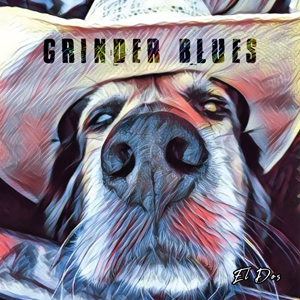 "When The Storm Comes". And, lyrically, while Pinnick may preach his fair share of fire and brimstone on serious tracks such as "Hand Of God" and the aforementioned "When The Storm Comes" in reflection of his own Christian faith, he does show his affably non-serious side once again on "Gotta Get Me Some Of That" and "Who Wants A Spankin'". And you wouldn't believe that the guy is in his early 70's when you hear his soaring vocals throughout the entire album. And they're not even soaring vocals marked with anguish or pain as is the case with, say, anything that HOWLIN' WOLF has ever written (though in GB's case, the closest to such would be "Hold Me Close"), but more soaring-sounding in the manner that they're more angelic or divinely-driven. It's not to say that Pinnick hasn't experienced enough of his own share of hardship throughout his life to not be able to relate, but somehow, he's channeled all of that same hardship into emoting some of his best-sounding vocals on this album.
While it's not quite as easy for GRINDER BLUES' mission statement of "keeping the blues interesting" to immediately resonate as strongly as, say, STATIC-X's infamous "keeping disco evil", the combined skills of its three individuals have nevertheless still managed to make their sophomore album El Dos encapsulating and intriguing throughout. Whether it's the songs' mesmerizing timbres and powerful riffs and grooves projecting so wide within a limited length, El Dos tells its share of tales with far greater poignancy than most of its latter-day competition in the genre – and that alone should make for some colorful accolades.
4.5 Out Of 5.0
www.grinderblues.com/
www.facebook.com/grinderblues
www.metalville.de
www.facebook.com/metalville




Please log in to view RANTS

If you don't have a username, click here to create an account!