BLOOD RED THRONE Imperial Congregation


By Peter Atkinson, Contributor
Monday, October 11, 2021 @ 9:13 AM


| | | |
| --- | --- | --- |
| | | |
BLOOD RED THRONE
Imperial Congregation
Nuclear Blast Records




BLOOD RED THRONE has been cranking out what I guess you could call "true Norwegian death metal" for almost 25 years. Formed, oddly enough, by veterans of Norway's then-notorious black metal scene – SATYRICON touring guitarists Daniel "Død" Olaisen and Terje Vik "Tchort" Schei, who also played with EMPEROR and CARPATHIAN FOREST – the quintet has been productive and fairly dependable for its entire run, despite a dozen or so lineup changes, and several vocalists, along the way.

Olaisen and drummer Freddy Bolsø, who returned to the band in 2013 after nearly a decade away, are BLOOD RED THRONE's lone original members. But the roster has been pretty solid since ex-frontman Yngve "Bolt" Christiansen made his way back to the fold as well in 2015, and the last pair of albums, 2016's Union Of Flesh And Machine and 2019's Fit To Kill, have gotten the band into a pretty good groove, literally and figuratively.

Groove is definitely the name of the game on Imperial Congregation, BLOOD RED THRONE's 10th full length and debut for Nuclear Blast. Taking a page from Olaisen's PANTERA-esque side band ZEROZONIC – which issued its aptly titled fifth album It's Gettin' Groovy In Here! in July – and the angular attack mode of DECAPITATED's post-resurrection work, Congregation is redolent with beefy riffs from Olaisen and Ivan "Meathook" Gujic that chug and churn with abandon.

The album gets off to a fairly standard death metal start with the grinding title track powered by Bolsø's double-bass clatter and Christiansen's grizzly-like vocals, but soon starts venturing beyond old-school convention. The surging "Itika" follows with a heaping helping of kinetic, jagged grooves that deliver plenty of heft while also offering an unexpected catchiness – in spite of Christiansen's guttural roar. Same goes for the more methodical "Conquered Malevolence".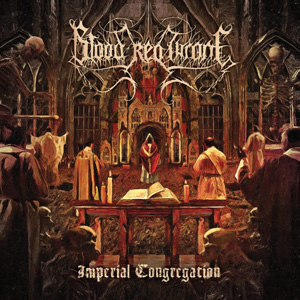 "Transparent Existence" slows things even further, and hints of PANTERA's "Walk" with its gut-punch riffs, curb-stomp pace and hulking bottom end buoyed by Stian Gundersen's assertive bass licks - something that carries though on the entirety of Imperial Congregation. After the tech-deathy "Inferior Elegance", the band settle into an, umm, groove again as "We All Bleed", "6-7", "Consumed Illusion" and "Hero Antics" bring back the crunching hookiness and elastic arrangements of earlier and ruminate on them for awhile.
The album's authoritative mix makes that stretch all the thunderous, albeit a bit at the expense of variety, but that's a trade I'll take more often than not. Yet as a contrast to their wall-to-wall riffage, the lead work Olaisen and Gujic weave betwixt and between is surprisingly melodious and sometimes downright elegant, so it's not all bombast here. And the band throw a progressive curveball with the shape-shifting, seven-minute sprawl of "Zarathustra" to close things out with some epic flair, so there's that too.
After a quarter century, BLOOD RED THRONE nicely sidestep any notion of shifting into death metal cruise control – or resorting to ill-advised experimentation - and manage to sound invigorated and fairly fresh on Imperial Congregation. If anything, the band seems to be getting better – and certainly heavier - with age.
4.0 Out Of 5.0




Please log in to view RANTS

If you don't have a username, click here to create an account!