ALCATRAZZ V


By Andrew Depedro, Ottawa Corespondent
Monday, October 18, 2021 @ 1:38 PM


| | | |
| --- | --- | --- |
| | | |
ALCATRAZZ
V
Silver Lining Music




When we last heard from the melodic take-no-prisoners comeback of hard rock underdogs ALCATRAZZ, they'd returned from 34 years in the hole with 3/5's of the original lineup and a promising return to form with last year's Born Innocent. It was a success story of sorts which saw founding members Graham Bonnet, Jimmy Waldo and Gary Shea reviving the name back to levels of past glory, even going so far as to prompt the brief return of Steve Vai back into the Dangerous Games-era fold when he effortlessly knocked out his soloing on "Dirty Like The City". And this was even on the heels of the band playing a series of prior farewell performances in Japan in the form of their then-perceived live album swan song titled Parole Denied: Tokyo 2017. And, as any avid ALCATRAZZ fan can easily attest to, lots of stuff has been happening in between since then – Bonnet, Waldo and Shea clearly getting proverbial cabin fever, which was what bolstered their comeback and the recording of Born Innocent in the first place, and then a brief dispute over the band's management, which was basically Bonnet opting to retain his former manager, while Waldo and Shea opted for new management. Long story short here as this is a band that's used to enough lengthy sentences throughout its career, ALCATRAZZ and Bonnet amicably parted ways, with former YNGWIE MALMSTEEN/RITCHIE BLACKMORE'S RAINBOW vocalist Doogie White taking over his singing duties. And given how ALCATRAZZ's past reputation as a talented band beset with so many internal struggles had curbed its progress for decades, their quick return with their fifth album V is a surprisingly fast exercise in making up for a lot of that lost time.

Rounding out the lineup with legendary axeman Joe Stump and drummer Mark Benquechea on V, ALCATRAZZ break out in fine form with the opening number titled "Guardian Angel", featuring the impeccable guest contributions of SAXON drummer Nigel Glockler and RIOT bassist Donnie Van Stavern. Even Doogie White's former TANK bandmate Cliff Evans makes an appearance on bass for the number "Grace Of God". And while White's no-nonsense gritty-sounding octaval range does harken close similarities to Biff Byford's throughout this album, particularly on tracks such as the rapid-fire prowess of "Sword Of Deliverance", "Turn Of The Wheel" and "Alice's Eyes",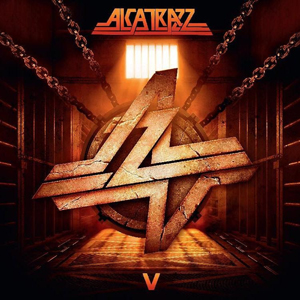 but his range also brings out a more darker-sounding tone on this album. The lyrically biting "House Of Lies" and "Blackheart" are proof of this, while "Alice's Eyes" is essentially White channeling his inner KING DIAMOND with his uncomfortably leering vocals. Even the album's closing number, the piano-opening "Dark Day For My Soul", despite starting off as a lush innocent-sounding ballad hinting at unrequited love, climaxes as a stark cautionary tale of regret and deception and showcases White's innate talents as a storyteller in his own right, particularly with flourishes of his predecessor's similar epic narration skills. Meanwhile, Joe Stump's rapid-sounding solos and classically-inspired arpeggios throughout this disc shows how effortlessly he's managed to fit into ALCATRAZZ's frequent shapeshifting slot which had been vacated, often in frustration, by his previous peers.
Produced by Giles Lavery and Jimmy Waldo, and mixed by Andy Haller (ELTON JOHN, JOE COCKER, SYSTEM OF A DOWN), one would expect V to be sounding more like its chaotic comeback predecessor Born Innocent from its own 34-year exile; instead, it sounds like an album that's come fresh off from its 15-minute coffee break, ready to plough through the business of the day while keeping its energetic momentum buoying consistently, avoiding any and all of the past drama in its path. Perhaps that's also why it's no coincidence that its title can also resolutely be interpreted as the sign for victory. In any case, ALCATRAZZ in 2021 sound like a band officially breaking free from its own confines here.
5.0 Out Of 5.0
https://www.alcatrazzofficial.com/
https://www.instagram.com/alcatrazz_official/
https://www.facebook.com/alcatrazzband/

Please log in to view RANTS




YNGWIE J. MALMSTEEN, GLENN HUGHES In Worcester, MA With Photos!

ALICE COOPER Road

RAT ROD Four On The Floor

GIRLSCHOOL WTFortyFive?

DANKO JONES Electric Sounds

AVATAR, ORBIT CULTURE, THE NATIVE HOWL In Houston, TX With Photos!

THE DEAD DAISIES In Hollywood, CA With Photos!

KILL DEVIL HILL Seas Of Oblivion

THE DEAD DAISIES In Ottawa, Canada

MAMMOTH WVH In Santa Ana, CA

UADA Crepuscule Natura

BARONESS Stone

KAMELOT, BATTLE BEAST, XANDRIA In Houston, TX With Photos!

CRYPTOPSY As Gomorrah Burns

RAY ALDER II

GHOST, AMON AMARTH In Houston, TX With Photos!

U.D.O. Touchdown

DETHKLOK Dethalbum IV

STEVE VAI In Ottawa, Canada

PANTERA, LAMB OF GOD In Houston, TX With Photos!