THE DEAD DAISIES In Portland, OR With Photos!


By Krishta Abruzzini, Pacific Northwest Writer
Friday, October 29, 2021 @ 10:58 AM


| | | |
| --- | --- | --- |
| | | The 'Like No Other' Tour Hits The Alberta Theater October 12th |
All Photos By Krishta Photography
THE DEAD DAISIES have always been a unique band. With somewhat of a revolving door of players (22-to date), each lineup has brought its own flare, style and sound. Each player has brought his own signature to create this exclusive band.
The band formed in 2012 by guitarist Dave Lowy. They've released five studio albums, and have had multiple tours. The current lineup features Lowy, with guitarist Doug Aldrich (WHITESNAKE, DIO), drummer Tommy Clufetos (BLACK SABBATH's final tour) and Glenn Hughes of DEEP PURPLE on bass and lead vocals (recently replacing both Marco Mendoza and John Corabi). Hughes being such a badass, he can replace two guys at once.
This was the first show I attended where everyone in attendance had to show their vaccination card and masks being strictly enforced. It definitely felt a bit apocalyptic, seeing a room full of folks masked. I went through 3-masks that night, as mine kept breaking. Each time my mask broke, within minutes, someone from the venue came up to me explaining I had to wear one, (which I'm absolutely okay with), and handed me another. Super weird new world.
The show kicked off with a Tempe, Arizona three piece, THE BLACK MOODS. It was a cool opener that had quite a few originals, but really got the audience with their cover of Tom Petty's "I Need to Know".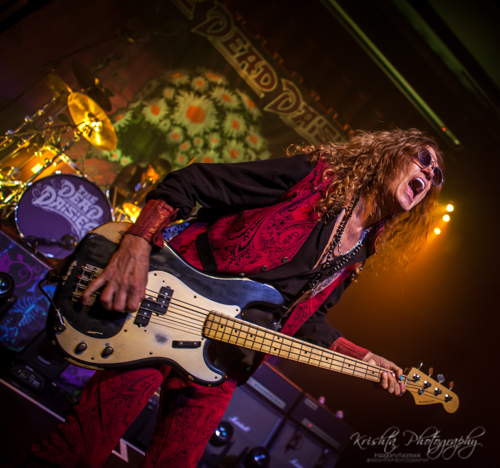 I had talked to Doug Aldrich a few days prior to the show, and he was telling me that comedian Don Jamieson would be at the show with his schtick between bands. When it became apparent Don was not coming on the stage between sets, I sent a message to Doug and he messaged me back saying he just learned that he wouldn't be there as well. Bummer. I have always loved Don's routine between bands. Brilliant idea for a smooth transition from opener to headliner to have a comedian. Being this was the last of two shows on this leg of the U.S. tour, and that the Monsters on the Mountain Festival in Pigeon Forge, Tennessee was a couple of days later, I guess Portland got blown off by him. Fine. I was there for a rock show, not a comedian anyway. Pfft.
THE DAISIES hit the stage and it was loud. One of the loudest bands I've ever seen was DINOSAUR, JR. and they pride themselves on their decibels bursting eardrums. This is the second loudest live band I've ever seen. It was ear bleeding loud. I spoke to several friends after the show and into the next day that said their ears were still ringing.
They opened the show with "Unspoken" from their new album, Holy Ground. This is the first album (and tour) for Glenn Hughes and Tommy Clufetos. "The voice of Rock" Glenn Hughes sounded incredible and hit all the high notes he's known for despite the fact that he is 70. His pearly whites sparkled as he belted out the songs.
The entire band dripped that uber cool 70's rockstar vibe. Their set was heavy. Hughes got to sing a few of the band's previous hits such as "Lock n Load", "Rise Up" and "Long Way to Go". Aldrich's playing is just tasty, and he's not terrible to watch either. Clufetos is a monster drummer. Lowy is also a powerhouse guitarist. Together, the quartet brings back the foundation of rock. Such a fantastic show.
For more on the band, please visit: https://thedeaddaisies.com/
Setlist:
"Unspoken"
"Rise Up"
"Dead and Gone"
"Chosen and Justified"
"Mexico"
"Bustle and Flow"
"Lock N Loaded"
"Fortunate Son"
"Midnight Moses"
"Mistreated"
"My Fate"
"Leave Me Alone"
"Like No Other"
"Holy Ground"
Encore: Check out some more photos from the show!
All Photos By Krishta Photography

Please log in to view RANTS