Black Label Society Live in Boston


By Debby Rao, Boston Contributor
Wednesday, November 2, 2005 @ 9:57 AM


| | | |
| --- | --- | --- |
| | | At Avalon, October 25th |
Zakk Wylde's Black Label Society are firm believers that the band that plays together, stays together. BLS, who have just wrapped up a three month summer tour, playing on the main stage at Ozzfest this year, are currently hitting the road again for a 27 city tour in support of their current release,"MAFIA", the trek will take the band from Boston to California.

As Black Label Society continue on their path of destruction, with their full metal assault in venues across the country, I recently had the chance to catch up with the heavy metal rockers in Boston last night, as BLS performed to a sold out crowd of Boston Chapter BLS Berserkers at Avalon in the historic Fenway Park area. . The band will be continuing their trek across New England and will perform three very special Halloween shows that will include stops at Hampton beach Casino October 29, Lupos in Providence October 30, and spend Halloween at The Hippodrome in Springfield, MA. Trick or Treat Indeed!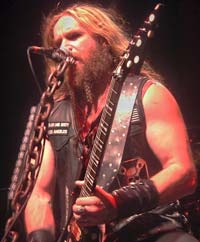 Also on the bill is Brand New Sin, who hail from Syracuse, NY. I spoke with Zakk Wylde early Tuesday, and he told me to check these guys out, cuz they really rock. Well Zakk was right. Brand New Sin are Rock and Roll at their heaviest. Brand New Sin features Joel Altier on vocals, Ken Dunham on guitar, Kris Wiechmann on guitar, bass player Chuck Kahl and drummer Mike Rafferty.
The band opened the show at 8 p.m. and performed a lot of new songs from their latest album, "Recipe For Disaster." I talked to lead singer Joel Altier, after the show and this is what he had to say. "Brand New Sin are Rock and Roll. We don't want to sound like anybody else. The tour has been going great for us." I think the best way to describe the band is Motorhead meets Judas Priest with a very modern sound. Highlights of the set included the bands new single, "Days Are Numbered", and new song "Freight Train." Brand New Sin really got the fans pumped up for BLS.
Next up the moment, we were all waiting for. Black Label Society invade the Boston Chapter. In the background the Patsy Cline song, "Crazy" blared thru the speakers, followed by showtunes, "Speak Softly To Me" from the Godfather, and Rocky's Theme song. The movie theme intro, got the fans ready to Rock with their heroes. At 9:15 BLS hit the stage with a vengeance, cranking out "Fire It UP", as BLS fans chanted their name so loud , I think you could hear them yell all the way down Landsdown Street in Boston. The male dominated crowd was pumped up and ready to rock with their Pied Piper, as Rock Guitar God, Zakk Wylde lead the crowd into a frenzy with his mind-boggling, powerful guitar onslaught.
Black Label have really come into their own over the past year, with the release of their new album, "MAFIA" and new legion of fans that they have garnered at Ozzfest, I think it it safe to say, that the family of BLS is growing in Epic Proportions.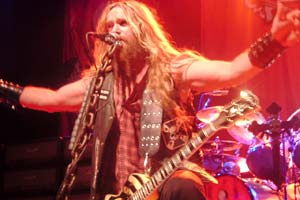 I can remember seeing Zakk perform with Pride and Glory in 1996 on Landsdown Street, and it is amazing to see how the band has really grown.
Tonight at Avalon, Zakk was in great spirits, often joking with the audience, and telling funny stories about the songs. An unscripted moment occurred in the set when Zakk's guitar strap suddenly broke. Zakk yells, "Shit Happens Motherfuckers." That was too funny. Needless to say, Dimebag's ex-guitar tech, Moby was on hand, and help put Zakk back together, and the band continued to Rock the Night Away.
One of the most memorable moments was the 20 minute tribute that Zakk and BLS paid to Dimebag Darrell Abbott. The fans chanted Dimebag, and lit cigarette lighters, as Zakk performed on piano a very moving tribute "In This River" for his late brother Dimebag. Zakk performed the song with so much emotion; you could feel Dime's presence in the room. Zakk yelled to the crowd, "Well Dime is up in God's tavern right now. Ya know that there is not going to be any Crown Royal left for us, when we get there cuz Dime will drink all the God Dam Crown Royal for us."
In an interview that I conducted with Zakk earlier that day, Zakk told me, "Dime was the brother I never had, he was my brother." The moment was simply PRICELESS!. The man has so much talent, and it was great to see him perform acoustically.
Next up, the sing along with the audience, as Zakk also performed "Spoke In The Wheel" on piano, and invited members of the audience up onstage to participate. That was so cool.
BLS are known for their skull-crushing guitar solos. Nick Catanese, who hails from Pittsburgh, is the 2nd guitar virtuoso in the band. Nick has a guitar style that totally compliments his boss Zakk Wylde and is amazing to watch the two tradeoff solos during the set. The guitar combo surely turned up the heat, as their sizzling guitar riffs turned Avalon into a frenzied mosh pit. The BLS rhythm section that includes drummer Craig Nunemacher, and also featured the return of bass player John "JD" Deservio, who recently replaced James Lomenzo held down the heavy BLS beat, cranking out some heavily ladened bass lines, and pounding drum rhythms.
Tonight's BLS show was full of diversity, that included songs from the past, and present, and the band even managed to throw in an extended guitar jam and tribute to Led Zeppelin. .
Another highlight of the evening was when the band played "Suicide Messiah." The fans were in complete awe, as their guitar hero Zakk Wylde shredded, one of my favorite guitar licks off the new cd. BLS ended the show with their hit song, "Stillborn."
Black Label have learned that thru their hard work and dedication, and relentless touring, is finally paying off, as BLS conquer the world with their Unique Brand of Electrifying, High Volumized, Skull Crushing Rock and Roll.
For tour dates check out www.blacklabelsociety.net
Set List
Fire It up
Suffering overdrive
Funeral bell
In this River on piano
Spoke in The wheel on Piano
Bleed For Me
Spread Your Wings
Forever Down
led Zeppelin tribute Jam
Suicide Messiah
Stillborn
Blessed Hellride




Please log in to view RANTS

If you don't have a username, click here to create an account!