JINJER, SUICIDE SILENCE & ALL HAIL THE YETI In Cleveland, OH With Photos!


By Geoff Ketler, Cleveland Contributor
Sunday, November 28, 2021 @ 10:43 AM


| | | |
| --- | --- | --- |
| | | At The House Of Blues |
All Photos By Geoff Ketler/Aces high Photography
Having covered their first two tours of the US, going for the hat trick was a no-brainer. Fun fact: the Ukraine's most recognized exports are grain, steel and sunflower oil – now we can add JINJER; the fastest up-and-coming metal band in years to that list. The quartet has surged up the bills and drawn attention from across the world, ultimately leading to this headline North American tour that has taken the band from coast to coast, supporting the group's latest effort, Wallflowers.
Setting the tone and taking the stage first was the LA product, ALL HAIL THE YETI. Like spinning yarns around a campfire, the band cranked the dark, mysterious and twisted factor up to eleven. This wasn't my first Yeti encounter and much like my first sighting, ALL HAIL THE YETI did not disappoint. The contrast between vocalist Connor Garrity's guttural screams and bassist Nicholas Diltz's clean and somber backing vocals really sets the group apart. The near-capacity crowd at the House of Blues was treated to samplings from across the band's history included the fresh single "Headless Valley" from their recently released EP.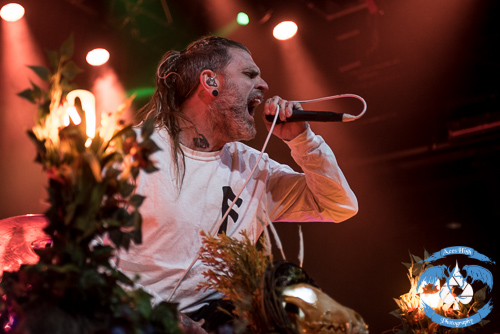 Setlist:
"Suicide Woods"
"Headless Valley"
"Slow Season"
"Bury Your Memory"
"Witch Is Dead"
"Funeral Heart"
"After The Great Fire"
SUICIDE SILENCE wasted no time stirring the pit into a frenzy; calling for a "wall of death" just a few songs into their set, during "Disengage". It was a blinding onslaught of strobes, blast beats, chunky guitars and high-pitched screams. Vocalist Eddie Hermida commented "I am already sweating Cleveland – that usually doesn't happen until further along in the set". Was it precise? No. Was it delicate? Hell no. It was abusive and at times, sloppy, but it was one helluva fun set.

Everything came to a head during "No Pity For A Coward" when guitarist Chris Garza leapt from the riser behind the group's backline and landed on top of and into the drum kit; knocking over cymbals and bringing the raucous set to a fitting end.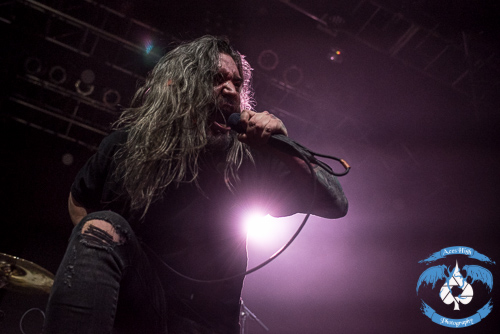 Setlist:
"Unanswered"
"You Only Live Once"
"Disengage"
"Slaves To Substance"
"Fuck Everything"
"Love Me To Death"
"Wake Up"
"Dying Life"
"Hold Me Up, Hold Me Down"
"No Pity For A Coward"
After spending a good portion of the pandemic writing and releasing new material including a live album and a whole slew of accompanying music videos, JINJER was equipped to conquer the House of Blues stage with a deluge of extreme music. That phrase "extreme music" as told by bassist Eugene Abdukhanov in various interviews; best describes the core values of the music of JINJER. Too often, we attempt to label something because it is nice to compartmentalize anything – not just music. To me, JINJER is as pure as it gets to just flat-out, extreme music. All aspects of the group's songwriting and performances are taken to the nth degree, whether it is heavy and fast or mellow and beautiful. Each individual member is skilled at their craft – don't believe me? See them live.

After two grueling club tours, this was like seeing your child take his or her first steps. I was in awe. Having come so far in the States in such a short period of time is a tough nut to crack but here I was and the joint was buzzing. Although drummer Vladislav Ulasevich was perched upon a modest riser, it was only to make room for the massive visual package that was erected behind him. Three large LED screens gave ambiance and supplied plenty of spice to an already off-the-chart lighting package. At the helm, with the audience in the palm of her hand, was vocalist Tatiana Shmailyuk. The entire room hung on to every note of her heavenly singing voice with bated breath. They then belted the unimaginable lows and growls along with her with deafening confidence.
JINJER supplied a heavy dose of their new material off of Wallflowers but didn't lose sight of fan favorites, such as "I Speak Astronomy" and "Ape". Song after song was performed with precision and the intent of perfection. It was truly inspiring to watch. If you have not already, pick up Wallflowers from your favorite platform or outlet and get out to a show. After all – our favorite entertainers need us now more than ever.
Setlist:
"Call Me A Symbol"
"On The Top"
"Pit Of Consciousness"
"I Speak Astronomy"
"Disclosure!"
"Judgement (& Punishment)"
"Sleep Of The Righteous"
"Ape"
"Retrospection"
"Perennial"
"Teacher, Teacher"
"Wallflower"
"As I Boil Ice"
"Mediator"
"Colossus"
Encore: Check out some more photos from the show!
All Photos By Geoff Ketler/Aces high Photography

Please log in to view RANTS