CARMINE APPPICE Guitar Zeus 25th Anniversary


By Jason 'JRock' Houston, Contributor
Wednesday, December 8, 2021 @ 9:59 AM


| | | |
| --- | --- | --- |
| | | |
CARMINE APPPICE
Guitar Zeus 25th Anniversary
2021 Deko Entertainment




Hard Rock/Blues/Metal/Funk and a who's who of Guitar stars is what you'll get if you pick up the 25th anniversary of Carmie Appice's Guitar Zeus album which is available on both vinyl and CD. Now when I say a who's who of Guitar Gods just to get you all as excited as I am after I listened to the new 35 track filled album, some of those guitar heroes featured on the album include: Slash, Warren Demartini, Yngwie Malmsteen, Mick Mars, Pat Travers, Ted Nugent, Tommy Thayer, Bruce Kulick, Richie Sambora, and Leslie West.

Now like I said this album features 35 tracks so it's impossible to list every single guitar player who is featured on this album, but with 35 tracks you really get your money's worth here. I was really impressed also with just how nice the flow of the album was when you consider the fact that the tracks each feature different players and yet all 35 songs sound like they were meant to be on the same album and that's not something that is all that easy when you have an album of songs with different players, but Carmine Appice and all his guitar friends manage to have accomplished just that! It's funny when you consider that it took Carmine Appice to gather a bunch of his guitar playing friends to turn his vision for Guitar Zeus into a reality and that it would take a guitar-oriented album to help this legendary drummer land a solo deal.

Not only do I urge everyone to go out and get yourself a copy of the 25th anniversary of Carmine Appice's Guitar Zeus album and when you do, I also urge you to do your homework and do some research on the history of Guitar Zeus because it really is an amazing story and would take too much time to go into here. Carmine Appice has made several attempts to give Guitar Zeus a proper release but I don't think that ever really happened until now when he signed a new deal with Deko Entertainment who really has done a great job with the packaging of the new 25th anniversary edition and Deko Entertainment has also done a great job if giving it the push and promotion that it never really got in the past.

A few more things that I feel are worth mentioning and that is that while Carmine Appice is a legendary drummer this album also showcases that he's also a skilled producer and songwriter and that is why when you listen to the entire album what you get is a collection of really great tunes and all 35 tracks on this album are real gems! Carmine could have created an album here that highlights what a powerhouse drummer he is but he did what he did instead was put together and album of really well written songs that not only showcases his musicianship but that of everyone that plays on the album!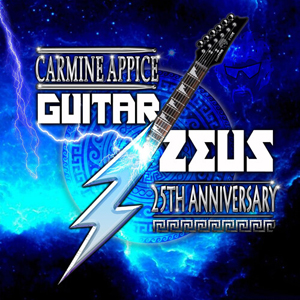 I think with Deko Entertainment that Carmine Appice's Guitar Zeus has now got the proper push that it always deserved and because of that more people will be able to get their hands on the album, for many years it was only available as an import, making it really hard for people to get their hands on it, so this makes a really great Christmas present for any Rock fan out there! Now like I said all 35 tracks on this release are really something special, you don't want to skip through a single track because then you'll really be missing out. Some of the standout tracks to me are "Gonna Rain", "Snake", and "Under The Moon And Sun".
Now here's something for your listening pleasure that will give you just a small taste of what awaits you on Guitar Zeus. Check out the video for Mystified" featuring Tommy Thayer on KNAC.COM HERE.
I'd rate this 5.0 out of 5.0 because Carmine Appice delivers the goods here when it comes to well written songs, the quality of the musicians and their performances on the album and because of that you get an album that just does not disappoint!
5.0 Out Of 5.0

Please log in to view RANTS



OBITUARY, IMMOLATION, BLOOD INCANTATION, INGROWN In Los Angeles With Photos!

SAVOY BROWN Blues All Around

JAG PANZER The Hallowed

THE DEFIANTS Drive

GLORYHAMMER Return To The Kingdom Of Fife

NIGHT LEGION Fight Or Fall

IMMORTAL War Against All

JOE PERRY Sweetzerland Manifesto MKII

BUCKCHERRY Vol. 10

DAVE LOMBARDO Rites Of Percussion

HELLOWEEN, HAMMERFALL In Worcester, MA With Photos!

DARK FUNERAL, CATTLE DECAPITATION, 200 STAB WOUNDS, BLACKBRAID In Houston, TX With Photos!

MR. BUNGLE, MELVINS, SPOTLIGHTS In Portland, OR With Photos!

PANTERA At Welcome To Rockville With Photos!

THE BLACK DAHLIA MURDER, TERROR, FROZEN SOUL, FUMING MOUTH, PHOBOPHILIC In Anaheim, CA With Photos!

ENFORCER Nostalgia

BUZZFEST Featuring GODSMACK, I PREVAIL, HIGHLY SUSPECT, THE STRUTS And Others In Houston, TX With Photos!

SLEEP TOKEN Take Me Back to Eden

UGLY KID JOE, FOZZY, PISTOLS AT DAWN In Houston, TX With Photos!

TESLA, FASTEST LAND ANIMAL, KURT DIEMER In Orlando, FL With Photos!

CATTLE DECAPITATION Terrasite

TYGERS OF PAN TANG Bloodlines

MYSTIC PROPHECY Hellriot

WHITECHAPEL, ARCHSPIRE, SIGNS OF THE SWARM, ENTHEOS In Santa Ana With Photos!

ALCATRAZZ Take No Prisoners

BURNING WITCHES The Dark Tower

ELVENKING Reader Of The Runes - Rapture

CHAOS AND CHARNAGE Tour Featuring SUICIDE SILENCE, DYING FETUS, BORN OF OSIRIS, ABORTED, CROWN MAGNETAR, SANGUISUGABOGG And SLAY SQUAD In Anaheim With Photos!

ENFORCED War Remains

SAVAGE EXISTENCE Savage Existence

BLACK ROZE Penny For Your Sins

WINGER Seven