EXODUS Persona Non Grata


By Francisco Zamudio, Metal X Candy 2.0
Friday, December 10, 2021 @ 8:24 AM


| | | |
| --- | --- | --- |
| | | |
EXODUS
Persona Non Grata
Nuclear Blast




When a formula works, it just simply works. There is A LOT to be said, recognized and respected when bands stick to their guns and stay consistent, especially through a long extended career. I know I speak for the masses when I say we're thankful that the Kings of Bay Area Thrash have stayed true and on the path of their exemplary career. Since their groundbreaking 1985 debut Bonded By Blood, EXODUS has stood out as 1 of the leaders of the brewing Thrash scene. Now 7 years since the explosive 2014 full-length Blood In Blood Out which marked the return of vocalist Steve "Zetro" Souza, in 2021 they are back for the attack along with shredder-extraordinaire Gary Holt returning to the fold with their new album Persona Non Grata which will kick the scene in the nuts and remind everyone what the f*ck is up!

Once Tom came back to the throne on "Tempo Of The Damned", it became a whole new identity for EXODUS. An identity that barely wavered on Shovel Headed Kill Machine" which not only was Souza's last album but was actually a monumental album as it was Holt's and drummer Paul Bostaph's initial cohesive partnership working together for the first time considering they would work together again during SLAYER's final years. Skipping ahead, Persona Non Grata re-introduces those elements from the several phases in their legacy capturing everything from the different eras of EXODUS and will easily catch the attention of those loyal to the toxic bay area thrashers.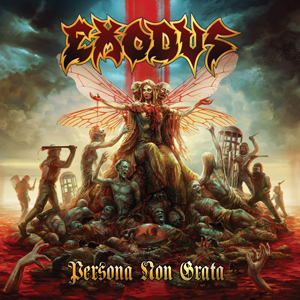 Having put in his time with SLAYER, no doubt Gary was anxious to get back in the studio with his brothers in EXODUS to unleash what has been bottled up and locked down way too long. To set the stage for the new album, writing and recording was all done at the cabin of drummer Tom Hunting who has also been through hell and back with his on-going conquering over cancer (squamous cell carcinoma) just recently. With the BS of the last couple of years still fresh on everyone's mind aside from what 7 years since the last album has entailed, it all comes to a head in Persona Non Grata. Latin for "unwelcomed person", lyrically this album puts on blast all the unwanted enmity that has been injected into society, more-so but not just only in the last couple of years. It's why music progressed in the first place, to get a message out about rebellion and resistance and this album does not hold back.
EXODUS gives it their all on this record right from the get-go. They bust out a 7 minute fury with the title track opener which is 1 of 2 of the longest tracks on the album. Persona Non Grata is fueled with a lot of energy averaging about 4 minutes, combined for a solid packed hour of new Thrash-tastic anthems that will get pits surging once again such as the tracks "Slipping Into Madness" and "The Beatings Will Continue (Until Morale Improves)" which was the first video put out to tease the new album. It easily caused a stir with their loyal fanbase as we were all anxious to hear the Holt and Hunting factor that EXODUS swears by. From "R.E.M.F." to "Clickbait" (which attacks that subject matter I mentioned before) and the intensity of "Lunatic-Lair-Lord" which features guitarist Kragen Lum (HEATHEN, PROTOTYPE) who had put in a great amount of time with EXODUS on the road as well while Holt was away, enabling EXODUS to continue their reinvigorating campaign – and closer "Antiseed" is plenty to keep the pits started back up for California's bay area Thrash Kings.
4.5 Out Of 5.0

Please log in to view RANTS



OBITUARY, IMMOLATION, BLOOD INCANTATION, INGROWN In Los Angeles With Photos!

SAVOY BROWN Blues All Around

JAG PANZER The Hallowed

THE DEFIANTS Drive

GLORYHAMMER Return To The Kingdom Of Fife

NIGHT LEGION Fight Or Fall

IMMORTAL War Against All

JOE PERRY Sweetzerland Manifesto MKII

BUCKCHERRY Vol. 10

DAVE LOMBARDO Rites Of Percussion

HELLOWEEN, HAMMERFALL In Worcester, MA With Photos!

DARK FUNERAL, CATTLE DECAPITATION, 200 STAB WOUNDS, BLACKBRAID In Houston, TX With Photos!

MR. BUNGLE, MELVINS, SPOTLIGHTS In Portland, OR With Photos!

PANTERA At Welcome To Rockville With Photos!

THE BLACK DAHLIA MURDER, TERROR, FROZEN SOUL, FUMING MOUTH, PHOBOPHILIC In Anaheim, CA With Photos!

ENFORCER Nostalgia

BUZZFEST Featuring GODSMACK, I PREVAIL, HIGHLY SUSPECT, THE STRUTS And Others In Houston, TX With Photos!

SLEEP TOKEN Take Me Back to Eden

UGLY KID JOE, FOZZY, PISTOLS AT DAWN In Houston, TX With Photos!

TESLA, FASTEST LAND ANIMAL, KURT DIEMER In Orlando, FL With Photos!

CATTLE DECAPITATION Terrasite

TYGERS OF PAN TANG Bloodlines

MYSTIC PROPHECY Hellriot

WHITECHAPEL, ARCHSPIRE, SIGNS OF THE SWARM, ENTHEOS In Santa Ana With Photos!

ALCATRAZZ Take No Prisoners

BURNING WITCHES The Dark Tower

ELVENKING Reader Of The Runes - Rapture

CHAOS AND CHARNAGE Tour Featuring SUICIDE SILENCE, DYING FETUS, BORN OF OSIRIS, ABORTED, CROWN MAGNETAR, SANGUISUGABOGG And SLAY SQUAD In Anaheim With Photos!

ENFORCED War Remains

SAVAGE EXISTENCE Savage Existence

BLACK ROZE Penny For Your Sins

WINGER Seven