SODOM M-16 (20th Anniversary Box Set, Deluxe Edition)


By Alex Yarborough, Orlando Contributor
Friday, December 10, 2021 @ 8:28 AM


| | | |
| --- | --- | --- |
| | | |
SODOM
M-16 (20th Anniversary Box Set, Deluxe Edition)
2021 BMG




German thrash legends SODOM are responsible for some of the most important albums in the history of thrash metal, such as Agent Orange (1989), Code Red (1999) and 2001's monolithic M-16, a concept album about the Vietnam War. October 2021 marked the 20th anniversary of the release of M-16, and to commemorate this event, SODOM has released an impressive box set, certain to please fans. There are three versions available, a CD, a two-LP version and a 4-LP deluxe boxset edition, which is covered in this review.

Everything comes in a quality, durable box designed like an M16 ammo box. A sticker on one side has the SODOM logo and says "Explosive Music". Inside, there's a metal dogtag and chain stamped with the original release date, along with the phrase, "In Emergency Listen To Sodom". I really appreciate the bullet-shaped USB drive with all four albums on it. This is a cool idea, and it certainly made it convenient to crank the music up in my car. The snazzy gatefold 180-gram orange double vinyl looks amazing as well. Axel Hermann's cover art of Knarrenheinz with his M16 rifle has never looked better. Well, the included 33"x23" poster looks pretty damn impressive, I suppose.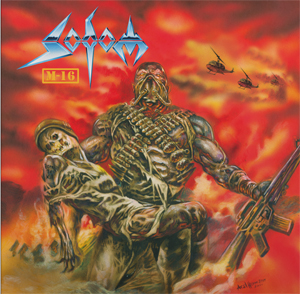 The music? The album contains all original 11 songs remastered, and they have never sounded better. Classics such as "Among The Weirdcong", "Napalm In The Morning" and the title track sound fresh. I won't go into to much opinion about this album since it's 20 years old, but realistically – there isn't a bad song on the album. Even the cover of THE TRASHMEN's novelty hit "Surfin' Bird" is cool, so if you've never heard the album, do yourself a favor and buy it. And even if you already own it, this set would be worth your investment. Included as well are two bonus live tracks, "Remember The Fallen" and "Blasphemer" (both from their performance at Wacken in 2001). The two bootleg live LPs included are fantastic finds, each with songs from different shows. Side one features four tracks taken from the band's performance at Wacken in 2001. Side two features three songs taken from the band's performance in Tokyo in 2002. Side three has three songs from the band's performance at the Bang Your Head Festival in 2003, and side four has three songs from a performance in Bangkok, Thailand in 2002.
As an album designer, the real treat for me personally is the 44-page book included in the boxset, designed like an M16 rifle user's manual. In it, there's a story from bassist/band leader/songwriter Tom Angelripper, wherein he explains his inspiration in writing the album. There are tons of never before seen photos of the band in a live setting, in military fatigues, in war poses and on military vehicles taken on location in Thailand and Vietnam, that go along with journalist Manfred Eisenblatter's essay on taking these photos and the release shows that were played in Bangkok. Huge props to graphic designer Roland Demus on the design of this book and everything here! Overall, this deluxe M-16 boxset is amazing, and well worth owning, especially if you're a fan of SODOM or thrash metal in general. This could be your Christmas present to yourself. So treat yo'self.
5.0 Out Of 5.0

Please log in to view RANTS



OBITUARY, IMMOLATION, BLOOD INCANTATION, INGROWN In Los Angeles With Photos!

SAVOY BROWN Blues All Around

JAG PANZER The Hallowed

THE DEFIANTS Drive

GLORYHAMMER Return To The Kingdom Of Fife

NIGHT LEGION Fight Or Fall

IMMORTAL War Against All

JOE PERRY Sweetzerland Manifesto MKII

BUCKCHERRY Vol. 10

DAVE LOMBARDO Rites Of Percussion

HELLOWEEN, HAMMERFALL In Worcester, MA With Photos!

DARK FUNERAL, CATTLE DECAPITATION, 200 STAB WOUNDS, BLACKBRAID In Houston, TX With Photos!

MR. BUNGLE, MELVINS, SPOTLIGHTS In Portland, OR With Photos!

PANTERA At Welcome To Rockville With Photos!

THE BLACK DAHLIA MURDER, TERROR, FROZEN SOUL, FUMING MOUTH, PHOBOPHILIC In Anaheim, CA With Photos!

ENFORCER Nostalgia

BUZZFEST Featuring GODSMACK, I PREVAIL, HIGHLY SUSPECT, THE STRUTS And Others In Houston, TX With Photos!

SLEEP TOKEN Take Me Back to Eden

UGLY KID JOE, FOZZY, PISTOLS AT DAWN In Houston, TX With Photos!

TESLA, FASTEST LAND ANIMAL, KURT DIEMER In Orlando, FL With Photos!

CATTLE DECAPITATION Terrasite

TYGERS OF PAN TANG Bloodlines

MYSTIC PROPHECY Hellriot

WHITECHAPEL, ARCHSPIRE, SIGNS OF THE SWARM, ENTHEOS In Santa Ana With Photos!

ALCATRAZZ Take No Prisoners

BURNING WITCHES The Dark Tower

ELVENKING Reader Of The Runes - Rapture

CHAOS AND CHARNAGE Tour Featuring SUICIDE SILENCE, DYING FETUS, BORN OF OSIRIS, ABORTED, CROWN MAGNETAR, SANGUISUGABOGG And SLAY SQUAD In Anaheim With Photos!

ENFORCED War Remains

SAVAGE EXISTENCE Savage Existence

BLACK ROZE Penny For Your Sins

WINGER Seven