U.D.O.
Game Over
AFM Records - 2021




The new U.D.O. album Game Over is what I would call a typical U.D.O. album. But before you get into an uproar, that is not me damning the album with faint praise. Would you like me to explain? Well then, just keep on reading.

The first thing you notice about Game Over, after the stark and mostly black cover art design, is that you sure do get your money's worth. Singer Udo Dirkschneider and his band mates don't skimp on the material. There's a full 16 tracks on the disc and none of them are brief intro pieces or anything like that. While a couple of songs didn't quite strike my fancy and left me thinking that maybe they could've been left out, overall this is quite a batch of new tracks from U.D.O.

Opening the disc with the blazingly fast rocker "Fear Detector" gets the album off to a great start. It's a surefire way to immediately start blowing out the listener's eardrums.

While the next song in the track listing, "Holy Invaders", isn't quite as fast as "Fear Detector", it's still quite a lively cut that continues a strong metallic approach favored by the band.

The song "Prophecy" goes full throttle with a blitzing soundtrack. I found that I loved the structure of the track's music. There's kind of a racing feel to it and you get swept up along the way. Guitarists Andrey Smirnov and Dee Dammers excel at propelling the music along with their fretwork.

While this is a full band project of course, the spotlight is always largely on Udo Dirkschneider himself. His gravelly razorblade fueled voice continues to have that gut-ripping sound as the music attacks from the speakers. But when called for, such as on the ballad "Don't Wanna Say Goodbye", a quieter, reflective and somewhat somber tone to his vocal performance gives an extra dimension to the track.

Of course, then there's the side of Dirkscheider's performance where there is just the right amount of menace dripping from his vocals as to give songs like "Empty Eyes" the kind of feel you get like when you hear the music made famous by the Halloween movie franchise.

Never a doubt that Game Over is ballsy metal record, you will get an immediate burst of adrenaline-fueled energy with the rockers "I See Red", "Midnight Stranger", the rather outstanding "Unbroken" and the closing number "Metal Damnation".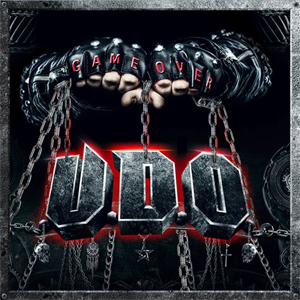 I loved the mixture of styles on the album. Yes, it's all metal but it is the variations upon that theme that make for such an entertaining release. You have the band touching on real world issues in "Kids And Guns" and "Time Control". The latter track deals with enviornmental issues while the former should seem rather self-explanatory. While there is a message with each track, it is expertly couched inside a fast moving uptempo soundtrack.
But then you have an anthemic rocker like "Metal Never Dies" that you can't help but pump your fists in the air as the song plays. Plus you've got a stomp rocker pacing in the song "Marching Tank".
There's plenty of great lyrics to the songs but there's one that stuck with me each time I listened to Game Over. What makes it even better for me is that the line ("Never let your popularity - change your path of life") comes in the song "Like A Beast". The song is a fiery and frantic rocker that has an intro straight out of a horror movie. The song is just fantastic and one of the best numbers on Game Over.
I've enjoyed almost all of the U.D.O. albums I've listened to over the years and this new album is no exception. Game Over amply demonstrates to anyone who listens just why the fans keep coming back for more from Udo Dirkschneider these last few decades. It is, typically, a damn fine album!
4.5 Out Of 5.0