Yet another explosive track from the Story Metal Band PRESSURE. This one, the self-titled single, "Pressure" will also be on the forthcoming album due out in June of 2022. Title TBA.

"What is the first thing that hits your mind when you hear the word Pressure? We all live under different kind of Pressures and we all handle it differently! A thing that usually makes us feel beaten or feel that its hard to carry is the feeling of loneliness. The soul crushing emotion that you are fighting the world alone, no one gets you, no one has your back!

Well we are here to tell you that you are wrong! In every Pressure, in every single hardship, we will help you handle the Pressure! And the song "Pressure" is about just that! A reminder that you are never alone. Just call out our name, put on a hard and heavy hitting "Pressure" song and soon you will feel better!

Who are PRESSURE I hear you ask? Well, if you had to tag them with a genre the one that fits best is a 'melodic rock' but they are so much more than that. Hailing from Stockholm, Sweden and with vocalist Olof Jönsson you can always guarantee soaring, athletic and committed vocals. Together with a twin guitar sound coming from songwriter and lead guitarist Simon "Siirpo" Forsell and Emil Salling, the addition of Olli Violet is a definite asset to the band. We at PRESSURE have welcomed the beautiful and mesmerizing, succumbing and metal voice of Olli Violet from the Republic of Belarus to the band and the PRESSURE family.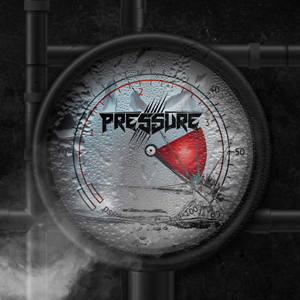 Have you seen the dark mistress of the Shadows? The one who commands the darkness with her burning eyes and enchanting voice? Olli Violet - the Shadowess of PRESSURE is our beautiful and strong female vocalist! With her fantastic talent and spellbinding voice, she brings soul and a dimension that are unmatched in the metal scene! And the future of PRESSURE has forever changed."
Their work often focuses and embraces the pressures felt from everyday existence. Their lyrics ably demonstrating that there are two sides to every story - the good and the bad. Every song has a double meaning and they truly see music as a tool to handle the different pressures thrown at us from the modern world.
The band began their journey together in 2018, and since then they've worked tirelessly developing their sound and live performance, their aim? To make memories with their fans and to an epic musical soundtrack.
A quote that can summarize their lyrics is:
"How can you tell a story about life if you haven't dared to live life to its fullest!
Pressure is all about every story, every moment, every Pressure!"